Mvp dominant in the IEM grand final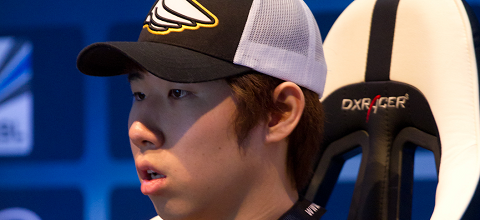 A 3-1 scoreline closed IEM Gamescom as IM's Jong Hyun "Mvp" Jung grabs the $6,500 check after his first ever attendance at the European event.
With the conclusion of yesterday's matches, Mvp was left the only non-zerg standing after the Swarm's agents Nerchio, Violet and Vortix pulled off stunning plays and made it to the semi finals. The up and coming Spaniard was Mvp's first opponent for the day and after the dramatic series against Supernova on Saturday, all eyes were set on Vortix to see if he can deliver yet another upset.
Showing much more adaptiveness than Vortix's previous opponents, Mvp came out with a diverse build order repertoire and dropped only a single game to the zerg, thus advancing to the grand final? How did that go?
From the live report:

18:45 CET - Mvp 3-1 Nerchio
Metropolis: Extremely similar game to the previous with an active, hatch sniping Mvp and Nerchio in full macro mode. Nerchio tries to break the terran lines on a number of occasions but staying predominantly on lair tech does not aid his cause. Mvp's defenses are immovable, his upgrades overwhelming and waves after waves of zerg break into a final gg from Nerchio. MVP is the champion of IEM Gamescom!

18:30 CET - Mvp 2-1 Nerchio
Atlantis Spaceship: A lot of base sniping leaves the players with shambled economies, barely mining off of three bases past the 25th minute mark. Mvp is particularly relentless and for every CC he loses he kills two hatcheries of Nerchio, putting the brood lording zerg in a dangerous predicament. As Mvp fortifies a position in the center, Nerchip tries to break it to establish some sort of map control so that he can get some bases up but hunter seeker missiles - obviously terran's new imba weapon - cremate the brood lords, putting an end to this game.

18:00 CET - Nerchio 1-1 Mvp
Cloud Kingdom: 50+ drones get charred by the blue flame/cloak banshee opening of Mvp and the terran comfortably throws in a fourth and fifth command center, preparing to go full macro mech mode. A slight overcommitment by him gets Nerchio back into the game, however, and for a moment the zerg is in full control - he has brood lords, he has 50 supply advantage and he has delayed terran bases with burrowed roaches.

What he doesn't do right is engage the mech army straight on, losing the bulk of his ground army and getting facesmashed by thors and tanks for the 1-1.

17:40 CET - Nerchio 1-0 Mvp
Ohana: A 2-rax opening evolves into a 4-rax/SCV all in that puts Nerchio against the ropes. For a moment it seems that Nerchio is too broke to set up a proper spine wall as Mvp almost breaks his natural but the terran is in even bigger trouble as his income back home can barely support the four raxes. Nerchio, on the other hand, somehow stabilizes himself and sneaks four lings into the bare base of Mvp, forcing a GG.

17:30 CET - TIME. FOR. GRAND FINAL! Nerchio vs Mvp starting on Ohana.
This is Mvp's first gold on European ground after he could not make the playoffs at Homestory Cup V and he claims it after what is his IEM debut. This automatically means that we will see him along with Nerchio at the IEM World Championship event in early 2013.
IEM Season VII Gamescom standings
1.
Mvp, $6,500
2.
Nerchio, $3,000
3-4.
Violet, $1,700
3-4.
Vortix, $1,700
5-8.
Supernova, $1,100
5-8.
MC, $1,100
5-8.
Bomber, $1,100
5-8.
Slivko, $1,100