Diablo 3 Soundtrack is now available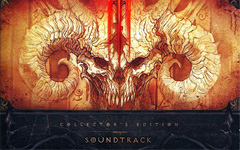 The Diablo 3 Soundtrack is now available at iTunes containing 23 tracks. You can also purchase The Music of Diablo 1996-2011.
There have been many good soundtracks over the years, and now we have the opportunity to get the Diablo 3 Soundtrack in mp3 format. Everything to ease the pain from when you can't play the game.
The soundtrack contains 23 tracks from the Diablo 3, everything from the guitar play in New Tristram to the orchestral arrangements later on in the game.
Blizzard also collected the 15 best tracks from the old Diablo games that you can purchase from iTunes.
iTunes:
Diablo III Soundtrack
iTunes:
The Music of Diablo 1996-2011