mTw's Tulex: '[mTw] is doing their best for us'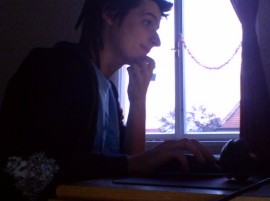 Michal "Tulex" Zima from mTw sits down with SK-Gaming to talk about his personal life, his current Dota 2 plans, how he differentiates the game with its other version and also about his teams journey with mTw till now.
MrUrKe: Hello Tulex and thanks for accepting this interview! Can you introduce yourself to our readers?

Tulex: Hello, my name is Michal Zima, I'm going to be 21 in few weeks and I play Dota2 for mTw.

MrUrKe: How did you start with DotA? Was it random battle.net pubbing like many of us did?

Tulex: We used to played some battlefield in a game club with my classmates (it was actually Storm Games Club, which became my sponsor later *smiles*) and someone was playing Dota there, so I tried it as well and got hooked on it. When I got computer which could run online Dota, I started playing more on Xpam and by some random chances of meeting people I got into competitive.

MrUrKe: Both you and your brother have been playing DotA for a long time. What do your parents think of this? Are they stopping you or encouraging your careers?

Tulex: Well, they are actually pretty cool with it. Though my father would prefer if I actually cared more for studies instead of Dota, but they never tried to stop us from playing. Our mother also watched some of our matches (she had fun time listening to v1lat, since they both know a bit of Russian) and she tries to watch news about us sometimes etc.

MrUrKe: The community is often accusing your team, saying that you don't deserve a structure like mTw behind you. What can you say to those people?

Tulex: You either can support us, or hate us. If it makes you feel better about yourselves, then feel free to flame us on the internet, I personally don't care much. Mortal Teamwork is a great organization and I'm sure they know what's best for them.

MrUrKe: And what about your organization. Is mTw supportive in these hard times?

Tulex: I'm not as much in contact with them as syndereN, but I feel they are doing their best for us, which is really great.
mTw.DOTA roster
syndereN (Captain)
pepp3
Grunt/Seabadger
BentzeR
Tulex
To read the rest of the interview head over to
Sk-Gaming.com
.
Links
Sk-Gaming
- Original Interview