Ukrainian gold at ESWC 2011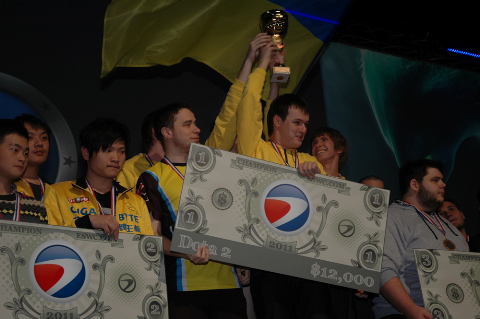 Natus Vincere repeatedly triumph in a major LAN tournament. In the rematch of the Gamescom final against EHOME, the Ukrainians showed no signs of weakness and remain unchallenged in Dota 2, cashing-in 12,000$ as champion.
While EHOME had earned their slot in the final after erasing 4GL, the Chinese were not able to put up lasting resistance in both games. The first encounter had been won by Na`Vi based on picks and play, starring a roaming Butcher by Dendi who landed clutch hooks beyond countable. Disorganized Chinese heroes were hunted down seperately by an aggressively roaming Na`Vi squad until the fastly approaching surrender.
Although EHOME stepped up in terms of coordination in the second game, the Ukrainian tripple lane with AA as Night Stalker achieved a big lead, initiated by a 2-0 fight in the sentinel woods before the bell of creeps rang. Despite having done a better job defending and counter-ganking the gold difference leaned to heavily in Na`Vi's favour to pull off a comeback and keep the chance to defend their title alive.
ESWC 2011 Dota 2 standings
1st Place:
Natus Vincere
- 12,000$
2nd Place:
EHOME
- 6,000$
3rd Place:
GamersLeague
- 4,000$
Video Spotlight: Na`Vi press conference

Video Spotlight: Na`Vi vs EHOME final moments
Upcoming competitions WDC, SMM, ASUS and OSPL will be held in classic DotA again. The full ESWC Dota 2 photo album can be found on the gosugamers photo stream via flickr.
Links
flickr.com
- Full ESWC photo album with winners pictures