The Grand Finale: FnaticMSI vs SK Gaming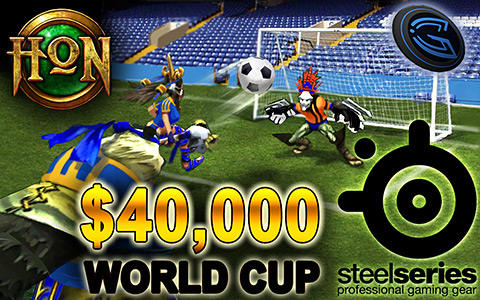 It's been more than 6 months, as hundreds of teams signed up for a shot at $10 000 in the Grand Finals of the HoN World Cup. The most anticipated match thus far is finally about to happen, as SK Gaming and FnaticMSI will duke it out for the title of the very 1st GosuGamers Steelseries HoN World Cup.
Game time: 2200 hours CET 15th January
FnaticMSI were always hot favourites to enter the final. After the pick ups of iLx players Bot, NoVa_ and N0tail, they've only been obtaining more and more momentum, sweeping DreamHack Winter 2010 before reaching the World Cup Grand Finals in style by thrashing bitter rivals Evil Geniuses 2-0 in the winner's bracket finals.
SK Gaming on the other hand, were not exactly seen as favourites when the tournament 1st began. Having undergone roster changes, new players Tralfamadore and CarDinaL were needing some time to gel with the team, while Testie only made a comeback when the Group Stages began. This is all in the past though as SK convincingly came back from the loser's bracket, exacting vengeance on their oldest rivals Evil Geniuses who sent them down to the loser's bracket, sending them out of the competition.
Grand Final

FnaticMSI
SK Gaming

VS


Road to the Grand Final

-
---
W Evil Geniuses 2:1

-
---
W Deal With it 2:1

W Evil Geniuses 2:0
---
W Online Kingdom 2:0

W Dirty Minds 2:0
---
L Evil Geniuses 2:0

W Muscle Guyz 2:0
---
W Dotally rad dot com 2:0

W iMpUniTy 2:1
---
W TS-Gaming 2:0

W Team Wahlin 2:0
---
W ToY Gaming 2:0
Along with myself I've invited 2 well-known scene writers to predict the outcome of the Grand Finals.
[Gosu] S_SienZ
"
While SK Gaming did a superb job beating Evil Geniuses, I somehow feel that their win in game 2 was partially due to complacency and lots of overplays on EG's part. It will be the exact opposite with FnaticMSI so Bdiz is gonna have to bring his A-game to try to somehow beat NoVa_ for map vision and counterganks. Fnatic is also not the sort of team that will get overconfident until the game is truly over. From their past games, you can observe that they will capitalize on every single advantage they have to get a tower or engage in a sure-win teamfight.
On the plus side, SK might have a higher chance of surprising MSI, since I'm assuming Fnatic has been spending the past month or so focusing on how to beat EG. It'll definitely take something very special for SK to beat MSI especially since they're already 1-0 up, and who knows what Fly has been saving as his trump card for the Grand Finale. Assuming both teams play at full strength,
I see MSI winning 3-1.
"
[nhii] Asway
(Editor, GameAche.com)
"
So, it appears as though SK has made it to the finals, what a shocker. I personally think that this is the easiest game in my life to predict. SK might of been able to beat EG, but EG has been pretty weak as of late. SK definitely had a harder trip to the finals compared to Fnatic, Fnatics bracket wasnt really difficult until they reached the semi finals. With SK coming from the losers bracket, they are already down 1 game, meaning Fnatic only has to win two matches to win the series. I think in the end it will be
3-1 for Fnatic.
I really would love to see SK win, but I highly doubt it will happen. SK is going to have to pull something out of their asses to take this series. Regardless of who wins, both teams are worthy of the positions they receive.
Shoutout to KellyMilkies!"
[Gin] Kolapz
(Scene writer, SK Gaming)
"
SK has been performing solidly lately. I was especially surprised with how they managed to keep their cool after being behind EG for a game and a half and then completely turned it around. fnatic on the other side, if with full line-up of course, is undoubtably the best HoN team at the moment. Considering that they also have a 1-0 lead at the start of this BO5 series, I am fairly sure that they'll grab the title. A lot of it will depend on the drafting stage of the game, though, and if one team manages to outsmart and surprise the other one, we could be in for some interesting matches. The battle of the trilane will also of course be a huge factor and all I can hope for is that neither team will concede it and let the opposing carry freefarm the lane to oblivion.
Fnatic to win 3-2
."
So who do YOU think will take home the grand prize? Will it be the hot favourites FnaticMSI? or will SK Gaming go on a massive David vs Goliath upset spree?