Mouz.MaX: 'I think we'll send some players to South Korea'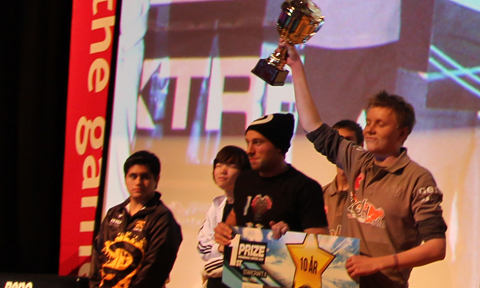 mousesports Terran, Naama, winning 100,000 SEK at DreamHack Winter 2010
They have had an amazing run of achievements lately, having both the finalists of the DreamHack grand final, the finalists of both Go4SC2 and ZOTAC cup this weekend were mice, making it fair to call them the most successful StarCraft 2 team outside Korea lately. GosuGamers met mousesports StarCraft 2 squad manager, mouz.MaX.
"
I'm especially proud of our young guns
"
- "I am really happy about the past six months. We put a lot of thought and effort into the team. It has really paid off. I think everyone did an outstanding job and I'm especially proud of our young guns. MorroW, Naama and MaNa did extremely well on their first big offline events and that's absolutely a big achievement and a step in the right direction in their fairly young e-Sport careers.
Strelok's also doing really well. His experience and his dedication are really starting to show. I'm glad that he managed to win three cups this weekend – BDL on Thursday where he faced Naama in the finals, and then Zotac and Go4SC2 on Sunday. He definitely deserves it. ParanOid is also improving day by day and I'm sure, he'll become a top3 Zerg outside Korea pretty soon.
Overall the balance of 2010 has turned out very positive. The only flaw is our unsatisfying third place in the SC2CL and the not so good performance in the EPS. But we're working on it and I'm sure we'll improve next season. I know HasuObs can do way, way better."
Which one of the achievements are you the most happy with and why?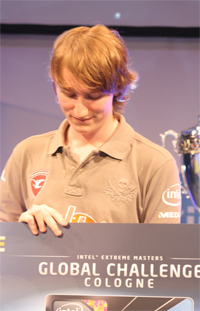 MorroW winning IEM Gamescom

- "MorroWs win at the Intel Extreme Masters in Cologne, and the mousesports final at Dreamhack. These events have been the biggest outside Korea since the launch of Starcraft II, and we managed to win both. I think that's pretty unique and everyone in the team can be really proud."

What does the future hold looking at your recent achievements?

- "I think our team has a really great prospect for the next months and probably years. The players are pretty young, very ambitious, smart and dedicated; those are the key ingredients for our strength. We'll keep the current team together and try to help everyone to improve. Each of them still has a lot of potential and we'll work hard to make them better and better, day by day."

What was the reason for dropping out of SC2CL, and will we see you there in season 2?

- "We started to play the first regular season but we quickly realized that we couldn't fully focus on the event. The players were always involved in the Go4SC2 or the Zotac Cup at the time. If we take part in an event, we want to do it right and win it. We would love to play a team league but this just didn't fit perfectly.

"

Due to our Brood War history, a team league will always be special for us

"

I have high hopes for the future. Due to our SC:BW background a team league will be always special for us. I don't quite understand why there are at least two or three single tournaments with prizes every day but no proper team league. Of course you need to put more efforts in a clan league but I do believe that it would fully pay off. We have amazing teams in Europe and in the U.S. with all of the top players and such an event would be definitely a unique selling proposition for a sponsor."

"

Yes, I think we're the strongest team right now" Would you call yourself the best StarCraft 2 team outside Korea these days?

- "That has been our goal since the beginning and I think that we definitely belong to the strongest teams outside Korea. We won the two major tournaments in Europe and that's a big achievement. Yes, I think we are the strongest team right now. And I don't want to give away our position. We'll work even harder in the next months. You can count on that!"

Could we see any mousesports players in GSL anytime soon?

- "Yes, we're thinking about it and I'm sure, we'll send a few of us to Korea to compete in the Korean tournaments. We will also be attending the next MLG, but for now we'll focus on the European market. That's our core region."

Any shout outs?

- "I would like to thank my players and my team, mousesports for the last year and their great support. As well as our team of editors and admins who have done a great job and made everything possible; especially to Bumblebee who has been one of the reasons for our success.

Special thanks to all our fans, supporters in the GosuGamers community, and of course to our sponsors HOH.de, GEIL, Medion, Intel, Razer and Sansibar."