AirAsia sponsors Mineski to SMM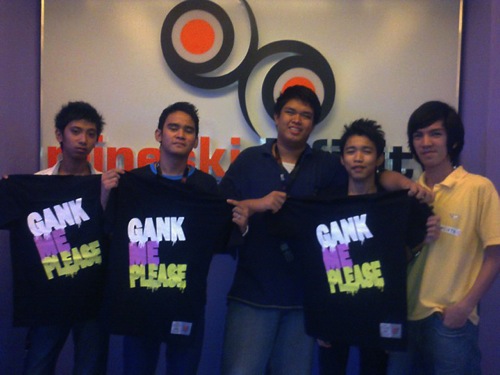 Happyfeet after their win at AMPGL 2.4
The team that will be represent the Philippines at SMM will travel in style with AirAsia being their sponsor for the trip.
In an unprecedented move, AirAsia, one of the largest airline companies in Asia has decided to sponsor the Mineski organization. Under the sponsorship, the team that wins the AMPGL - Road to Malaysia tournament
(link)
will have their airfares fully covered by the company.
Speaking of AMPGL let us take a look at the standings right now after 9 editions.
| | | |
| --- | --- | --- |
| No. | Team | Points |
| 1 | Happyfeet | 45 points |
| 2 | Mineski.Infinity | 44 points |
| 3 | Execration | 32 points |
| 4 | Mineski.Grounds | 29 points |
| 5 | Prime | 14 points |
The Grand Final is set to be held sometime this month with a special twist. Winning teams usually just get 8 points for placing first, 6 points for second, 4 points for third, 2 points for fourth and 1 point for fifth to eighth. But this time around there is three times the point up for grabs. Meaning whoever takes wins it will secure themselves their trip to Malaysia courtesy of AirAsia.
We also managed to grab Mineski's head honcho, Rhom for a short chat regarding AMPGL. Here's what he has to say:
-"AMPGL is nothing but pure class for PH Gamers. It has evolved from a simple tournament organizer by experienced gamers into a nationwide league attracting gamers from all over the Philippines. Ever since January 2010 it has been a monthly slugfest for the best teams in the country.
Now due to this consistent tournament environment, the teams have continually developed skills and teamwork. Skills and teamwork that has surpassed some strong Asian teams. I just hope this time, attitudes of teams will still be going one way (the right way) to continue this development.
The best of the best will be sponsored to go to Malaysia for this coming 2010 SMM and with Philippines' Big 5 present(Prime, Mineski Grounds, Execration, Mineski Infinity and Happyfeet). It will be one hell of a mayhem, every team will not stop at nothing to get this championship. Known teams from the provinces will also be flying up to Manila to take this final chance. Shout out to teams who joined before and will be joining again from Cebu (LATOS) and Cagayan (DMS).
Having talked about this matter, I would like to take this opportunity to apologize to all Chinese gamers who were affected with the Mendoza incident.. We all feel realy sorry for this incident and we are not proud of such happening. I Myself am 100% Chinese and it also bothers me a lot. Again, sincerest apologizes from the Mineski community to those affected by posts/spams of forumers online.
Finally a special shoutout from me. Shout out to MET (Mineski Event Team), the people behind AMPGL for doing an awesome job at running the tournament. And to everyone. UPLIFT PROGAMING!"
Links
Mineski website
- Source