LOST.eu adds Vigoss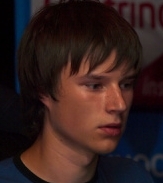 No, you have not opened a troll thread. With the loss of Miracle, LOST.eu have had no problem filling the gaps as they have recruited the world renowned Vigoss to play as a stand-in until their final 5th player is found.
Arguably the most famous DotA player of all time, Vigoss won the hearts and minds of his fans through his innovative gank-style gameplay, which was both breathtaking and awe-inspiring. He made appearences for household names such as maGe, Virtus.pro and KS.Int and played with players along the lines of Jolie, LightOfHeaven and Vein. Vigoss slowly started to fade away following the disintergration of Virtus.pro and hasn't been seen since.
Earlier this year there was a great deal of speculation as a "vigoss" appeared in various EEDL games playing trademark heroes such as Queen of Pain and Priestess of the Moon. This was written off by many as a "troll", but with the addition of vigoss to LOST.eu's official roster on a number of websites, fans can safely assume that their beloved V-God is back.
LOST.eu's current roster:
Andreas
'Ducky'
Søgaard (captain)
Rasmus
'MiSeRy-'
Filipsen
Jon
'13abyKnight'
Andersen
Alex
'Santa'
Koltan
Ivan
'Vigoss'
Shinkarev (stand-in)
Statement by Ducky in the following
thread
:
"
This is not a joke - but as the picture clearly states he is a standin. Vigoss has been playing with us recently and been doing extremely well. That's why we didn't hesitate to ask him to fill the gap that mirakel left in our roster. The reason for him not to stand as a regular member is that he isn't sure wether he wants to join the "pro" dota scene again. He still wants to play with us in scrims as well as official games and that's why we added him to the roster as a "stand-in". I beg of you guys to settle down and let vigoss think about what to do - this is his choice, he is more then welcome in the team, but if he chooses not to join the competative scene then its a choice we should respect.
We hope of course vigoss chooses to come back to dota, so we can present him as a regular member of the team, but for now and as long as it will take him to choose he will stay as a standin at our rooster.
We will also be representing a 6th man soon, our goal is to be as active as possible so that we can make the appropriate preparations for the upcoming LANs.
Hope you will keep supporting us, and respect the situation.

Thx all. Ducky
"
This unforgettable addition to LOST.er's roster is just in time for the first match in the
Showmatch Series
hosted by GosuGamers.net and dota.178.com. Be sure to tune in to watch the legendary Vigoss back in action!
Links
Gosugamers
- Forum