TheLittleOne, MaDFroG through to Extreme Masters playoff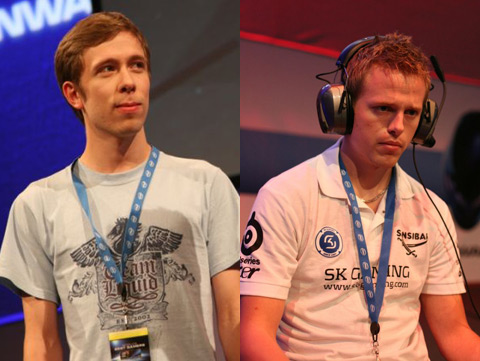 TheLittleOne (left) and MaDFroG (right) are both alive in the tournament. Photo by: ESL.eu
Dario "TheLittleOne" Wünsch proved he can cope with favorship pressure, and advanced to the playoff without losing a single map.
It came close in the second game against Oleksii "White-Ra" Krupnyk, who had a big advantage on Delta Quadrant. But despite up one expansion, the Ukrainian Protoss was unable to close.
- "White-Ra was actually far ahead and with an expansion up. But then he made some errors, lost some units which he did not had to lose," says TheLittleOne.
"As I knew he had an expansion, I also knew that right at that time was my window of opportunity, in which I had to go for it."
"I didn't predict it to turn out that good. 20 seconds later that push and the map win would probably have been impossible."
Went through without a map loss
TheLittleOne defeated Carlo "ClouD" Giannacco in the first round, and was after the win versus White-Ra up against Fredrik "MadFroG" in the match for first seed.
The Swedish Zerg seemed to do his best in the game, but in an interview with TheLittleOne says that MaDFroG had said earlier that he would rather come second in his group than winning it.
- "But I don't realy think he meant it," says TheLittleOne.
Does not see himself as favorite
According to event commentator Sean "Day[9]" Plott, TheLittleOne should be considered the favorite to win, but the German Terran does not agree.
- "Even though I survived the group stage that well, I don't see myself as the favorite. I still see IdrA, who enters the tournament tomorrow, as the top favorite to win this tournament," says TheLittleOne.
MaDFroG took the second spot to the playoff, after defeating both White-Ra (2-0) and ClouD (2-1).
1. TLO 9 6-0
2. MaDFroG 6 4-3
3. WhiteRa 3 2-4
4. ClouD 0 1-6
Links
Fragster.de
- Source