A long XtiNcT interview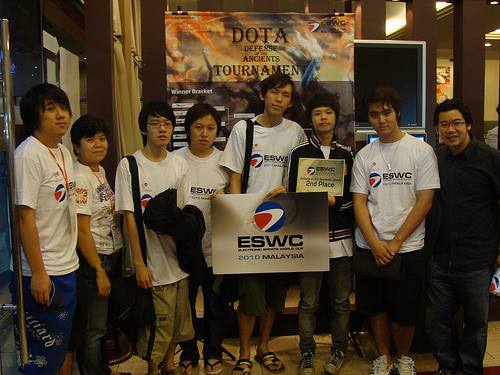 We have now reached the end of our pre-ESWC coverage. This time we talk to XtiNcT of Nirvana.GiGa.my of Malaysia, the team with a big burden on their shoulders.
As usual, can you do a quick introduction about yourself?
-"Hello. The name is XtiNcT , 22 years old this year and living in Kuala Lumpur, Malaysia.
Now can you tell the fans who will be on the line up at ESWC, and what roles each person will play?
-"Well, there's me, who will be the ganker or the semi-carry player. Then theres Kenchi who will play the support role. Besides that Sharky will play the gankers and semi-carry heroes like me, whil XXF will take over Mushi as the Carry player. Last but not least, net will be our supporter and ganker as well."
"
To be honest without Mushi our strength has dropped a little..."
Nice. A lot of users have commented that the team is weaker now without Mushi for ESWC. Personally, how do u think the team is now?
-"To be honest without Mushi our strength has dropped a little, but we will still play our best in ESWC with the playstyle that suits our new lineup."
By exchanging Xigz and Mushi for Sharky and XXF what do u think has changed within the team? If there are any changes in the first place.
-There are of course huge changes without Mushi and Xigz because we are trying to figure out a new playstyle that suits us and to train hard to get our teamwork up.
So has the team figured out the best playstyle to suit everyone then?
-"We are still trying to figure it out, but I am sure that we will show it during ESWC."
I understand that you will be doing the drafts for ESWC, have you prepared any special strategies for ESWC?
-"Yes. We have prepared some special strategies but still trying it out to see if it works for us or not."
Anything you can reveal?
-"Nope" *laughs*
"
I think every team that gets to go to the ESWC Grand Final are all a threat..."
The teams playing for ESWC is more or less confirmed by now. How do you feel about the teams playing?
-"I think every team that gets to go to the ESWC Grand Final are all a threat so we will play our best against everyone.
Is the team afraid of any specific team?
-*Laughs* "I think we are afraid of every team in ESWC cause we don't really know how they play but still we are most afraid of the Asian teams EHOME and AEON."
"
Sure we are pressured but we will still try our best to make Malaysia proud!"
In ESWC 2008, Kingsurf carried the Malaysian flag high and proud by beating the odds and getting second place, losing only to neighboring country Singapore. Does Nirvana.my feel pressured with the past success of Kingsurf?
-"Sure we are pressured but we will still try our best to make Malaysia proud! *Laughs*"
Will Nirvana.my be meeting the prime minister this time around to get his blessing?
-"*Laughs* I don't think we are so lucky this time."
What are your predictions for the top four placing for ESWC this year?
-"I think the top four teams will be AEON, EHOME, Nirvana.my and Nirvana.int.
Speaking of Nirvana, how does it feel to have two nirvana teams participating?
-"It feels great for us to meet each other on LAN competition and I guess we will have a fun time chatting with each other.
What would happen if the two teams meet on the battlefield? Will one team concede defeat over the other? *Laughs*
-"*Laughs* Nope. May the best team win!"
That would definitely be a good match to see.
You rank 3 Asian teams among the top 4, do u believe the Asians are that strong?
-"Yes, I do believe that Asians are strong, but maybe there are some European teams that are better now. Who knows? We will see when ESWC ends."
What do you think sets the Asian dota teams apart from the European teams then?
-"I dont know really. Maybe personal skills or teamwork."
Besides the obvious favorites to win. What do u think about some of the underdog teams, such as Reborn, T out and Tribal.fr?
-"Hmm. I don't really know them well. *Laughs*"
Who are you personally most looking forward to face?
-"EHOME, AEON, DTS and Nirvana.int"
Alright, I guess we'll end the interview here. Any shoutouts?
-"Shoutouts to all our supporters and fans. We will do our best and make our country proud! Malaysia Boleh!"
This will be our last interview as EHOME was not reachable and AEON declined to be interviewed. However, you can check out Nirvana.my being interviewed by local television show 8TV Quickie below.
Links
YouTube
- Nirvana.my interview video