Jaedong crashes out of OnGameNet Starleague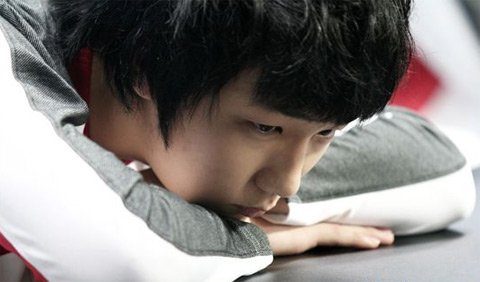 Photo by: FighterForum.com
Lee Jae Dong has been eliminated from the Korean Air OnGameNet Starleague after a shocking loss to Jun Tae Yang, more known as BaBy.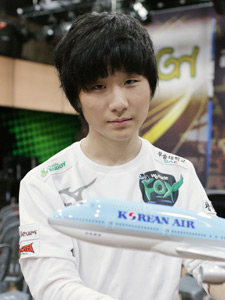 'The Tyrant' was seeded into the Round of 36 after reaching last season's quarter final. With his NATE MSL 2009 title, all eyes were on the Hwaseung OZ Zerg coming in to this round.
But it was the 16-year-old youngster BaBy who stole the show. After defeating herO in a very convincing first game on Great Barrier Reef with M&M and wraiths, he was overwhelmed by lurkers, defilers and zerglings in the second game on Fighting Spirit.
In the third game on Eye of the Storm, BaBy went for a fast expansion while herO opened up with a 12pool that quickly transitioned into lurkers. This forced the WeMade FOX Terran to take a defensive stance with three bunkers at his entry.
And even if herO finally razed through the defenses, BaBy held off the attack and stood for an incredible comeback by dropping a marine medic pack in the Zerg base. And with a pinch of wraiths and firebats, BaBy held off the mix of zerglings, lurkers and defilers to have herO type out.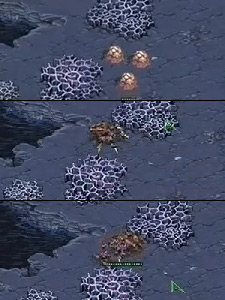 Nobody puts BaBy in the corner
The show wasn't over for BaBy. Placed against Jaedong, the MSL champion and three-time OSL winner, he surely remembered his loss to Jaedong in the latest ShinHan Winners League game.
In the first game, on Great Barrier Reef, the young talent received a little help from the doodads. Jaedong went for a very fast all-in lurker rush to raze BaBy's fast expansion. When one of the lurkers hatched it got stuck between two Shakuras doodads in the middle of the map.
With only two lurkers, Jaedong couldn't break through the two bunkers which allowed BaBy to macro up and add even more defense.
Jaedong, poised to keep attacking, sent in all he had but was once again stopped by the Terran infantry defenses. Seeing no reason to continue, Jaedong typed out.
BaBy said after the game that he had no idea whether that missing lurker would have cost him the win.
- I have no idea.
It was the first time facing a strategy like that,
but I was used to it from herO's lurkers in the previous match, said BaBy to Fomos.kr.
The second game on Fighting Spirit turned out to be a 20-minute game where
BaBy played very well, simply obliterating Jaedong.
With slick medic blocks and great raids across the map the WeMade FOX Terran advanced to the Round of 16.
A very humble BaBy revealed afterwards that he and Jaedong practice a lot together which gave him chance to analyze a lot. He does however say he was able to win thanks to luck.
- I personally think that I still lack a lot of skill, so I want to become better in televised matches, said BaBy.
Qualified for OSL Ro16

Flash

Movie

Calm

Shine

Kal

Stork

Kwanro

Hwasin

fOrGG

fantasy

EffOrt

go.go

hyvaa

BaBy
Links
Fomos.kr
- Source
TeamLiquid.net
- Translated interview