Vote GosuGamers for Best eSports Coverage award!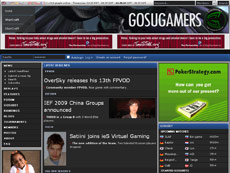 With an open voting system, we now see 40 sites in the run of being awarded the Best eSports Coverage Award. Among some stiff competition, we find GosuGamers competing against sites such as SK-Gaming, readmore, TeamLiquid and Replays.net.
eSports Awards has opened the voting for the category "Best eSports Coverage Award 2009", where the world's best eSport news site will be voted for. This year, we see a new concept where the community will bring forth the top Top 10 and then a jury will determine the winner.
Last year's winner was Replays.net, who is well known for their top WarCraft 3 coverage. The year before that, readmore.de took home the prize. Before that, SK-Gaming won the award three years in a row.
To show your support for GosuGamers, hop on over to
the poll
and vote for GosuGamers! In order to vote, you need an ESL account.
Links
esports-award.org
- Vote for Best eSports Coverage here!
esports-award.org
- Register here