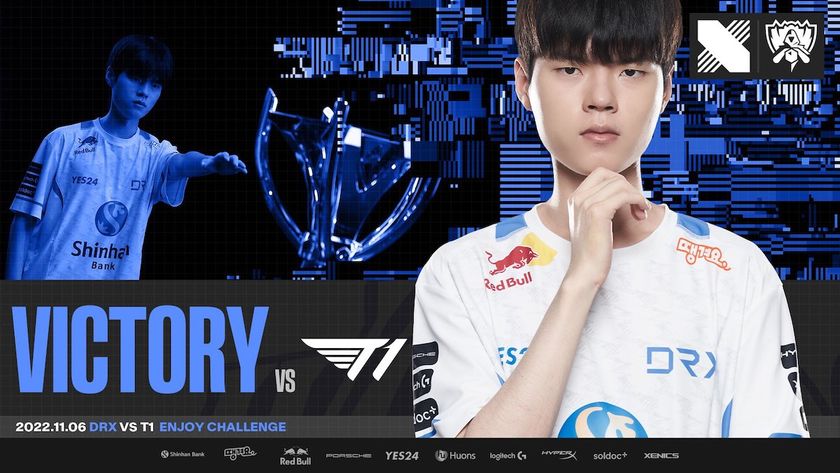 Worlds 2022: DRX gets its miracle run by defeating T1 in the grand finals
Image credit: DRX
DRX has created history at Worlds.
The all-LCK grand final of Worlds 2022 did not disappoint with DRX eventually coming out on top against T1/DRX after a hard-fought, back-and-forth series between the two teams. This was also only the third time that the grand finals of the League of Legends World Championship went to all five games with T1 being involved in two of the three times it has happened.
T1 took the lead in the series on two occasions but both times, DRX was able to come back in the following game with a strong performance to keep their tournament hopes alive. DRX was living up to its underdog status in the grand finals, not giving up even when their backs are against the ropes. With that win, DRX claims their first-ever world title, a first for the organisation.
That win also proves to be historic from the player's perspective. After a 10-year wait, Kim "Deft" Hyuk-kyu can finally call himself a world champion after missing out on multiple occasions in his storied career. It also helps that they had the guidance of the 2020 world champion, Cho "BeryL" Geon-hee who has been a rock for DRX since joining last year.
Game one saw T1 strike first with a convincing start to the series with the likes of Lee "Faker" Sang-hyeok leading by example. He ended the first game with a sole death to go with six kills and four assists on his Azir, one of his signature heroes that have also been one of the better mid-lane picks during Worlds 2022. However, game two told a different story as DRX came back swinging, despite T1 doing its best to take the second match.
The third game saw T1 take back control of the series with Azir and Varus for both Faker and Lee "Gumayusi" Min-hyeong, a combination that has worked out for them on the main stage. But it was also Moon "Oner" Hyeon-joon who kept T1 in it with some clutch Baron steals in games two and three. However, game four was where it clicked for DRX as they managed to not only beat T1 to take it to the final match but to do so in a convincing fashion as well.
Utilising T1's combination of Azir, Varus, and Renata Glasc, DRX managed to take the fourth game in under 30 minutes, the fastest match of the grand final series. Having forced the fifth game, it could have been anyone's championship at this point. The three-time champions even started the fifth match on the front foot, being able to claim key kills during the early game. Even Gumayusi got in on the trend of Baron stealing against DRX.
But when push came to shove, it was DRX who proved to be the better team overall. Their decision-making and positioning during key team fights was the turning point. T1 threw everything at DRX, going so far as to even break DRX's bottom inhibitor twice but to no avail. T1 even tried to backdoor DRX's base but it ended up in despair for the team as after getting wiped, it was their Nexus that eventually went down.
DRX has also created history by being the first team in League of Legends history to win the Summoner's Cup despite starting from the Play-In Stage. No other team has been able to achieve this feat and DRX is the first and only team to do so. But despite an amazing team performance from DRX, the grand finals MVP award went to none other than their toplaner, Hwang "Kingen" Seong-hoon who was phenomenal on Aatrox in the final two games.