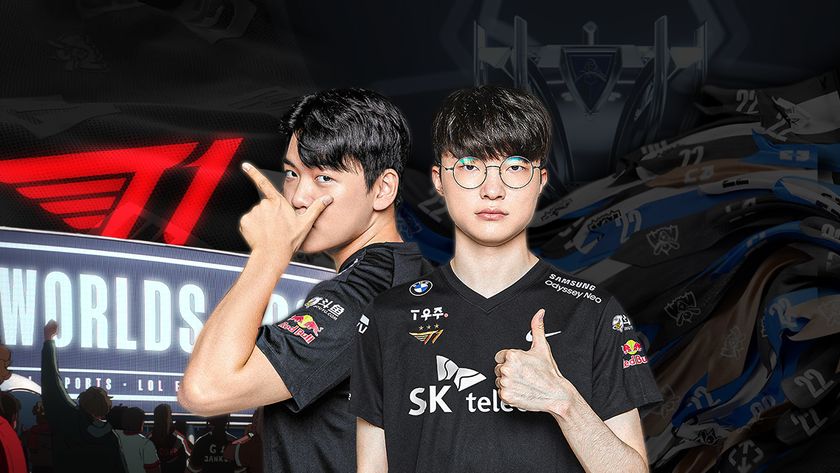 Worlds 2022: T1 sends JD Gaming home to make it an all-LCK grand finals
Another all-LCK grand final in the world championship.
Despite dropping the series' first game, T1 bounced back to win the next three games against JD Gaming to book their spot in the grand finals of Worlds 2022. With that win, T1 has ensured that there will be an all-LCK grand final at the world championship for only the fourth time in the tournament's history.
T1 was also involved in the last three all-LCK grand finals at Worlds (when they were known as SK Telecom T1) from the 2015 to 2017 seasons by battling against other Korean titans like the now-defunct KOO Tigers and Samsung Galaxy. As they were acquired by KSV eSports and are now known as Gen.G Esports, it will be great to see them make it to the grand finals, recreating the 2016 and 2017 seasons in the process.
With the LPL having a sole representative in the semifinals of Worlds 2022, this was only JDG's second time at the world championship. JDG also usurped their previous accomplishment with a semifinal finish after their debut back in 2020, which ended in the quarterfinals. JDG also started the series on the front foot, taking out T1 with their hyper-aggressive play style. By constantly being in T1's face for the entirety of game one, it was something that caught the LCK second seed off-guard.
Unfortunately, JD could not keep the momentum on their side. Even after a convincing game one win, T1 bounced back to take the next three games with their aggressive play style and team composition. For the first three games, both teams utilised the same bottom lane duo with T1 sticking with the tried and tested Lucian and Nami combination while JD went with the Aphelios and Lulu lineup.
This was also the first of two games on Ryze for Lee "Faker" Sang-hyeok, a champion he is known for on the big stage. However, it did take Faker some time to get going as he ended game two with zero kills, three deaths, and six assists. Instead of the mid-lane icon taking the plaudits for T1's response to game two, both Choi "Zeus" Woo-je and Lee "Gumayusi" Min-hyeong were responsible for the team's win, utilising Yone and Lucian to great effect.
With the series tied 1-1, it was the perfect time for Faker's Ryze to finally step up. Alongside Ryu "Keria" Min-seok who had 18 assists in the game, Faker showed why his Ryze is to be feared with his seven kills, three deaths, and five assists. Gumayusi also had another amazing game on Lucian, picking up another seven kills in game three. With T1 pulling ahead of the series, it was JDG's last throw of the dice to try and salvage the series.
The fourth and final game saw JDG go back to some comfort picks in Bel'Veth and Sylas to go with Sejuani, Jhin, and Karma. As for T1, they decided to put Azir on Faker, another champion he is renowned for with the likes of Gragas, Viego, Varus, and Renata Glasc to round up the comp. But by the time the game settled on a steady pace, it was evident that T1 had outdone JDG through the draft alone.
T1 outplayed JDG in the fourth game, taking 10 turrets to JDG's two while also claiming four drakes in the process. T1 was a force to be reckoned with by then with all five players showcasing why they deserved to be in the grand finals. Gumayusi was one of the big stand-outs of the series, ending game four with 12 kills, 11 assists, and a single death to his name. Keria was also one of the unsung heroes, putting in four kills, one death, and 21 assists.
With T1 now in the finals, they will await the victors between fellow LCK compatriots, Gen.G and DRX. With both teams also familiar with one another and T1, it will be an exciting grand final for all LCK fans, who have had to watch their region lose in the last three Riot Games' international tournaments. This will also be Faker's first appearance in the grand finals in five years with his last happening in 2017.