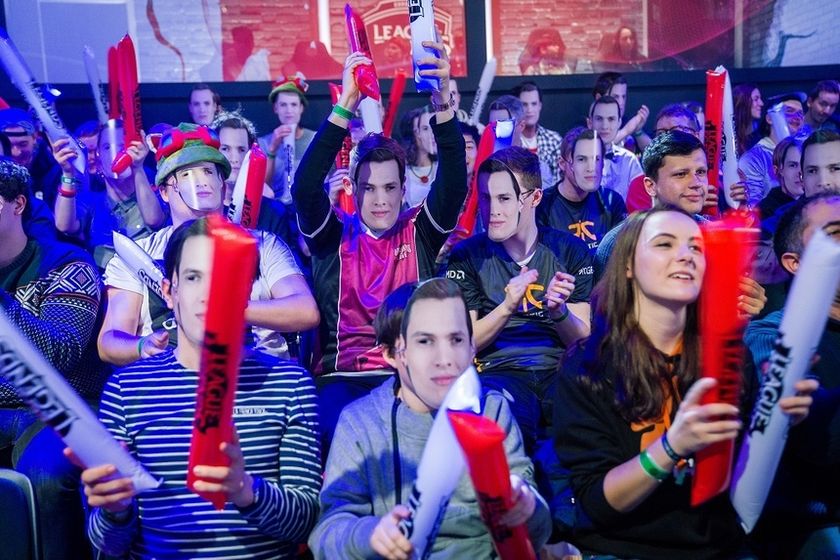 LCS Rundown: Halfway Point
We're midway to the playoffs, folks. The LCS weekend returns to the center stage as teams clash for the coveted playoffs spots on the Rift. From the classic upsets to textbook League of Legends, the NA and EU representatives have set their sights on every region's year-end end game: Worlds.
Missed it? Don't fret - we've handpicked cross continental highlights throughout the Rift to catch you up for the coming week's matchups and narratives.
Mid-Season Upsets

Photo: LoL Esports. https://www.flickr.com/photos/lolesports/
H2K: The Shook Effect
In shambles after a three-week losing streak, H2K-Gaming decided to revamp its lineup in the veteran pick up of Ilyas "Shook" Hartsema. To H2K's relief, the team looks to have regained their footing as they upset the playoffs contender, Team ROCCAT and the then-unstoppable Team Vitality, edging themselves closer in contention for the playoffs.
H2K started out dominant in their opener versus ROC, countering the cat's game plan with decisive engages and well-coordinated teamplay. H2K dismantled ROC, setting up crucial pickoffs with the devastating engages of Shook's Elastic Slingshots on Zac and promisq's The Quickness into Grand Entrance on Rakan.
Following a remarkable debut performance, H2K would then face the Italian Stallion and co. to test their steel against one of the top-tier contenders of the season. Throughout the match, H2K decisively responded to VIT's cross-map plays with timely Teleports and long-range Call of the Forge Gods from SmittyJ's Ornn.
After slight hiccups here and there, H2K  overpowered VIT with well-executed engages and superior teamplay. Closing off the week with a 2-0 record, H2K looks to be on the rise fighting for a chance at the crown.

Photo: LoL Esports. https://www.flickr.com/photos/lolesports/
Golden Guardians takes Team Liquid down to 4th
After securing a victory for themselves in their match against 100Thieves, GGS looked to improve their standings as the season reaches halfway through the split. In a flash of gold, the Golden Guardians upset the stacked Team Liquid in a pivotal turning point of their season run. How, you may ask?
Team Liquid set up proactive early plays, taking the lead through first tower takedown with clever rotations. However, a misstep or two was all it took for the Guardians to take the lead right under Liquid's nose. With Contractz's Predator-fueled Skarner along with chainable engages in their lineup, GGS took control of the map and ran with the lead they had made for themselves. Deftly and Hai's slow-paced teamfighting, kiting back Liquid's attempts at engages, made way for the team to eventually find their win against the squad. Perhaps, destiny had its part in GGS's win to ensure Team Liquid's 'forever fourth' legacy.
The Golden Guardians are steadily honing their style of play week after week, central to the organization's vision of long-term growth and player development. Question is, will Hai and co. be able to improve enough to make it to the playoffs?
The Kings have taken over

Photo: LoL Esports. https://www.flickr.com/photos/lolesports/
Echo Fox undisputed leader of the pack
In a standoff rerun of the north american titans, Cloud9 looked to tie the record against Echo Fox and rise above as the region's leading team halfway into the split.
In their matchup, C9 locked in a bold, Lucian pick to counter Huni's Gangplank top side like how the Worlds finalist pulled it off in FOX's spring split debut. Despite having an early-game centric composition, Licorice's Lucian fell behind due to being focused down through repeat visits from Dardoch and even got run down by his supposed matchup counter against Gangplank.
From there onwards, it just went downhill. Despite valiant comeback attempts, C9 was eventually outscaled and outright outclassed by the foxy squad.
As the players often mention however, the season's records are irrelevant compared to their playoffs performance. Moving forward, we can only wait and see if Echo Fox is indeed capable of keeping their winning record alive in best of threes and fives series. That or we see Huni fall to his playoffs curse, yet again.

Photo: LoL Esports. https://www.flickr.com/photos/lolesports/
G2 reclaim their throne
The dethroned Kings of Europe have had a slow start to the spring split and as of late, have started to get back into their groove. With their midseasonal matches against the on-fire Team Vitality and the middle-of-the-pack Misfits Gaming, all eyes were on G2 Esports as they had everything to prove.
Right off the bat, G2 proved they have returned to form with a well-executed game against Team Vitality.
Despite VIT having the superior objective control, G2 displayed up-to-speed responses against VIT's plays throughout the map. G2 decisively initiated long-range engages and singled out Vitality's primary carries to take control of the map. After putting on a clear-cut, methodical performance, G2's lineup closed out the match deathless against the VIT squad.
In their match versus Misfits Gaming, Perkz stayed true to his moniker and carried G2 Esports to a resounding victory. Despite being behind almost everywhere else on the map, Perkz outmaneuvered MSF's mid-jungle duo which kept G2 afloat to stay competitive throughout the match. After a botched engage from MSF however, G2 took the time to regain their footing to get back into the game. From there, Perkz again set the pace of the game and eventually, secured their spot at the top of the standings alongside Fnatic and Team Vitality.
G2 Esports have seen significant growth throughout the split alongside the standout performance of the Mid Lane King, Perkz. Judging from the looks of it, the Kings have  returned to reclaim the championship title yet again. Maybe the back-and-forth banter's been the motivating factor to get the G2 Army back on their feet.
Plays. Plays everywhere.
The LCS wouldn't be the LCS without its crowd-roaring, game-changing highlights.
100T Meteos game-winning Smite
Meteos secures the Baron Nashor to help close out their match versus CLG.
C9 Svenskeren outplays TSM's top-jungle duo
Svenskeren saves Licorice and gets revenge against his former team. 
FNC sOAZ with yet another solo kill
sOAZ comes out on top in a tank versus tank, 1v1 against SPY Odoamne.
GIA Djoke's sneaky Smite
Djoke counters the invade with a clever use of Smite's range.
SPY Odoamne 1v2's the Giants
Odoamne's Camille outplays and overpowers Steelback and Ruin.
With that all said and done, what could be in store for this week's LCS action?
Watch the LCS splits unfold as teams clash in the highest-tier of gameplay this weekend on Youtube, Twitch, and LoL Esports.
Resources:
EU LCS Standings. NA LCS Standings. 
Images courtesy of Riot Games.