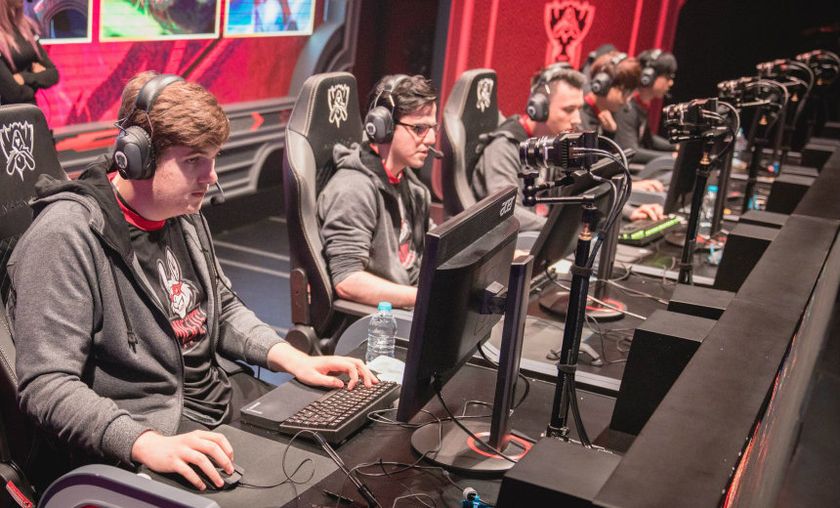 Worlds: Misfits upset TSM, LZ crushes Fnatic
Fnatic slumped to a 0-3 record in the most one-sided game of Worlds so far, but Misfits gave Europe something to smile about as they defeated TSM.
An early tower dive for Flash Wolves set an aggressive tone for their game against World Elite, but it only resulted in a 1-1 trade. The Wolves picked up kill after kill, ostensibly winning a skirmish in the top lane, but WE were up 2-0 in towers and held the gold lead approaching 20 minutes. The gap stayed close until a 28 minute team fight went decidedly in WE's favour, granting the Chinese a baron buff and the first major gold lea of the game. Moments later, Flash Wolves were handed their third loss of the tournament.
Misfits went into their game against TSM as underdogs, but buoyed by a win over Flash Wolves last time out. They took an early lead in the game, taking five kills for two in the opening exchanges. The lead grew as the Europeans took a 2-1 tower lead and eventually a 2-1 dragon lead as well. TSM traded the third infernal drake for a baron of their own, but that only served to keep the game close. Another baron went TSM's way as well, but Misfits won the ensuing team fight and almost ended the game. Another lengthy baron dance eventually went the way of Misfits and that was enough for them to end the week 2-1.
Gigabyte Marines locked in a relatively standard composition against Immortals, but they still managed to make the early game exciting thanks to an Immortals invade backfiring. But the North Americans were able to punish a heal/ignite Lulu in bottom lane and take first tower gold, keeping the gold close. From there, Immortals forced Gigabyte into a standard game and simply outplayed them at almost every turn, winning comfortably.
Sitting on 0-2, Fnatic needed an unlikely win against Longzhu to maintain any chance of qualifying for knockout play. A glacially slow early game favoured the Koreans, however, especially Khan's Nasus. LZ were able to take the first tower as well, taking a small lead into the mid game. It took 17 minutes for a fight to break out and it went 2-0 in LZ's favour, putting them 6k ahead. The writing seemed to be on the wall when Nasus solo-killed Soaz's Maokai soon afterwards, and the first perfect game of Worlds 2017 was over in 21 minutes.
Fenerbahce were looking to avoid a similar pounding in the following game, but giving first blood to Samsung's Crown in the opening three minutes did not help their cause. An early infernal drake compounded the Turkish team's difficulties, but sloppy play from the Koreans allowed Fenerbahce to keep the game even. Indeed, they even took a 6-4 lead and snuck a 30 minute baron for free, taking a small lead for themselves. A pick onto Crown secured the elder drake and an upset seemed to be on the cards until Samsung pulled an SKT. Ruler went nuclear in a vital team fight, leading to an ace and comeback victory out of nowhere.
G2 closed out week one against home favourites RNG. A tower dive in the top lane resulted in an even kill trade but G2 took down the first tower and secured an infernal drake as well. The Chinese team stayed ahead in kills but behind in towers and gold until a sneaky Twitch kill tied things up. The first teal team fight – 33 minutes into the game – went convincingly in RNG's favour, leading to a huge gold lead and multiple towers. G2 answered with a baron sneak to keep themselves in the game and another team fight resulted in elder drake for the European team. The following fight finally put paid to G2's hopes: a quadra kill for Uzi went unanswered, leaving RNG to take down the nexus with ease.