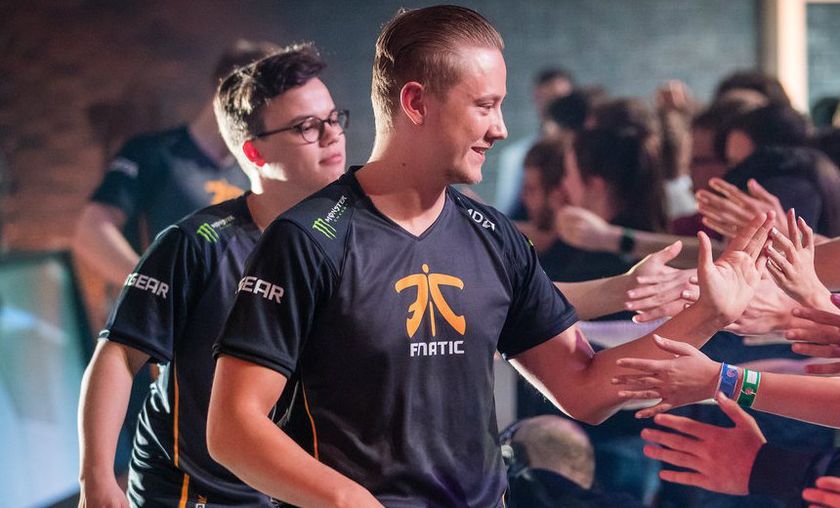 EU LCS: Fnatic Remain Undefeated After win Over G2
Fnatic ended week two undefeated after an impressive victory over G2.
 
Like SKT last week, G2 may have been suffering from a lack of practice going into their LCS fixtures. But Fnatic were ready to take advantage of any rust and they did exactly that. Player-wise, G2 were at full strength but Fnatic had their number in game one. Rekkles lit up the scoreboard on his signature Kennen, going 6/0/5, while Broxah's Kha'zix picked up an unusual 0/0/8 scoreline. The first game was about as one sided as it sounds from those scores. Fnatic took the lead around 14 minutes in and ended the game 10,000 gold up.
 
G2 showed their Spring Split form in game two, especially Mithy, who went 0/0/12 on Thresh. The game was back and forth throughout, and Fnatic held the lead for longer than their opponents. But G2 took a baron late on and were able to win out in a team fight shortly after.
 
Game two was definitely a slip-up from Fnatic, but in game three they were ready to make up for it. Rekkles was the focal point once more, with another zero death performance on Kennen. Indeed, Fnatic only gave up four kills total in game three. Once again they took a lead just before the 15 minute mark and this time they kept hold of it till the end. The old-school team will be be looking to continue their streak next week against a winless Roccat team.
 
G2 was back on the Rift on Saturday with what looked like an easier assignment against NiP. The Ninjas made the first game close, holding a lead for a long time but eventually letting it slip against a better late game team. G2 ended the game down in kills but up in kills and objectives. Game two started similarly well for NiP, and ended just as poorly. This time, it didn't take G2 as long to turn the game around, however. Zven's Twitch dominated a team fight in the mid lane around the 30 minute mark and he and his team never looked back. A Twitch penta kill later, G2 were celebrating victory.
 
Elsewhere, there were wins for Misfits over Ninjas in Pyjamas, Splyce 2-0'd Vitality and Unicorns of Love got their second win of the season. The Unicorns defeated LCS newcomers Mysterious Monkeys in a pretty straight forward 2-0 series. The win should give them confidence going into Sunday's game against H2K in a battle of the undefeated teams. It will be H2K's only game of the week, however, meaning they will have plenty of time to scout UOL.
Image courtesy of Twitter.