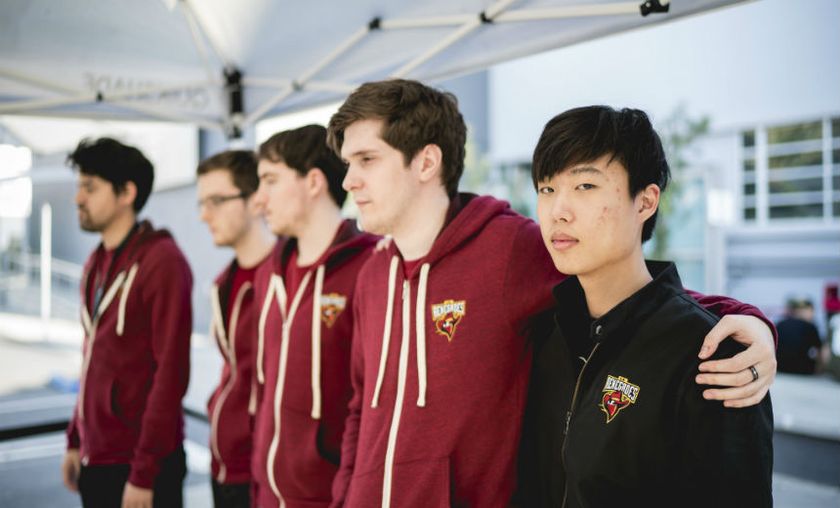 Team Dragon Knights and LA Renegades swap multiple players
(courtesy of Riot eSports, flickr)
Unexpected roster swaps with the North American Challenger Series playoffs looming for Team Dragon Knights and the end stretch of the North American League Championship Series on the horizon for LA Renegades.
Team Dragon Knights has traded Shin "Seraph" Woo-yeong and Noh "Ninja" Geon-woo to LA Renegades for Cuong "Flaresz" Ta and Alexey "Alex Ich" Ichetovkin. They also picked up Lawrence "Trance" Amador, former Enemy eSports support, who appears to be traveling to Los Angeles during the knockouts round; it is unlikely Aaron "Bischu" Kim will still be starting for playoffs. Even though it does not look like he's an intended starter, Oleksii "RF Legendary" Kuziuta is also on the TDK roster.
Both Team Dragon Knights and LA Renegades found themselves in a precarious position coming into March. TDK faces a tough road in the NA CS playoffs against Ember, who just brought on Lucas "Santorin" Larsen. Renegades is currently 2-12 with an extremely difficult schedule against Cloud 9 and Team Solomid in Week 8, and Echo Fox and Team Impulse in Week 9. Most likely, they are looking to get the better seed into the relegation tournament and secure the best chance of staying in the NA LCS.
Seraph had an average 1.9 KDA in NA CS, but has amassed a 6.3 KDA in the 5 games he has played in the NA LCS, playing three games for TIP and two games with Renegades. There's a quantifiable, statistical difference in how he has performed in the NA LCS versus the NA CS. What is behind that difference is hard to say. As TDK has stated that they felt they were doing the best for the players involved. It probably boils down to team synergy that is missing for Seraph on TDK that he has found on stage with multiple LCS teams. That might be a bad sign for TDK. Seraph seems to thrive with a supportive Jungler opposed to an aggressive playmaker and this might also account for the success he has found in the NA LCS.
Meanwhile, Flaresz has earned a 1.1 KDA in 3 games starting for Renegades this split. Last year, Ninja had an average KDA of 3.4 on TDK during Summer Split, and Alex Ich is currently sitting at 2.0. While their KDAs are not vastly different, stylistically they are completely different. Where this is probably the most beneficial is that Alex Ich is certainly more experienced than the Mid laner that TDK has used during Ninja's banned period— which ends on March 11, while TDK plays Ember on March 8. Son "Thy" Seung-yong has done a competent job but with the competition stiff in the playoffs and promotion tournament Alex Ich is a more reliable player.

Renegades cannot hope to avoid the relegation tournament barring a complete miracle. Meanwhile, TDK is looking for any advantage they can find over their playoff foes. Both are uncertain if they will be playing in the North American LCS next split. Looking forward, it will be interesting to see how these trades will affect the cohesion of both teams. On the surface it looks like a good move for Renegades and an uncertain one for TDK, but only time can tell.