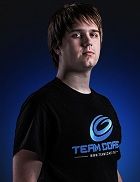 NintendudeX announces his new team - Team Gyrations
Yesterday NintendudeX announced the creation of his new team - Gyrations and his plans for future development.
The ex-jungler of Team Coast has created a new team with current roster consisting of:
NintendudeX
Yusui
KEITHMCBRIEF
catrific rules (better known as AdrianxKelsey)
Bee Sin
For now it seems as the team is just experimental and the players are testing team synergy. As of now they are focusing on ranked 5v5s. The players have not set any competitive goals as of yet, such as LCS participation or other tournaments. NintendudeX himself is trying to become a better leader and shot caller for his team in order to improve their gameplay.
Btw, the name "Team Gyrations" is pretty hilarious if you ask me. It literally means we are a team that runs in cricles. LOL

— NintendudeX (@NintendudeX) June 10, 2014
Source - Facebook