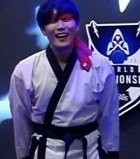 CloudTemplar joins the caster's desk for Winter Champions
After leaving CJ Entus Frost and inciting fan speculation with his guest appearances on OGN, CloudTemplar confirms his new spot on the caster's desk for Winter Champions 2013-2014.  He will debut on 24 October for the qualifiers.
When Lee 'CloudTemplar' Hyun Woo announced he would be leaving his role as jungler on CJ Entus Frost to Helios, many fans saw potential for him to continue in eSports as a personality on the caster's desk for OGN.  He has appeared before as a guest caster, and the responses were appreciative.  As such, it did not surprise many when it was announced he would be joining OGN to cast matches for the upcoming Winter season of Champions.
In an interview, CloudTemplar showed his eagerness to join the desk and his appreciation for the opportunities he received as a professional player.
 
I really enjoy playing a game and talking to people as well. Being a pro gamer was a great opportunity for me and a blessing. I think being a caster is the second closest place where I can work in e-sport. I want to thank OGN for giving me this opportunity. I am so excited.
—CloudTemplar, Reddit translation

Many fans share CloudTemplar's excitement.  Even English speaking fans have expressed an interest in seeing him join the English language desk with MonteCristo and DoA, but for now this is unlikely.
He will make his debut on Thursday, 24 October, casting alongside seongseungsheon, Kim, and Dong — Jun for the offline qualifiers, but he will be casting throughout the winter season online at OnGameNet.
Source: inven.co.kr, reddit