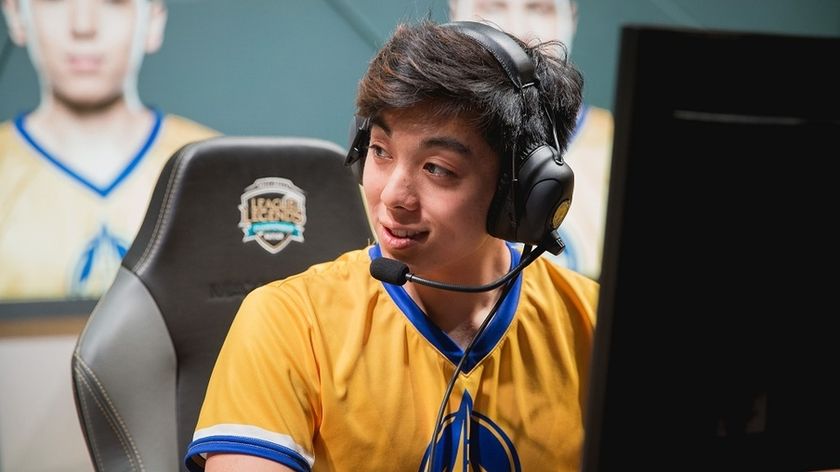 Into the Spotlight: GGS Deftly
Matthew "Deftly" Chen started out like any other – climbing the ranks and watching the ever-competitive League of Legends scene from afar.
After years of dedicated practice, Deftly reached all-new heights as his career kicked off under the region's first-ever talent scouting initiative in the 2016 NA Scouting Grounds. Deftly soon found a home in the NA LCS, being praised for his superior play in his time with eUnited in the NA Challenger Series.
Now playing amongst legends, we caught up with the add carry of Golden Guardians to talk about his career, the state of their team environment, and thoughts on taking down his long-time idol in TL Doublelift.

Photo: LoL Esports. 
From the Scouting Grounds to the Challenger Series, you've been in the scene for quite a while. How's the experience been moving onto the LCS stage?
"I expected to be really nervous playing in the LCS since it's not an online event, but surprisingly I've had a good time adjusting to the LCS."
What's the origin behind the name 'Deftly'?
"Since I was a little kid I was never really creative, I would just steal my brother's names in whatever games he played, and when I got introduced to league I looked for top pro players, I found deft and fell in love with his play and his name. The definition of deft is to be neatly skillful and quick in one's movements, and that's a goal I want to strive to be."
How did you get into League? How's life been like for you as a pro player?
"I got into league from a friend of mine (shout-out to lpoklpok), he always wanted to play league after our basketball summer camp. Life is always really pleasant since I've been  blessed with great teammates and a great team environment since the beginning of my career, but at the same time it's stressful since I put high expectations for myself and the team."
Being an ad carry, how did you end up choosing your professional role in League?
"I've always enjoyed playing ranged characters, I would always watch my brothers play Dota and the aspect of kiting really intrigued me."
What are your thoughts on the state of the bot lane meta? If you could buff a marksman into viability, who would it be?
"I like how bottom lane is at the moment, most champions are viable so it's pretty fun. Lucian for me would be the most fun, he has a lot of cool combos, and has a very high skill ceiling."

Photo: LoL Esports. 
Coming into the all-new Golden Guardians roster alongside veterans such as Hai and Matt, how has that affected your mindset coming into the split?
"It's been an honor to play alongside all of my teammates, they all have a lot of experience, so I'm able to learn a lot and improve at a rapid rate. As far as mindset, I just want to win and will do anything to win."
As a player, how would you define your playstyle? How are you looking to improve your play as you progress through the season, individually and as a part of the team?
"Honestly, I don't really know how I would define my playstyle. I don't really see people having proper playstyles, instead I see it as correct or incorrect play. I think my biggest flaw is my communication so that's what I will be working on the hardest throughout the season."
Seeing that the team's now starting to gain traction, how has GG's synergy evolved throughout the weeks?
"I think we have grown a lot in terms of team cohesion, it feels like were actually a team now rather than 5 players."

Photo: LoL Esports. 
I remember you mentioning that Doublelift's one of your idols in the professional scene. What was it like taking down TL in the past week's match?
"Winning against TL was surprising to me and a huge relief, since losing to Optic the day before I was personally crushed because I felt like our chance at playoffs may have been over. After beating Liquid it felt like I could see color again, that there was light at the end of the tunnel, and to top it off we beat one of the best teams in the league. It felt especially good since Doublelift was talking a lot of trash about us prior to the match."
Who have you found exciting to play against in the past weeks, in lane and team-wise? Why?
"I haven't really found anyone exciting to play against, but I'm always excited to get on that stage with my teammates."
How are you feeling about your rest of the split matches? Any end-of-split predictions?
"I'm feeling very positive about the rest of the split, and it seems like we have weathered the storm, I'm sure that we can make playoffs as long as we give it our all and play like we have been."
What do you have to say to the community, your followers and GG's supporters?
"Thank you guys for bearing with us during all of our losses, and we're gonna try our hardest to get a lot of wins!"
Photo: LoL Esports. 
Quoting from his feature, "Scouting Grounds: Path to Pro" on Yahoo Esports, Deftly proudly declared,
"You'll see me in the LCS next year."
To which end, he has indeed fulfilled his long-time ambition. Now, the up-and-coming rookie is yearning to prove himself as a competitive marksman in the league – capable of standing toe-to-toe with the idols of his past and thrive.
Get up to speed with Deftly and the Golden Guardians as they strive to carry over their momentum to the rest of the split! You can catch Deftly on Twitch and hit him up with a follow on Twitter.
Images courtesy of Riot Games.