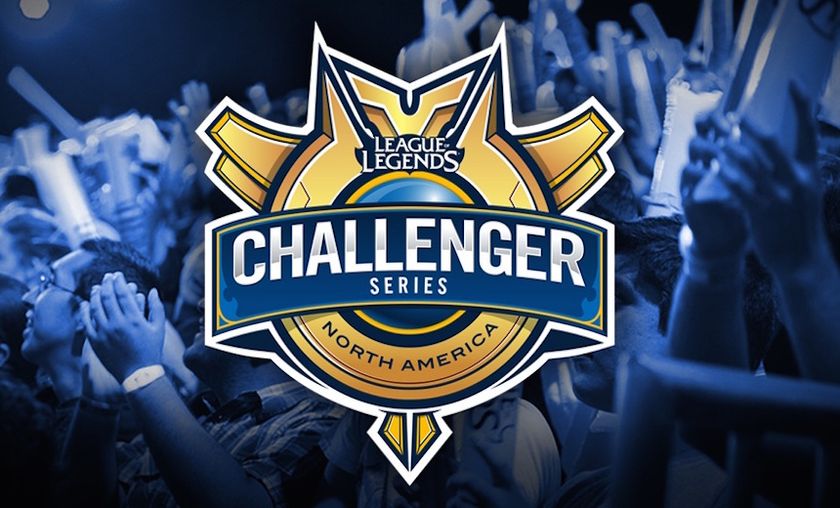 NA CS Finals: Team Dragon Knights vs. Apex
(courtesy of dailydot.com)
Team Dragon Knights managed to sneak their way into the North American Challenger Series playoff finals after upsetting expected finalist Ember in the semifinals. Not so shockingly, however, NA CS regular-season champion Apex fought their way into the finals to try to earn the highest seed possible in the NA Relegation tournament. Late season roster swaps seem to have given new life to TDK. Could they translate it into a victory on stage in the LCS studio?
Game 1


Apex:

Bans:
Lulu, Gragas, Trundle

Picks:
Poppy, Rek'sai, Azir, Sivir, Braum
 
Team Dragon Knights:

Bans:
Nidalee, Kalista, Graves
Picks:
Nautilus, Elise, Corki, Lucian, Janna
 
Team Dragon Knights soundly controlled the early game in this matchup, a trend that would make itself known throughout the series. With Elise and Corki in the composition, the early-mid game power spikes served TDK well. Kevin "Kez" Jeon found a comfort pick with Elise, and indeed proved to be an early game pest for Apex.
Though Apex was down, they were never truly out. They avoided surrendering too great of a lead, and found three tower kills in a short span of time, putting gold in their pockets before a pivotal baron right that saw Apex securing the buff, and cleaning up four kills out of the ordeal. TDK's lapse proved to secure the winning advantage for Apex, whose massive frontline became too much for their opponents to handle. Jang "Keane" Rae-yeong's Azir did what Azirs do, reaching the past TDK's frontline and shredding squishies, earning a 3/1/6 line for the game, and Park "Police" Hyeong-gi's Sivir shredded the backline with newly-buffed critical strikes on Ricochet.
Winner: Apex
 
Game 2
 
Team Dragon Knights:

Bans:
Twisted Fate, Corki, Graves

Picks:
Trundle, Nidalee, Ezreal, Lucian, Braum

Apex:

Bans:
Lulu, Poppy, Kalista
Picks:
Quinn, Elise, Zed, Sivir, Nautilus

Apex went for the straight counter-pick composition in this matchup, but found themselves severly lacking in teamfight power. In a match where they needed to win early and win hard, they stumbled in the early game. A lane swap advantage is just about all Apex had going for them in this matchup. TDK secured a gold lead around eight minutes into the game and never looked back.
Apex was teased with a much-needed mid game fight that almost went entirely their way, but Alexey "Alex Ich" Ichetovkin singlehandedly picked off two parting kills out of the fight, neutralizing the advantage Apex needed to get back into the game. Out of this, TDK build themselves an insurmountable macro advantage including Baron Nashor and the fifth Dragon buff. Though Apex was able to secure two parting kills, they lost the contest handily.
Winner: Team Dragon Knights
Game 3
 
Team Dragon Knights:

Bans:
Twisted Fate, Corki, Graves
Picks:
Maokai, Nidalee, Quinn, Lucian, Braum

Fnatic:

Bans:
Lulu, Poppy, Trundle

Picks:
Nautilus, Rek'sai, Azir, Kalista, Thresh
 
Apex learned their lesson.
For nearly the entirity of the game, Team Dragon Knights was behind in gold. They did not take objectives efficiently, they did not find good fights, and they did not play to their team's advantages well. With very little teamfight ability whatsoever, TDK needed to find picks across the map, rotate intelligently, and lock down priority targets. Instead, Apex kept tabs on them all game, disallowing them to find any advantages they couldn't equalize. With a much stronger teamfighting composition, Apex just needed to not be significantly behind in the mid game. They weren't, and they won.
Lee "ShrimP" Byeong-hun went off on Rek'sai, keeping his performance squeaky clean with a 4/0/9 statline, and leading the game in damage dealt to champions.

Winner: Apex


 
Game 4
 
Team Dragon Knights:

Bans:
Twisted Fate, Kalista, Corki
Picks:
Rammus, Nidalee, Ezreal, Lucian, Braum

Apex:

Bans:
Lulu, Poppy, Trundle
Picks:
Nautilus, Elise, Graves, Sivir, Thresh
 
At 10 minutes, you may have thought we had a game on our hands.
Yeah. No.
Team Dragon Knights tried to get cute with a Rammus pick, but didn't get the Graves top lane match they wanted. Up until 10 minutes, this game was even, but flexing that Graves to Keane in the mid lane prevented TDK from neutralizing the AD heavy marksman with Rammus. Keane pumped out the most damage in the game, and the armor-heavy Rammus pick did nothing to slow Seo "Eve" Jun-cheol's Elise, who finished with a 7/1/11 line in the series-clinching win.
Winner: Apex
NA CHALLENGER CHAMPIONS: Apex
 
No surprise. Nothing to see here folks. Apex has consistently been the best team in the NA CS, and they proved it, becoming the 2016 NA CS Spring champions, and earning themselves a favorable position in the NA LCS promotion tournament. TDK certainly looks like they have the ability to make some noise in the tournament, especially if they play against faltering teams such as Team Dignitas or Team Impulse