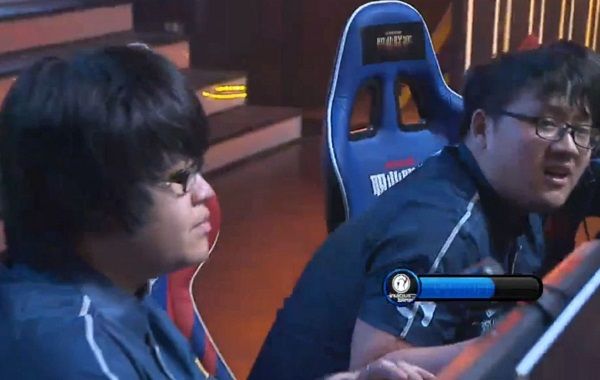 LPL W5D1 -- Dawn of the new patch in China

If you're simply interested in spoiler-free VODs:
SHRC vs. iG Game 1
SHRC vs. iG Game 2
WE vs. LGD Game 1
WE vs. LGD Game 2
English Rebroadcast
*These games were played on Patch 4.10.
---

MVP Scores

MVP Score / Kills / Assists / Deaths / KDA / Gold / CS
---
VS 

Match Context: StarHorn Royal Club is on the verge of adapting very well to an international metagame.  With their constant hot streak of taking full control of early dragons, SHRC's been a reputable force to deal with in the early game.  On the other end of the spectrum, Invictus Gaming has been shifting perspectives ever since the loss of PDD and the inclusion of Yongsoo.
With Kid having the best split he's had in his career, Invictus Gaming have been focusing a lot of their resources onto him, allowing him to hard carry the team to victory.  Invictus Gaming also draws back to their early advantage of being unpredictable in the drafting phase, bringing out new things to shake it up.  But with Royal Club also locking in a fresh pool of heroes, who will throw the other off guard?
Bans
* This player was a stand-in for this match
Key Points:
Uzi shows his strong Caitlyn play by crushing Kid early in CS, who's had a very strong season so far.
InSec lets Uzi and Zero bait a bottom lane gank. While Zero and Insec both miss their flash CC's, Uzi grabs first blood after avoiding a gank by Illusion.
SHRC continues to have amazing early dragon control.
Starhorn's vision control proves strong, but Invictus Gaming's mobility renders them hard to gank and easy to be chased down by.
Invictus Gaming find a very crucial pick on SHRC near the baron pit, allowing them to come back into the game by taking baron.
iG's Illusion facechecks without adequate vision, but due to his ultimate, he was able to bait the fight into iG's favor.  
SHRC play an excellent war of attrition and push for the win after crucial picks.



VOD (Click for Full-Screen)
---
Bans
* This player was a stand-in for this match
Key Points:
SHRC's bottom lane goes support brand, forcing Kid to lane swap and leaving Kitties to help roam with jungle pressure. Illusion also pulled out his infamous Fiddlesticks jungle.
Kid gets an early advantage onto Cola with help from Illusion's Fiddlesticks.
Not only do SHRC acquire first dragon to show why their early dragon contest can't be messed with, they also acquire kills and win a skirmish
iG get a little over zealous in teamfights and lose fights they would otherwise come ahead of.  Corn becomes very fed as all the kills funnel onto him.
For the second time in LPL, SHRC grab a completely uncontested baron.
iG manage to grab the third baron and get away with it despite their deficit. While SHRC got the best of the following fight, the most important characters of iG still had the buff, including the absurdly fed and farmed Kog'Maw.



VOD (Click for Full-Screen)
---
VS 
Match Context: Unlike their brother team, World Elite's inclusion of Koreans has been paying dividends for them over time while LGD's coaching staff hasn't necessarily been bolstering their play.  With ActScene shaping up to be one of the best junglers and Ninja pulling out unique mid-laners, they've got the strategic edge. Meanwhile, LGD's individual play has been shaping up but they've been faltering on a strategical level.
Bans
* This player was a stand-in for this match
Key Points:
Despite the criticism of Quan's jungle play on champions that aren't Lee Sin, he manages to secure an early lead for LGD's bottom lane with an early gank.
Caomei helps win a huge teamfight at dragon while not blowing teleport at all compared to 17.
Ninja dominates Weiless mid due to his late acquisition of combat stats (full mana build.)
WE take the opportunity of resources expended from LGD to push objectives and pulls way ahead in towers.
Weixiao gets a pentakill with sword of the occult
Afterwards, World Elite steamrolls through LGD.



VOD (Click for Full-Screen)
---
Bans
* This player was a stand-in for this match
Key Points:
Lots of bans are focused at mid lane with the outlier being Lee Sin being banned for Quan.
17 manages to lock in his strongest champion in Jax while Ninja takes a new approach, putting Jayce mid-lane.
World Elite discovers LGD doing an early juggle on dragon, picking up a kill but having LGD grab a perfect smite on it.
World Elite dominated dragons, but neither team were fast in pushing down towers.
LGD find a good fight at 19 minutes with a solid hook into Weiless' masterful shockwave, bringing them back into the game.
WE grab an ace at 27 minutes which allow them to get a baron. With full control of the game, they close it out shortly after.



VOD (Click for Full-Screen)
---

STANDINGS
Team
M
W
D
L
P

14
6
6
2
24

14
5
8
1
23

14
6
5
3
23

14
4
6
4
18

14
4
6
4
18

14
2
9
3
15

14
3
3
8
12

14
2
5
7
11
Matches and results