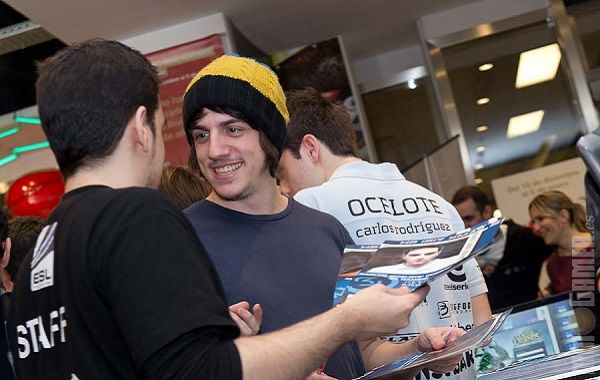 ATN. Araneae Interview: "The famous are not the best, Asians are, so try to learn from them."
NAME: Alvar "Araneae" Martin
COUNTRY: 
Spain
POSITION: Jungler
TEAM: ALTERNATE
LCS RANKING: 1
 Once the jungler for SK Gaming and helping achieve 2nd in the Season 2 European Regionals, Araneae has been a pivotal player in the European scene.  From drama to controversy, he's had his name everywhere.  Despite making it to the Season 2 World Championships with Ocelote and co., Many regarded him as a weak jungler who was eventually benched from SK Gaming.  Though not initially making it into the LCS, the lackluster claims would all seem misguided in the face of a newly reborn ALTERNATE come the Summer Split in Season 3.  Now, the team resides in first place, even above fan favorites like Gambit Gaming and Fnatic.  Araneae is regarded as a powerful jungler now, providing analysis for his team as well as playing at a professional level while balancing school.
Read on to see Araneae's views on the competitive scene in North America, his rise to prominence, bringing ALTERNATE to the top of the list, and balancing university and being a professional gamer at the same time.
        The interview was conducted by Skype on June 21st by Michale "Drexxin" Lalor.
You guys used to have a notorious reputation for being "solo queue superstars" Do you think the advantage of having "solo queue superstars" actually pays off in the long run?
I think they are really skilled, but on the other hand, they lacked on teamplay. Not anymore!
So what was the key step that allowed you guys to mesh as one rather than seeming like five individual players?
I put a lot of effort on this. On living together, on utiziling much time as we can for our gaming house to live together and know each other better. That is the beginning of a friendship and trusting  someone, and allows you to play better with them.
When you were on SK, a lot of people felt you were underwhelming amongst their team. Now, you seem like a huge playmaker and asset to your team. Do you think your new team just suits you much better and you have better synergy with them or did you really just improve that much?
I didn't improve that much. For Gamescom, I thought I was already good jungler. Then we didn't train and I was forced to play support junglers. If you don't play carry junglers and you don't train, your game-level depends on your team, and we didn't train at all, so it seems that I was really bad xD. Here on ATN I play the role that I want. More early-carry junglers that fit me much better, with a lot of aggression/counterjungle.
 
​ 
"Here on ATN I play the role that I want. More early-carry junglers that fit me much better, with a lot of aggression/counterjungle."
Do you feel in a sense that you've earned revenge on SK with you guys being #1 and them being the polar opposite (last place) after super week? Are you and Ocelote on good terms?
I'm not looking for revenge or anything. I just wanna beat every team. I'm satisfied with the 1st week and how my team played, but we cant be confidents from that, need to keep working and that's how wins will keep coming.
You've been balancing university and professional gaming, how do you manage to stay at a professional level while balancing studies? About how much of your time would you say you spend on both?
Sleep is overrated hahaha. Well, mainly, before exams, I study for like 4 or 5 days almost 16 hours/day. But when I dont have exams, I just go to university and take some notes. I would say I'm more focused on gaming since there are more events, but at the end I try to balance both.
As time goes on, no doubt competition will get stiffer. What will you do if you cannot keep up with the current level of play while going to school? Will you drop school to help your team or will you find someone to fill your shoes?
Luckly, I don't have university in summer, so I can focus fully on gaming right now to help my team (I'm still missing 2 exams but thats all!). But I think I can keep doing both, always focusing more on gaming since it's my passion/dream.
Coming from the amateur scene, how big do you think the gap is between the amateurs and current LCS participants?
Well, here we are playing against the BEST. On the amateur scene it was a bit weird, since new players/teams were coming and it's harder to study em. LCS teams are easier to study :D
We saw you play Hecarim in super-week and haven't seen much of it out of you in the past, was this heavily influenced from studying the Chinese scene?
Yeah, I follow LPL a lot, and was worried on why IG and WE played a lot of Hecarim. I tested him a lot, and realized it could work, so... why not? :D
What is your honest opinion of North America at the moment, do you feel it has evolved a lot since the beginning of LCS?
It did, but I'm not really a fan of it. When I watch my games I see mistakes that we try to correct. When I see NA, I see many mistakes that seems like they don't correct them. I feel like they don't watch their own replays, or even the Korean/Chinese scenes.
Is there any jungler you truly respect and maybe study more than anyone else or do you kind of roll with your own style?
I truly respect Diamondprox, because he is the one who innovated the most. But I prefer studying a whole team, and prefer Asian teams.
Do you guys find any way to bond outside of LoL or do any hobbies outside of it like finding other online games to play together, hanging out together, etc?
We love partying together. We are a really close team that like each other a lot. So we can go anywhere together and it will be always fun.
 
"The famous are not the best, Asians are the best, so try to learn from them."
A lot of people aspire to do what you do as it's a dream job, and a lot of them are in school like you. Do you have any wise words for aspiring people in eSports who want to get involved or be a professional gamer?
1st and most important wise words: Never leave your studies. It's much too risky. Even for us, we dunno if eSports will be our work forever, so having a 2nd option on studies is, at least for me, the best option. If you wanna become a professional gamer, the most important tip I can give, is realize your own mistakes, and learn from the best. The famous are not the best. Asians are the best, so try to learn from them.
Thank you so much for finding time to answer these questions. Is there any last words you'd like to say before we close this out or any shoutouts to sponsors/fans etc?
I would like to thanks everyone, all the fans who support us, all my friends who support me, our sponsors (Alternate, MadCatz, Intel, Nvidia..) and specially my family and my team!
---
QUICKFIRE QUESTIONS
-Favorite Food: Mom's Steak
-Biggest Fear: Fiddlestick's Q
-Favorite Animal: ​My cat, Ara
-Childhood dream job: Engineering
-Favorite game before LoL: Super Smash Bros.
-Most annoying Hero: Shaco
-Favorite Hero: Lee Sin
-Life role model: ​My dad