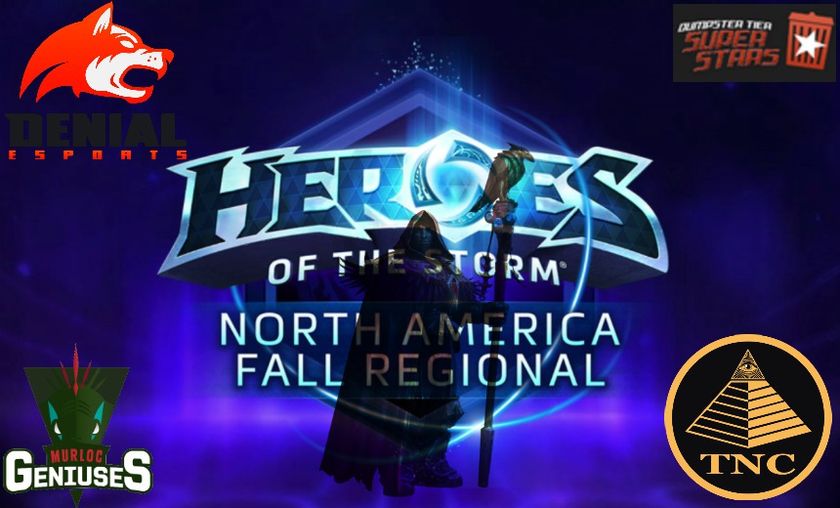 Medivh portals his way into Day 1 of the NA Fall Regional #2
Many believed Murloc Geniuses and Denial eSports would emerge from group A, but did Team Name Change or Dumpster Tier Superstars pull off any upsets at PAX West?
Event hub
On the first day of the NA Fall Regional #2, Denial eSports and Murloc Geniuses secured their spots in the playoffs as the #1 and #2 seeds of group A, respectively. While Dumpster Tier Superstars (DTS) and Team Name Change (TNC) put up valiant efforts, they were eliminated from the tournament.
You can watch Day 1's matches here (part 1 and part 2).
Upper Bracket
Round 1 - Best of 3
Round 2 - Best of 3
Lower Bracket
Round 1 - Best of 3
Round 2 - Best of 3
Final
Murloc Geniuses vs. Team Name Change
Defending champions Murloc Geniuses defeated Team Name Change 2-1 in a very close series. Murloc Geniuses surprised us in game 1 by immediately picking Auriel and Cho'gall. They won game 1, but TNC retaliated with a dominant game 2 victory. In game 3 on Dragon Shire, Murloc Geniuses employed Zagara's Nydus Network heroic to control the map and thus the Dragon Knights. While the game was close, Zagara's global presence put too much pressure on TNC, allowing Murloc Geniuses to secure the final Dragon Knight and end the game.
Denial eSports vs. Dumpster Tier Superstars
On the other side of the bracket, Denial eSports took a 2-0 victory over Dumpster Tier Superstars. In the series, Denial brought some unique compositions, highlighted by Abathur, Tracer, and Tassadar in game 1 and Medivh in game 2. In game 1, Denial's Muradin bullied the enemy backline, allowing Tracer to secure kill after kill. In game 2, Denial's Medivh protected against burst damage, while their Brightwing sustained them through the long team fights.
While many considered Denial one of the favorites in the first NA regional, they performed below expectations. In response, Denial replaced Prismaticism with iDream. With iDream, Denial gained a more experienced and familiar player as iDream reunited with his former Cloud9 teammates, k1pro and KingCaffeine.
Murloc Geniuses vs. Denial (Winners' Match)
In the winners' match of group A, Denial eSports would once again face Murloc Geniuses. In the first NA regional, Murloc Geniuses defeated Denial twice without losing a single game, eliminating them from the tournament. However, this time, Denial secured vengeance with a close 2-0 victory.
In game 1 on Sky Temple, Denial drafted a sustain composition consisting of Li Li, Brightwing, and Leoric. Murloc Geniuses responded with Auriel and Lunara. Although Murloc Geniuses constantly secured kills on Leoric, they committed too many resources on him. Denial's Brightwing and Li Li sustained the team in long brawls, allowing Leoric to return and triumph in the late team fights.
The highlight of group A's matches was game 2 on Towers of Doom. Murloc Geniuses drafted a standard lineup. However, Denial once again brought out k1pro's Medivh. In a wild back-and-forth game, both teams' cores were whittled down to 5 remaining hit points. Murloc Geniuses had Denial on the ropes, but chased too far to attempt to secure a kill on Denial's Falstad. In response, Glaurung's Zeratul landed a critical 4-person Void Prison, setting up his teammates to eliminate Murloc Geniuses and thus win the final game.
With the win, Denial secured their spot in the playoffs and will play the #2 seed of group B.
Team Name Change vs. Dumpster Tier Superstars (Losers' Match)
In another rematch of the first regional, Team Name Change once again sent Dumpster Tier Superstars home with a 2-0 defeat. In game 1 on Dragon Shire, TNC controlled the team fights. While DTS used the Lost Vikings to delay the capturing of the Dragon Knight multiple times, TNC's team fight prowess ultimately secured them the victory. In game 2 on Tomb of the Spider Queen, TNC drafted Malfurion, who ended up picking the Twilight Dream heroic. Towards the end of the game, DTS won a team fight and attempted to end the game. However, TNC narrowly survived with just a mere 2% health remaining on their core and subsequently eliminated the entire DTS team.
Murloc Geniuses vs Team Name Change (Decider Match)
In the final match, Murloc Geniuses took a convincing 2-0 victory over Team Name Change. For game 1 on Cursed Hollow, Murloc Geniuses drafted Medivh and Stitches. Although TNC controlled the early and middle portions of the game, they had no answer for Murloc Geniuses' Stitches Gorge and Medivh Portal combo. The combo constantly secured kills and eventually a full team wipe, allowing Murloc Geniuses to take game 1. Although most of the games between Murloc Geniuses and TNC were very close, game 2 was not. Murloc Geniuses, with the first Sgt. Hammer pick of the tournament, completely dominated with a final kill score of 20-0. With the victory, Murloc Geniuses secured group A's last playoff spot.
While the defending champions Murloc Geniuses did not look as strong as they did in the previous NA regional, I would not count them out just yet. Just like in the first regional, Murloc Geniuses came out of their groups as the #2 seed. In the last regional, they went on to win the entire tournament.
Looking ahead to Group B
Denial eSports and Murloc Geniuses will play again in the playoffs starting on Sunday. Tomorrow, group B will take center stage. While Gale Force eSports and Team Naventic are the favorites of group B, Astral Authority and Imported Support will attempt to dethrone the two titans. Tune in to ESL Heroes on Saturday, September 3 at 10:00 AM PT to watch group B unfold.
You can view the most current results of the NA Fall Regional #2 here.
Follow us on Twitter @GosuGamersHotS and on Facebook for more competitive Heroes of the Storm news and coverage from around the world.