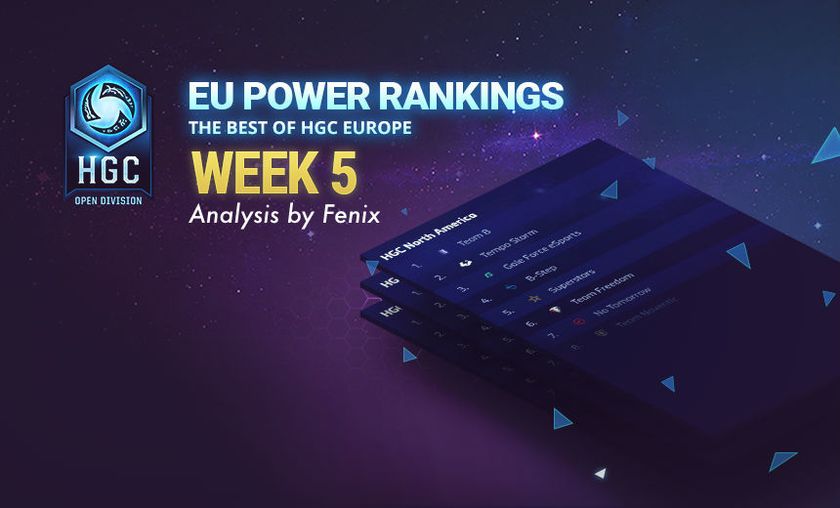 HGC 2017 EU Power Rankings: End of Week 5
Let's see how all the teams stack up going into the Western Clash.
My Power Rankings from Last Week:
Misfits
Fnatic
Team Dignitas
Team Expert
Playing Ducks
Tricked eSports
Synergy
BeGenius ESC
My Power Rankings going into the Western Clash
1. Misfits (7-0) (No Change)
Results this week: Defeated Tricked eSports 3-2
Almost everyone expected a clean 3-0 for Misfits, and they certainly were well on their way after they won the first two games in typical fashion. I don't think anyone would have guessed that Tricked eSports would win the next two games and force Misfits to a decisive fifth game on Warhead Junction. So what happened?
Tricked eSports loves triple warrior compositions, so with their backs to the wall, they bring to light this strategy. Triple warrior compositions hadn't been particularly effective to this point, and it seemed insane that it would suddenly start to work against one of the best teams in Europe.
But a critical adaptation was made that caught Misfits completely off guard - instead of picking a full support, Tricked eSports drafted Tyrande. This gave Tricked eSports a strong early game that disrupted Misfits, securing many kills and giving them a major early game lead. While Misfits were able to stave off apparent defeat many times with brilliant defenses, they could not dig themselves out of the massive deficits they had created for themselves. 
With Misfits the clear favorite for the Western Clash, the question this week's match poses about Misfits is very interesting: will Triple Warrior compositions with Tyrande for early game dominance and Dehaka for global mobility prove to be Misfits' Achilles heel? Or will this prove to be just a blip with Misfits quickly solving the problem and going on to dominate the Western Clash?
2. Fnatic (6-1) (No Change)
Results this week: Defeated Playing Ducks 3-1
This was a routine win for Fnatic versus a very game Playing Ducks squad. While Playing Ducks almost always got off to a fast start, they were only able to keep up the momentum in Game 3 on Towers of Doom. In all of the others, Fnatic would always assert their dominance in the mid to late game, and the Playing Ducks could not recover.
The big question is, will they be able to repeat their brilliant performance at BlizzCon at the Western Clash? Or will their rivals Misfits solidify their position as the best in Europe?
3. Team Dignitas (5-2) (No Change)
Results this week: Defeated BeGenius ESC 3-0
Dignitas got off to a slow start in Game 1, needing a late game team fight win at the boss to turn the game around and secure victory. It was smooth sailing from there, as Mene showed off brilliant Ring of Frosts with Jaina to freeze BeGenius ESC for the easy 3-0 win.
With there being a consensus that Misfits and Fnatic are the big favorites to win the Western Clash, Tempo Storm, Team 8 and Gale Force eSports will likely be gunning for Team Dignitas to show that North America can compete with Europe. Will Team Dignitas show that Europe is far ahead of North America, or will one of the North American teams at the Western Clash establish themselves as a contender on the international stage?
4. Team Expert (4-3)
Results this week: Defeated Synergy 3-0
It had to be frustrating to play the three best teams in Europe and go 0-3 after not dropping a single map in the first three weeks of the season. Team Expert bounced back from the setback cruising to an easy 3-0 win over Synergy.
Not surprisingly, Team Expert with adrd at the helm is very good at adapting to and foreseeing future metas, even if they aren't great at playing the current meta. After Team Expert showed the power of Xul & Nazeebo compositions many other teams, including  Misfits and Dignitas, have been seen running similar compositions. Their choice to not prioritze Tassadar and prioritize Zarya instead also seems to be prescient, as that is exactly what generally happens in Korea.
The question is whether Team Expert will be able to translate this knowledge into wins against the Big 3 European teams when HGC weekly play resumes in April, something they couldn't manage this time around.
5. Playing Ducks (3-4) (No Change)
Results this week: Lost to Fnatic 1-3
Game 1 was very interesting, as both teams love Tomb of the Spider Queen and both will pick Chromie. Who would get Chromie, and who would win the game? Unsurprisingly, the answer to both questions was Fnatic, who picked up Chromie before the 2nd ban phase. Having already beaten Chromie on Tomb of the Spider Queen played by Misfits, Playing Ducks was understandably confident that they could handle even Fnatic's Chromie.
Unfortunately for Playing Ducks, Fnatic was able to pull out the win in the late game, although Playing Ducks did become the first team to be seriously competitive against Fnatic's Chromie on Tomb of the Spider Queen.
It is very encouraging to see that this team is making big strides in their gameplay, as they were able to get off to fast starts in all of their games against Fnatic. It's scary to think what this team might be capable of with more experience and practice.
6. Tricked eSports (2-5) (No Change)
Results this week: Lost to Misfits 2-3
One of the things that really held Tricked eSports back was their loyalty to triple warrior compositions, even when it wasn't working. As Misfits found out the hard way though, Tricked eSports has figured out how to make it work. By making the Tyrande adaptation, Tricked eSports has made their triple warrior composition a nightmare to deal with in the early game and increased the otherwise low kill potential in the mid to late game quite a bit with Lunar Flare, Hunter's Mark, and Starfall. 
While the first couple of weeks were rough, Tricked eSports are really starting to make their presence felt in this league. Taking 2 games off of the Misfits shows that they will be a force to be reckoned with when HGC weekly play resumes in April.
7. Synergy (1-6) (No Change)
Results this week: Lost to Team Expert 0-3
This was really an uncompetitive loss. They got massively out drafted in Games 1 & 2, and were outplayed in the end in Game 3. While Playing Ducks and Tricked eSports are showing improvement from week to week and getting better, it appears Synergy peaked early and are getting worse and worse. 
While Synergy has proven that they can play off meta, and sometimes trouble top teams with said picks, they have never demonstrated the ability to play meta picks particularly well. It's pretty hard to consistently win without playing meta heroes well at the pro level, and unlike Team Expert they don't have the skill or coordination to get away with that. 
8. BeGenius ESC (0-7) (No Change)
Results this week: Lost 0-3 to Team Dignitas
They got off to a good start in Game 1, before a late game fight over the boss doomed their chances of winning. That's really the only nice thing I have to say about BeGenius ESC this match, as Team Dignitas rolled over them the rest of the way.
I'm not sure there's much hope for this team in the Crucible, either. At least Synergy has the wildcard picks that could throw off their opponent from the European Open Division off. BeGenius ESC doesn't have that - they just have clear comfort picks, like Tychus, that their opponents will be able to exploit. Considering how much European talent is actually playing in the Open Division rather than HGC, it's hard to see BeGenius ESC keeping their spot as it's pretty clear their comfort picks are not working.
---

The Western Clash begins on March 3 at 3 am PST / 12 CET and ends on March 5.
Eight teams (3 from Europe, 3 from North America, 1 from Latin America and 1 from Australia & New Zealand) will be playing in a Double Elimination Bracket to reveal which team and region is the best in the West.
Games will be played on the Lucio Patch.
HGC weekly play resumes on Friday, April 14 @ 18:00 CET / 9:00 am PST.
Follow us on Twitter @GosuGamersHotS for more Heroes of the Storm news and coverage from around the world.