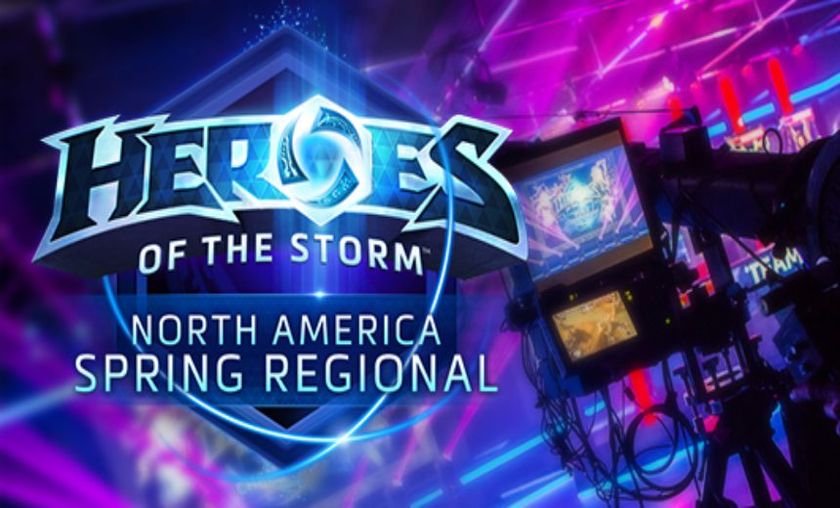 Who will come out on top: staff predictions for LA
Just a few short days away, the North American Spring Regionals are the final stepping stone for two teams on their way to this season's Global Championship. Take a look at what some of our crew members think you should look out for during the two day event.
---
     Nick "Dorazion" Dorazion
1st Place: Cloud9 is the team to beat, and despite Naventic's win against them at heroes rising, I think the importance of this tourmament will bring out the world championships fighting spirit. It's already known that smaller tournaments don't push Cloud9 to their limits, but the spring championship is a premiere event.

Expect strategies no one has seen before, as Cloud9 has been saving them for this moment.
2nd Place: COGnitive will take second place. I think Naventic has the best chance to win if they are in a grand finals against anyone but Cloud9, where as I think COGnitive actually has the best chance of beating the world champs due to their experience as a team. At this point, it comes down to teamwork that persists despite a constantly changing meta.
What to watch for: Unique hero picks that teams have been trying to hide or otherwise underplay. Illidan compositions will be a real threat this tournament, as they have the potential to steal games from teams not experienced playing against him at the highest levels. I don't think Li-Ming will be an issue, as she will be banned almost every game.
     Jacob "ManMode" Godfrey
1st Place: Naventic. They're the most practiced, most on fire, and most synergistic team at the moment. Cloud 9 should be here, but until I see them pull themselves together, I have my doubts.
2nd Place: Team Blaze. The hopeful in me puts Blaze in the number one spot, but the realist in me won't let them stay there. Blaze always performs well but can just never quite squeeze out the tournament wins they need to be the #1 team. Hopefully with LA, that changes.
What to watch for: Upsets. The only team right now that I think is almost confirmed a spot is Naventic. Any other team is fair game. I wouldn't be surprised if Team Nom managed to beat Cloud 9. Not that either team is bad or good, but it seems like North America has lost their rhythm and Naventic was the only one with a metronome.
     Robbert "Broeder" Troost
1st Place: Naventic. They are the team who (rightfully) has the most confidence in an event where the other top contenders are still struggling to find their form.
2nd Place: Cloud9. Their individual talent is always a safe thing to bet on. I'm sure they will be well prepared for this event, something they havent been for seemingly quite some time.
What to watch for: Tempo Storm is what got me into Heroes of the Storm, and while they changed most of their roster I am still curious in what they will do. Srey has to fill some big shoes as the new shotcaller, and the team seemed to lack good communication at moments, but I believe that all the pieces are there as long as they find their own way to make them fit. Will they be able to qualify for Korea? This is something that will depend on their confidence to take risks as well as the preparation from the other favorites.
It has been a while since a major NA tournament, and the game has been through a lot of minor and major changes. These kinds of changes always produce both obvious and subtle shifts in viability and while we've seen enough obvious ones I can't wait to see what the top teams of NA have been hiding behind the scenes.
     Lydia "lideyuh" Mitrevski
1st Place: Naventic. They've been on top of everything they've played in. EVERYTHING. In the past 10 matches, they've only lost one and that was to Cloud9. In those matches they only lost 6 games, and most of those were to Cloud9. They have the best synergy of any team ever (except for maybe early Tempo Storm). They literally make it look easy. And for them it looks like comes natural. The only team they could lose to could be Cloud9 or COGnitive, and that's a big COULD.
2nd Place: COGnitive. COG has really come from behind and proven that they belong in this scene. Most recently, they've beaten Cloud9 once, Resurgence twice, and Tempo Storm once. While this may not sound like a lot, they've more than earned the position that they're in now. It's not 100% about the wins, but the obvious talent and effort they put into the game. If they can get out of the group stages, they have a serious chance of taking second place.
What to watch for: I really think at this point with the hero buffs/nerfs lately that the stun meta is all but dead. I think this will be the first showing for some SERIOUSLY weird comps that people might not see coming, and that will actually WORK. After the final qualifier I bet that's what a few teams have been working on, setting up curve balls that their components won't see coming and won't be prepared to face against. I hope we see some serious Li-Ming play, even in the absence of Ess of Johan she is still a viable player. While we HAVE seen her in pro-play since her release, we haven't really seen her make and major plays. With the quality of teams we'll see this weekend I think we're bound to see her in a major role in team comps.
The group's are pretty evenly matched. I'm sure in the back of everyone's mind we're thinking Naventic and Tempo Storm will come from Group A, and Cloud9 and Blaze will come from Group B. Personally, I think that COGnitive has a better chance to punch a ticket out of Group B. They have better potential to take wins against C9 and Blaze. Although, to be honest, I wouldn't be surprised at either results at this point. Tempo Storm and Cloud9 used to be the top two in the region and the biggest rivals. This weekend will definitely show a shift in that.
     Matt "Snufalufugus" Trovalli
1st Place: Like most of the other editors, I've got Naventic (formerly BRFC) going all the way. They've proven to be a strong team and it's going to be hard for anyone to take them down if they're playing their best. I wouldn't be surprised to see a Naventic v. Cloud9 rematch in the finale like we saw in Heroes Rising, and you know Cloud9 will be out for blood, so things might get interesting.
2nd Place: This might come as a shock, but I think we'll see a strong showing from COGnitive. They played some very good games in the qualifiers, taking a game off Cloud9 in the first and completely dominating the second. They're not afraid to use some interesting heroes (like Cho'Gall) to change it up, and this could help them catch teams off guard. If COGnitive comes out and plays their absolute best, they could easily be a top contender in Los Angeles.
What to watch for: First off, Li-Ming. Even with the nerf on removing Ess of Johan, she can still put out an insane amount of damage and is an extremely mobile hero. I would guess we see her as one of the top most contested heroes in this tournament. As for the groups, I see Naventic and Tempo Storm coming out of Group A and Cloud9 and COGnitive in group B. I think all four of these teams are really solid, so it'll all depend on who comes out playing the best.
     Stephen "CrazySteve" Martinez
1st Place: Naventic. Despite not seeing them play all too much in the past week or two, Naventic to me will be the juggernaut everyone will try and beat. With the players not having to worry about being signed anymore, this leaves them to fully prepare for the tournament mentally. A fully prepared Naventic is something to be afraid of, and I don't see any team taking them down.
2nd Place: Team Blaze. This is probably going to be a wild compared to the rest of the editors, but Blaze has shown a considerable amount of improvement in the past two weeks. What convinces me is that they have given both Tempo Storm and Cloud9 incredibly close runs, only falling to one decision after decisive play for the majority of their games. If they review their late game and can bust out more off-meta compositions, I can see them finally besting  favorites Tempo Storm and Cloud9, but not toppling Naventic.
What to watch for: I predict that Tempo Storm and Naventic will make it out of Group A, and Cloud9 and Blaze making it out of Group B. Right now I don't see enough synergy and follow through from the other four teams. If I were to choose a team from each group to surprise everyone, my money would be on Panda Global making it out of Group A, and COGnitive from Group B.
     Thomas "Thangorodrim" Masci
1st Place: Naventic. The former BRFC just seems to be the hungriest team right now. You mix strong players that seem, meshing well quickly, with desire and that's dangerous. Since losing to Cloud9 back on January 9th they have gone a near unstoppable run defeating COGnitive, Team Blaze (twice), Cloud9 and TempoStorm.
2nd Place: Cloud9. I think Cloud9 is a very good team, and could well take this event, but they are also one bad mistake by Team Blaze in ETS NA Q6 away from not looking so good headed into the LA Regionals. Since January they have losses to Naventic, Star Club, Cognitive and what should have been Team Blaze.
What to watch for: 
I am curious to see if the recent Cho'Gall craze cools off. Yeah he is so cool when he works and in the right comps looks so good on paper. However, when all things are equal and you are in a high stakes game against an opponent as good or better than you his down side is just too much. Late game deaths for a hero that takes up two slots are so massive. It is too easy for the other team to just watch for that moment when Cho'Gall is just enough out of position or alone focus on taking him out and the Cho'Gall team can't recover.
I think Tempo Storm can also make the finals in place of Cloud9.  I think the 2-1 win over COGnitive in ETS NA Q5 was a big moment for a team that had big turnover going into this new season, losing big names.  So add to the fact of trying to mesh with a new team you are also the new guys trying to replace some of the biggest names of last season.  That's a lot of pressure and they now look like they passed through that and are coming into their own.  The certainly finished February strong and have looked as good as they have all season.  Just not sure it is enough yet but who knows that's why you play.

The Mages - Jaina continues to be hands down the mage of choice but in NA she has a 47% win rate (27 games)  while Li Ming has an 80% win rate (8 games) per our stats site.  I thought Cloud9's build and use of Li Ming proved she can be effective.  Starting to wonder if this is more of if I lose with Jaina no one will think it was a mistake, but if I lose with Li Ming I might get criticized for it.  Now Jaian is the combo queen and teams can do all sorts of things building off her slow but in terms of when things are not working out.
     Alex "Sarcophaguy" Kiratzis
1st Place: Team Blaze. This may initially appear to be a wild pick, but Team Blaze has been showing rapid growth throughout the qualifiers, and during ETS NA #2. Although recently suffering a loss to Cloud9, throughout the match they often found themselves in the dominant position. If the team continues to demonstrate the ability to benefit from lessons learned, they should be able to ultimately emerge the top team from Group B. The reason I believe they have what it takes to emerge the victor over GosuCrew favorite Naventic, is because progressing through the Group B crucible will be a trial by fire. The stiff competition they will face, combined with the less rigorous path for Naventic, may put them on a higher level of competition by the time the finals occur.
2nd Place: Naventic. Though they haven't been in anything major since qualifying for Regionals, these players still know their way around a keyboard. Group A is probably the weaker of the two groups, and once Naventic gets warmed up with their first opponent they should have no issues ensuring their place in the top two.
What to watch for: It will be remarkable to see how many teams will be opting for the first ban/pick. With Li Ming being all but mandatory to ban, the team with first pick is essentially the only team who gets a ban choice, forcing the opponent to remove her.
I am most excited to see what sort of crazy compositions will be unleashed. The mindgames that are played when powerhouse teams show that they can win with atypical strategies are always enjoyable to spectate. Plus, the underdogs of the tournament have no reason not to unleash their wildcards on the favorites, as their best chance of winning will come from being unpredictable. The NA teams have no reason not to mess with some bizarre heroes during the regional, since if they make it to Korea they will be facing off against a mixture of metas from around the world.
---
Let us know what you think in the poll below, and and don't forget to check back this weekend to get a roll-up of everything important that's going down in LA.
Follow us @GosuGamersHotS for more eSports news.