Here's the talent line-up for Insomnia Truesilver Championship 2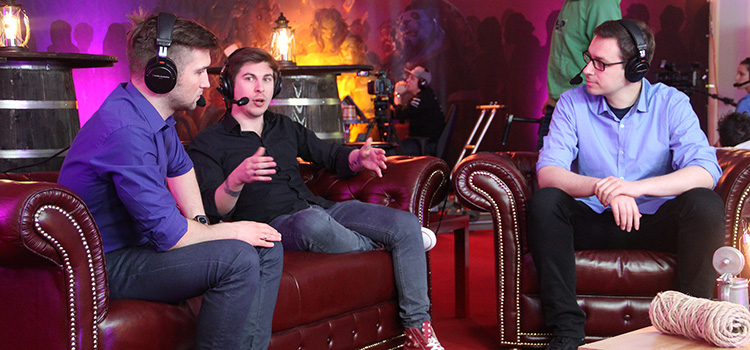 Raven (center) with Lothar (left) and Gnimsh (right) casting PGL Tavern Tales Spring

A quintet of casters will sit behind the mics this weekend to bring you the $30,000 major.
The Polish duo of Marcin "Gnimsh" Filipowicz and Jakub "Lothar" Szygulski will be paired for yet another event as Insomnia57 gets ready to welcome the second edition of Truesilver Championship on March 25-27.  They will be joined by official HCT analysts Alex "Raven" Baguley and Simon "Sottle" Welch, as well as Kacem "Noxious" Khilaji, hailing from Canada.
The tournament itself is shaping up as one of the most stacked in recent weeks. The 200-man swiss round features a mix of invites and open sign-ups and is getting filled by high-profile competitors by the hour. Both world champions in James "Firebat" Kostesich and Sebastian "Ostkaka" Engwall will travel to Birmingham to try and take their first major gold for the new year. 2015 player of the year Thijs "ThijsNL" Molendijk, GosuAwards winner of "Biggest potential for 2016" Jan "SuperJJ" Janssen, Patron expert Paul "Zalae" Nemeth and more are also among the attending.
 
Notable participants

ThijsNL
Lifecoach
Ekop
Inderen
Rdu
Powder
Xixo
Blackout
MartinCreek
Legendaren
Greensheep
AKAWonder
Dog
Elky
Firebat
SuperJJ
StanCifka
TwoBiers
Spo
Freakeh
Ostkaka
Ignite
Pokrovac
Orange
GosuGamers will be on site at NEC at Birmingham the whole weekend, bringing you live coverage from the event. Bookmark our Truesilver Championship coverage hub for news, matches, VODs, photos and more from the event in the coming days.