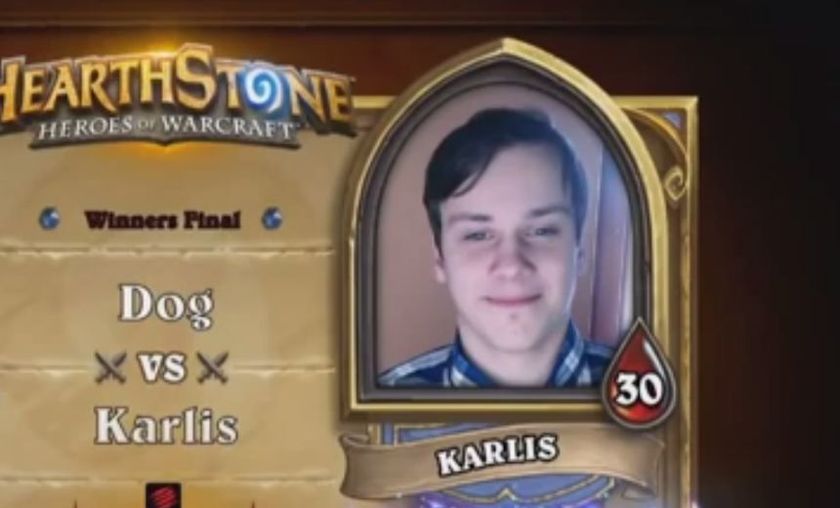 Latvian player Kārlis "Karlis" Pētersons wins Battle of the Best Invitational 2

In a tournament that, once again, revealed the power of druid and its potentially explosive draws, Karlis of Team Lucky Draw went on to defeat Dog of compLexity gaming, taking home $1,000. 
Karlis was on a six game winning streak when he first faced Dog, and only suffered one loss when he won 3-1, sending Dog into the losers to face Neira. Before that, his druid deck swept Twixsen and Battle of the Best 1 champion DTwo, winning both matches 3-0. The [card]Innervate[/card]s were brutal and Karlis consistently took advantage of his decks strengths. If they survived the 5 drop on turn 3, they usually died to the [card]Force of Nature[/card] combo.
Dog climbed his way out of losers and once again found him self facing Karlis and his druid deck. His unique Miracle rogue variant lost to an early [card]innervate[/card] that gave Karlis a tempo lead for the entirety of the match. After the lost, Dog switched to Freeze mage and finally took our the dreaded Druid. It was an uphill battle, but Dog was determined to climb it.
However, Karlis didn't see things the same way. Switching to his Mech-Mage deck, he absolutely destroyed Dog's freeze mage. His curve was perfect, and, on top of that, he combo'ed [card]Loatheb[/card] and [card]Time Rewinder[/card] to lock out Dog's spell heavy deck for two turns in a row. The set now 2-1, Dog was forced to play Warrior vs Mech-mage. a matchup heavily in favor of Karlis. The cards seem to play them selves, and Karlis took the game easily.

This is the first notable public victory for Karlis and only time will tell if he can continue his streak.
---

More on GosuGamers Hearthstone: