Thijs becomes the longest reigning King in Hearthstone as he sweeps seventh KOTH title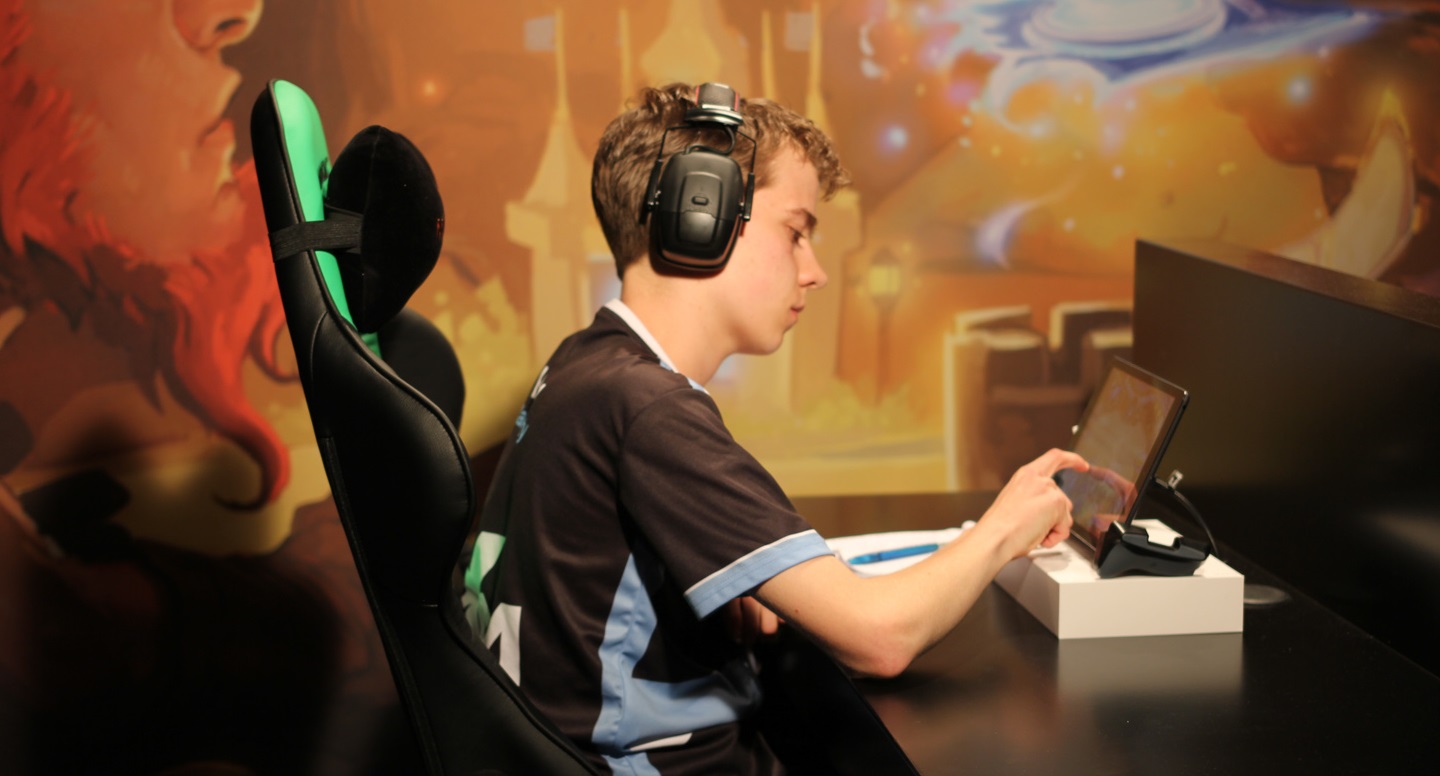 MYM's ace Thijs "ThijsNL" Molendijk is officially the most successful King of the Hill player in Hearthstone. The Dutchman 4-2'd Tempo Storm's Hyped to beat Amaz's six-win record from NESL KotH.
Thijs' run through IHearthU's King of the Hill has been a spectacular one. In June, the Dutchman broke the previous record of four straight wins held by Savjz and Alchemixt and became the most successful player ever to take part in IHU's showmatch series. Even when more classy opponents were thrown his way, Thijs refused to yield and last week, following a 4-3 win over Hosty, the Dutchman caught up to another player who's been doing exceptional in KotH events: Amaz. With both players packing six victories (Thijs in IHU's edition and Amaz in NESL's own tournament), it was up to the Dutchman to break the tie as he was schedule to play Tempo Storm's Hyped earlier today.
The series began with a Miracle (Hyped) on Shaman (Thijs) action. Having chosen to run a Violet Teacher build, the Dutchman had no troubles populating the board early on but nevertheless the pressure onto Hyped was not nearly enough. A couple of Fan of Knives and some more removal spells cleared Thijs' taunts and biggest threats, opening the door for a triple Leeroy finish, giving the Tempo Storm player a one-game advantage.
Thijs brought up a Handlock as a natural counter to Miracle for game two, but the game almost didn't go his away once again. Despite setting up big taunts and Soufiring away Hyped's first Auctioneer before drawing too many cards, MYM's ace never fully escaped danger of dying as the American always found the answers to Thijs' fortification. In the end, it was only a lucky Ragnaros hit that tied the series for Thijs, choosing to shoot the face for lethal instead of Hyped's concealed Gadgetzan – something that would've spelled doomed otherwise with Hyped having drawn his entire deck already and having the necessary burst to end it in the next turn.
 If game two walked a razor's edge, it was not so in game three. Thijs' Handlock met a Frost Mage – usually a close to unwinnable game – but MYM's player enjoyed fantastic draws, setting up a triple Ragnaros on T10. Sitting on a healthy 24 hit points, Thijs had more than enough time to pop Hyped's Ice Block and finish him before he could draw all the necessary burst down pieces.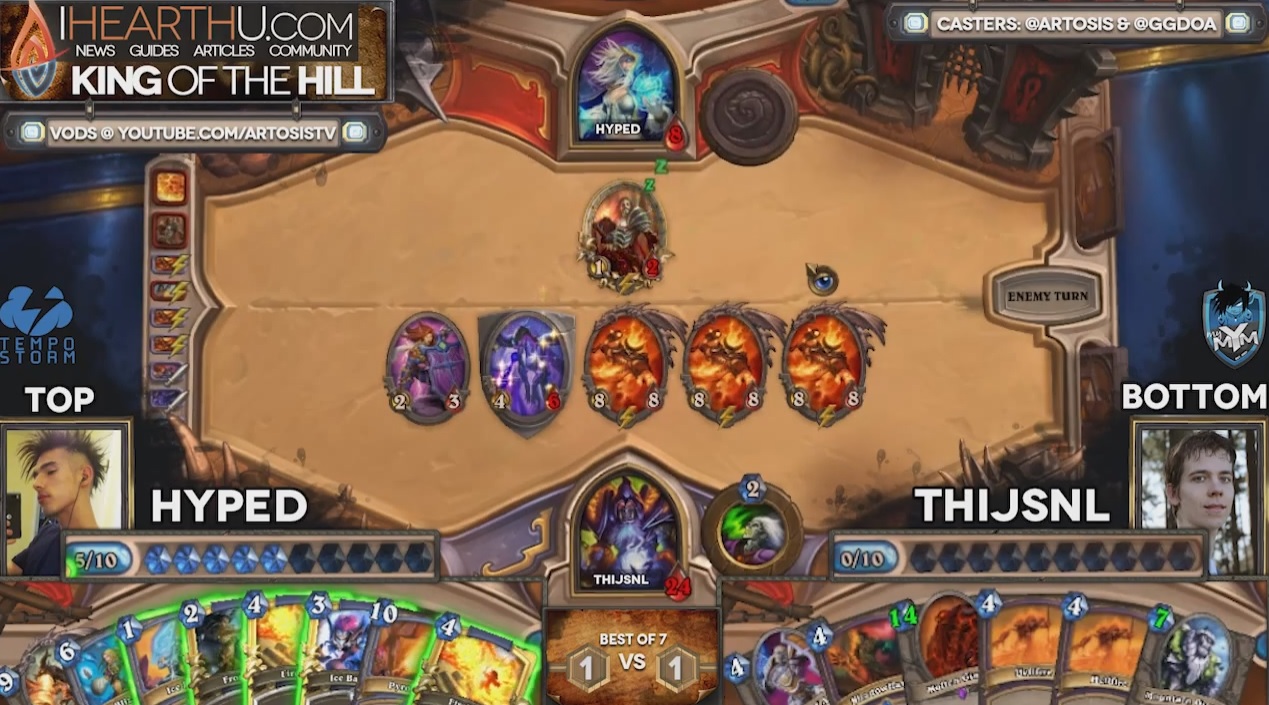 Thijs is one "End Turn" away from breaking the 1-1 tie
The Handlock kept its momentum for another game and Hyped had to witness the death of his Hunter as well. Hyped managed to get Thijs down to 12 and even Freeze Trapping away his Leeroy but fell to a Molten Giant attack and a Soulfire follow-up, leaving him to his last remaining deck.
Fortunately for Hyped, his fourth deck was the powerful Malfurion and game five ended up a one-sided affair. Without losing a single point of life, Hyped established board control and maintained it throughout the whole game, setting up a perfect lethal on T9. As stable as the Druid was, however, it couldn't survive Thijs' own Miracle madness. Watching helplessly as Thijs drew half his deck and setting a board with concealed Auctioneer, 5/1 Thalnos and 10/10 Van Cleef just two points outside FoN/Roar range, Hyped knew he was dead, giving Thijs his seventh King of the Hill in a row.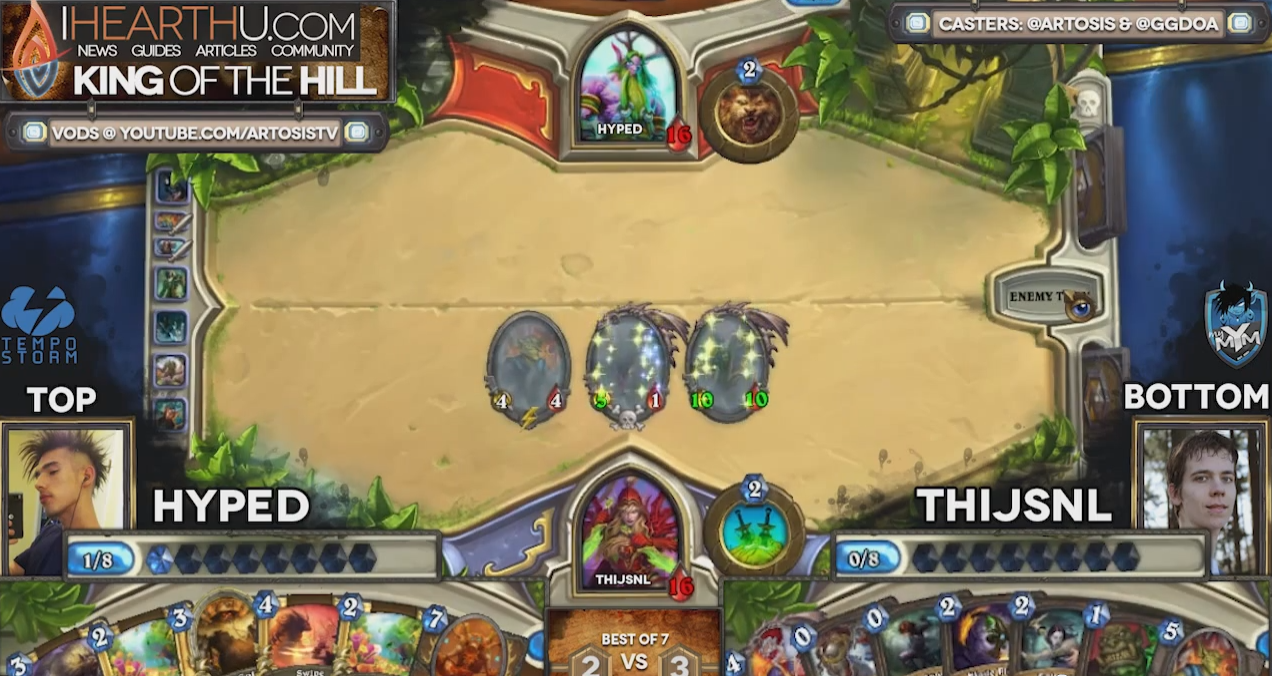 I
Even if Hyped draws a Force of Nature, Thijs' 16 hp keep him safe from lethal
Thijs' victory here earns him some valuable GosuRankings points after a disappointing run at WellPlayed Cup where the Dutchman went out without winning a single series, finishing 0-3 against Trump and 1-3 against Reynad. 
For full collection of all previous King of the Hill series, visit IHearthU's dedicated VOD page.
ThijsNL decks: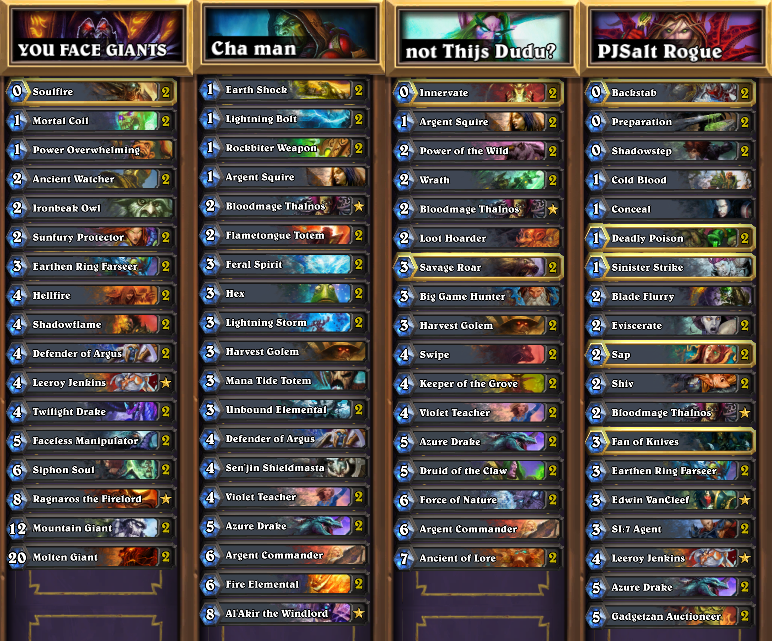 Hyped decks: