WESG bronze finalist BunnyHoppor: "I wouldn't call this meta healthy"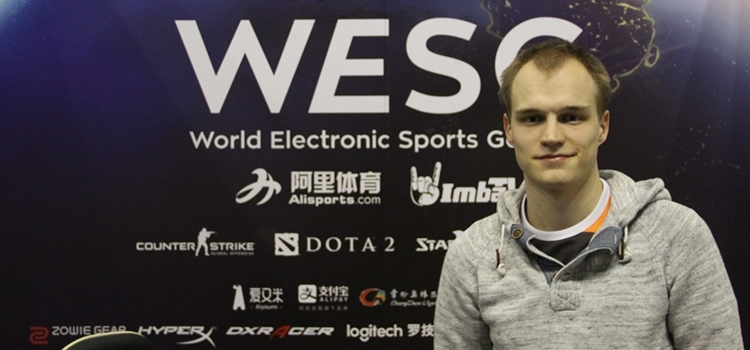 The 2016 European Winter Championships were all about team Virtus.Pro. Naiman and DrHippi, the two players who faced off in the finals, were signed just prior to the tournament. Both players reached the finals, which would eventually be won by Naiman. Quickly after the tournament ended, Virtus.Pro expanded the roster with another player who caught many people's eyes during the Winter Championships: Raphael "BunnyHoppor" Peltzer, who reached the semi-finals before losing in a close match with Naiman, completed the CIS team's roster.
Although Bunnyhoppor didn't manage to reach the World Championships in 2016, he fought his way through the second largest tournament series of 2016: WESG, with a $300,000 prize pool. The tournament used a qualification process similar to the Olympics, in which countries and regions sent their representatives. Given that Germany is host to many well known players such as SuperJJ, Xixo and Ek0p, it's needless to say that reaching the main stage is an impressive performance.
At the WSEG finals in Changzhou, China, Matthieist sat down with BunnyHopper (who eventually took 3rd place and $40,000), talking about the difficulties in preparing for a tournament, 
---

I'm joined here by BunnyHoppor from Virtus.Pro. How are you doing man?
I'm doing great, really liking the tournament.
What do you like so much about it?
It's my first time being in China, actually my first time coming to Asia in general. It's pretty huge with the four esports competitions here, and I'm quite enjoying having good players around.
What did you think of the qualification process for WESG?
I think for me the qualifiers were insanely tough. The German qualifier had people like Ek0p, Xixo and SuperJJ, which was very difficult to get through. Then the European qualifiers were played on the same day as the Last Call tournament for 2016's HCT, to qualify for Blizzcon. Sadly the Blizzcon qualifier didn't work out, but the one for WESG fortunately did. Having two qualifiers on the same day was really demanding, since I had to go to two venues, prepare two line-ups and think about two sets of opponents. I can easily say that's the hardest day of Hearthstone I've ever played. I made it through in the end, and I'm glad I'm here.
It was the hardest day of Hearthstone I've ever played.

Given that at any point in Hearthstone there are certain decks that are just the strongest, what was the hardest part in preparing two line-ups?
Well the two tournaments had different formats. The Last Call was Conquest Bo7 with one ban and the WESG regional qualifier was first a Bo5 without ban, and then Bo5 with one ban. That of course requires a totally different type of strategy. Therefore, I had to think of two completely separate line-ups. Sure, I can bring the strongest deck, but I always want to enter a tournament with a solid strategy.
For the Bo5 without a ban that strategy was pretty straight forward, as there were two decks back then that were clearly stronger than everything else: Midrange Shaman and the Malygos Druid. Then it was just go ahead and think of a third deck, which we thought about for a long time. For the Last Call I had to come up with five decks, but I approached that from a different angle. I thought: "which classes are completely unplayable in this format?" Then I narrowed it down to the decks that I want to have, and tuned them so they'd be optimal for a Conquest format.
In general, the most difficult aspect of preparing a line-up is to make it coherent. It's easy to use the top four decks from Data Reaper and just play those. Then again, those stats are biased because they also account for decks that aren't going to be present in the tournament. It doesn't matter if my deck is good against something like OTK Priest. All the decks you don't expect anybody to bring you have to filter and not take into account. Then in Conquest you pick decks that are coherent enough to target something, and in Last Hero standing you pick decks that aren't too vulnerable.
Earlier you said that the German qualifier was tough in WESG. Overall Germany is looking very strong lately; there are many strong German players. Is that just a coincidence?
I don't know why, but we have a lot of very strong players in Germany indeed. I'm looking forward to how this might turn out in the Hearthstone Global Games, in which the highest point earner of a country automatically qualifies, and the others are voted in. It almost feels like Germany should have two teams. The same goes for the United States. If you compare it by countries, I think Germany and the United States could easily fill two teams which are on the same level or above the level of other countries' players. I don't think it will happen, but it would be pretty cool to have Team Germany 1 and Team Germany 2.
"It almost feels like Germany should have two teams for the Global Games, and the same goes for US."

I think Germans just like card games, and that's showing in Hearthstone. We have games like Skat and Doppelkopf, which probably don't mean much to people from other countries. In my family we've been playing Skat since I was ten years old, so maybe it's that.
You joined Virtus.Pro just after the Winter Championships in 2016. How has it been for you on the team?
The team is great. I like my team mates, and I'm happy to play with them in the ESL Trinity series that's coming up. Virtus.Pro is a nice organization, especially for someone like me who's an upcoming player. I haven't been in the scene that long and I've played in smaller events, so it's really great for me to have a big organization like Virtus.Pro being able to promote me.
You mentioned the team league ESL is hosting later this year. When I spoke to Naiman a while back he said that you guys don't practice much together since you all have different practice partners, and that your personalities are quite different as well. How do you prepare for a team league then?
Since I'm playing in WESG now we haven't practiced much together as of now, but we'll start that as soon as I'm back. Practicing together is quite hard. Firstly because we all have our own practice partners from earlier times, when we weren't in a team yet. Then Naiman lives in Kazakhstan, which has +4 hours due to the time zone, and it doesn't combine well with the tight schedule I have with work. I come home, have to do work, then maybe sports and other things, so making a training schedule with me is quite difficult.
I think very few people realize that you're not a full time Hearthstone player.
Yeah I think I would probably qualify as "amateur" if you put it in the sports perspective. Hearthstone just really isn't my #1 priority. My #1 priority is my job. I'm currently a PhD student at the University of Oslo, at the Centre for Theoretical and Computational Chemistry. I'm not looking forward at a career in Hearthstone to fully provide for myself. That could be nice - for a year maybe - after I'm done with my PhD, but I don't know. I just think a PhD is a solid basis for a chemist to find a job not just for the next year, but for the coming ten or twenty years.
Hearthstone already provides full careers for people though. Look at Xixo, Rdu, Lifecoach and tons of others. It's a full time job for them.
"Hearthstone isn't my #1 priority. My #1 priority is my job."

Do you think Hearthstone's esports side is still growing, or are we reaching its limit soon?
The promotion during last year's Hearthstone Championship Tour was insane. Since Hearthstone is super easy to get into as well, I expect a lot more people to try hard to get a spot in the Preliminaries compared to last year. For newcomers there is still a lot of space for people who want to make it into the scene, and I also expect new players to break out. In games like Counter Strike every once in a while you have a new team, but essentially it's just the same teams that have been dominating the scene for the last years.
Which Hearthstone players do you think will have their breakout performance this year?
I don't know if you still want to classify GeorgeC as an upcoming player, because he has been on the biggest stage. Still, there's a bunch of people who've been on the biggest stage a few times, but who haven't really broken out yet. GeorgeC was on there three times, I was there twice and Casie once, for example. A lot of players talk about Casie, he helps a lot of people prepare for tournaments. Those kind of players are still a little behind the curtains, because there are still a lot of invitationals in Hearthstone. Once you're in those, you're in.
Let's talk a bit about Freeze Mage. You're pretty good with the deck, and after the expansion a lot of people thought it would be a very viable deck again. Now we don't see it played anywhere. What happened?
I was on the same train actually. Just ban the Pirate decks and the deck is going to be awesome. It's going to beat all the Jade stuff, RenoLock, Rogue... But now we see that even Rogue isn't as easy for the Freeze Mage anymore.
I think Laughing will have a different opinion on it, and I've talked with him about it because he's the known Freeze Mage god. But I think with Rogue, [card]Small-Time Buccaneer[/card] and [card]Patches the Pirate[/card] give too much pressure, and [card]Questing Adventurer[/card] is tough, too. Instead of not doing anything until turn 3 - during which Freeze Mage normally could draw some cards - they now play a 3/2 on turn 1. It went from having your time to having to defend from the start, which doesn't allow you to draw cards.
Is this meta too aggressive and oriented on the early game?
I wouldn't call this meta healthy, but I don't think many others would. I don't know if the aggressiveness itself is the problem, rather than Small-Time Buccaneer and Patches themselves. I think the answers to those cards should be better. Honestly, I don't like [card]Reno Jackson[/card] being the answer. To me, Reno is too heavily draw-RNG dependent. You either have it or you don't. In the next expansion I hope there will be more Midrange oriented decks that can compete with the Aggro decks and control the board. Maybe more AoE which could contest it. Shaman still does fine, but other classes don't at the moment.
Are you more of a Midrange deck player?
I generally like Aggro decks. To this date my favorite deck is still Aggro Paladin, when it existed in the Secret Paladin meta. I loved the deck and squeezing out everything it had in it. Though now I think Aggro decks are a bit too oppressive on board.
"I wouldn't call this meta healthy, but I don't think many others would."

Why isn't Paladin picking up on the Pirate theme? They do have the weapon synergy after all.
Your cards don't have enough value if you play Pirates. At first I played around with [card]Small-Time Recruits[/card], which lets you draw all your 1-drops, so that you have your heavier stuff later in the game. That's what you used to do in Aggro Paladin. You play Divine Favor, and after you spam your hands with 1-drops you get bigger threads like [card]Piloted Shredder[/card], [card]Loatheb[/card] and [card]Dr Boom[/card]. If you already have a board, that just completely crushes your opponent. Now though, all the new cards that are strong are very bottom heavy. Often when you play this deck and you get to the end of your deck you're like "I still can't kill him..." It's just missing cards like Piloted Shredder, that card was completely insane. If you already had a board you'd drop a strong minion and the pressure just snowballs.
To wrap it up, last year you reached HCT's big stage. Do you think you'll make it that far again this year?
I don't know. This season I'm not doing so well so far; I have only 7 points. We'll see if I make it to the Preliminaries. I'll try my best. In general I would just be super happy if I won one big tournament. After having a bunch of third places etc. I would like to have a first place in a decent tournament.