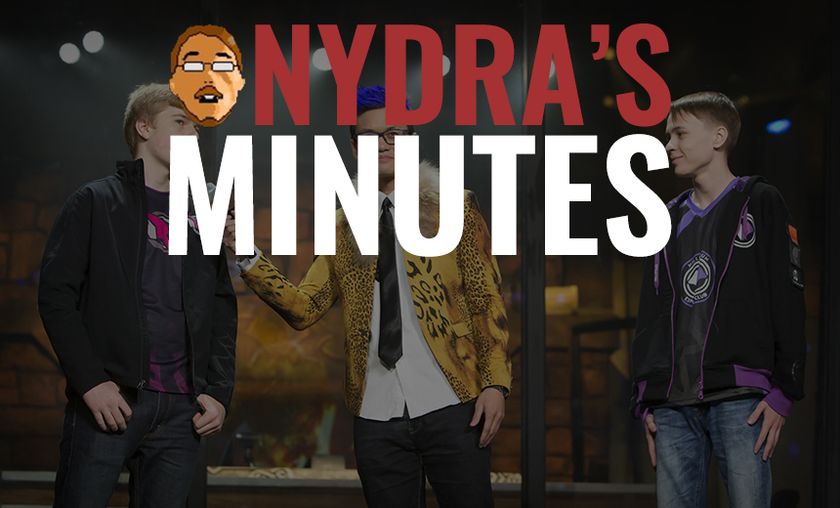 Nydra's Minutes: Who should win the player categories of GosuAwards '16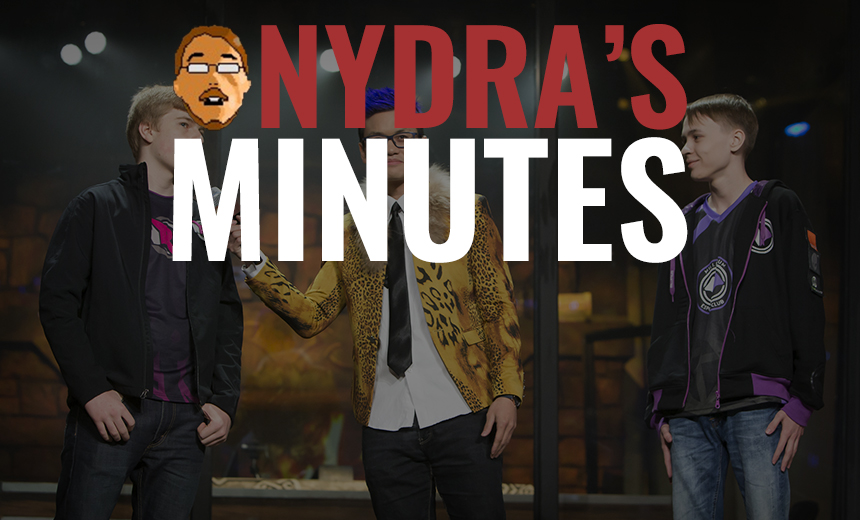 Photo: Blizzard
At the end of December, the third annual GosuAwards for Hearthstone will be finalized. As with last year, the winners in each category will honored by both the GosuAwards panelists and the Hearthstone community. The ceremony spans 17 categories, covering every facet of the scene, from players and teams, to casters, stories, tournaments and event organizers.
Ordinarily, I tend to stay away from analysis of the nominees during awards season as to not skew anybody's vote in any given direction, but 2016 is shaping up to be a close race in many categories. Thus, I feel a proper insight into the events that unfolded this year is much needed.
This mini-series dedicated to the GosuAwards aims to educate and present an opinion on who the winners of the big categories should be, based on an overarching look at 2016.
 



Who should win "Best western player"?
Nominees: DrHippi, Fr0zen, Pavel, SuperJJ, Xixo
If the competition for player of the year in 2015 had a clear cut winner in Thijs, who won both the community and panel votes with flying colors, the 2016 nominees are much closer in terms of not just sheer amount of achievements but year-long consistency, too. The level of competition was so elevated that even the best swiss performer of the year in Fr0zen and the arguable best player of the first half in SuperJJ are unlikely winners and play second fiddle to the leaders.
DrHippi, Pavel and Xixo have all had extraordinary success in 2016 and arguments can be made for each and every one of them, but there can be only one winner, so let's start eliminating them one at a time. The reigning world champion Pavel inarguably deserves his nomination but his year-long performance has been unimpressive overall. Pavel took the gold at Hearthstone Champions League over Ostkaka but has since disappeared off the radar. His real break-through came only at the World Championship in November. Even with his back-to-back wins counting GameGune, Pavel's career in 2016 is more defined by spikes in winnings than overall consistency and the fact he excelled close to the tail end of the year (i.e. fresher in fans' short-term memory) should not take prevalence over his lackluster record in the months before.
DrHippi and Xixo are in contention for the title with very much equal chances.

This leaves DrHippi and Xixo in contention for the title with very much equal chances. DrHippi sports three HCT grand finals, including the Blizzcon one, and has played exceptionally at third party tournaments like StarLadder, showcasing flawless play. Xixo, on the other hand, embodied the very spirit of competitive Hearthstone – it's not how many titles you win, but how long can you stay relevant and consistent. Xixo's record in that regard is 14 consecutive weeks as GosuRankings' #1, an unmatched feat thus far.
It's almost scary how quickly DrHippi rose to the level of power he currently holds but there are still fields he's been not been tested in. For all the prestige, the HCT circuit has its flaws and DrHippi is yet to go through the grinders that are the DreamHack or Insomnia swiss stages, considered to be the real measure for Hearthstone excellence. That is not the case with Xixo, who's become synonymous with success wherever he goes, regardless of the format.
My decision has thus been made in favor of the German, but that's only because DrHippi's versatility and consistency outside of HCT are still to be observed. Overall, Xixo is a more complete player, but the gap is indeed quite small.
Winner: Sebastian "Xixo" Bentert
 

Who should win "Best eastern player"?
Nominees: Che0nsu, Handsomeguy, JasonZhou, Lovelychook, ZhangBo
While I am 100 percent content with the five nominated for "Best western player", there are minor changes I would make to the category in question if it was all up to me. For all his incredible play and godly reads at Blizzcon, for me Che0nsu still lacks the pedigree warranting a GosuAwards nomination. A qualifier from the Last Call Invitational, Che0nsu is missing a major championship on his account and has been outshined in his country not just by Handsomeguy, but also OGN regulars such as Caster. In Nydra's perfect world, his place is taken by China's OmegaZero, who not only is a back-to-back LAN winner in a heavily competitive scene, but also holds multiple consecutive #1 legend finishes in the most stacked ladder in the world.
That said, neither of them are favourites for the GosuAward and the fight will probably be between Handsomeguy and JasonZhou. The Korean is the obvious choice at first. Handsomeguy made it to three consecutive HCT Championship finals and won two of them and although he had help from the APAC seeding system, that's still an achievement nobody has repeated, not even DrHippi. The strength of APAC where Handsomeguy competes should also be considered and the truth is the region's championships did lack a lot of the outstanding players there, making his victory somewhat easier.
ZhangBo quietly has been one of China's best.

In the other corner we have JasonZhou, a break-out player from China and another multi-major champion. JasonZhou came as China's best HCT player since TiddlerCelestial in 2014 and has shown a machine-like proficiency at Hearthstone, reigniting the hopes of the region for an eventual World Championship title of their own. He significantly outperformed Handsomeguy at Blizzcon with Jason reaching semis and Handsomeguy flopping in the group stage – another red mark for the Chinese player.
Before I declare my personal winner, there's a third Eastern player that nobody's talking about but really should. ZhangBo quietly has been one of China's best, starting the year by winning Gold Series grand finals in January and then made it to two more Gold Series finals, placing second in one and third in the other. In fact, had China's circuit operated similar to the other three and the winter major counted for Blizzcon, ZhangBo would've been at the World Championship. Still, three consecutive top 3's in China's most competitive circuit is an achievement worthy of a nomination.
In the end, based on his still unmatched achievement and the level of attention he drew to his region, my vote for this category goes to:
Winner: Il-Mook "Handsomeguy" Kang

Who should win "Break-out player of the year"?
Nominees: Amnesiac, DrHippi, Fr0zen, Handsomeguy, Pavel
Much like the "Best western category", this too comes to a three-way tie at first. For all the Young Savage memes and his impressive success at a tender age, Amnesiac didn't do much else to contest the award realistically. Same goes for Fr0zen, who  emerged as an outliner in a region that has underperformed this year, but lacks the achievements and renown to compete with the other three.
We already discussed Handsomeguy's record in the previous category and had he done it in any other region he would be a clear winner. That said, there is a player who had three HCT grand finals in the most competitive region in Hearthstone, and that's DrHippi. The question here is – is his break-out more worthy than Pavel and his world championship run?
DrHippi came out of nowhere, his story began with a "Mysterious Challenger" meme.

It's hard to decide based on achievements alone. Pavel, after all, did beat DrHippi in the world championship and took another gold two weeks after that, while DrHippi sits on two HCT silvers and the gold from the Summer championship. Pavel is now also the most winning Hearthstone player of all time, taking the title overnight, a true definition of a break-out player.
That said, one thing to consider is the two players' previous careers. Pavel was already on his way to greatness in 2015 and had that fateful misplay not happened, he would've been competing at Blizzcon that year. The Russian was already getting established, earning praise within the pro-player community and showing consistency in open cups and qualifiers.
On the other hand, DrHippi came out of nowhere. He was a nobody at EU Winter (and some months after that, too). His story began with a "Mysterious Challenger" meme and ended with him contesting the world championship. Although winnings-wise Pavel is the clear favorite, in my mind the truer, more unexpected break-out was by Virtus.pro's star.
Winner: Artem "DrHippi" Kravets

Who should win "Biggest potential for 2017"?
Nominees: Crane, Fr0zen, Mitsuhide, Muzzy, VLPS
In the entirety of GosuAwards, this is the single most difficult category, where I believe neither the fans nor the panels will crown an uncontested winner. At the time of writing, the community polls are unbelievably close, with Mitsuhide last at 17 percent and Fr0zen and Muzzy in the lead with 22.
At the start of the analysis, I have to make the same detour I took at "Best eastern player". There's one nominee who shouldn't really be here and that's Fr0zen. The LG star is without a doubt the finest representative of his region at this time, but that alone should exclude him from the group of players still looking for their big break-out. Fr0zen has already done that – and been nominated for it – and he ought to have taken a step back and allow someone like Georgec, a triple HCT participant and a killer champion in the making, to take his spot.
If we had Georgec in the pool, my decision would've been even harder, but as it stands, it is split between Crane, Mitsuhide and Muzzy, each with their own unique talents and budding potential.
Muzzy, while a proven deckbuilder and innovator, has much to improve in regards to his on-stage performance and composure.

Crane's success has been a long-time coming and had Evangelion not upset him at DH Valencia he would've finally been a major title holder. Yet, the Dane remains one of the players that should always be followed closely. He's proven a master of the most complex decks, from Freeze Mage to Patron, and comes from the proven talent school of Complexity, the team which tutored Dog and SuperJJ to star status. A cool and calculated player, for Crane to not win a single major in 2017 would be a major upset.
Another name which recently spent time in the spotlight is Mitsuhide. The Dutchman has been rapidly improving on the hardest Hearthstone stages, getting better and better at conquering those swiss tournaments, peaking at DreamHack Winter championship just recently. Having followed Mitsuhide all year in online and offline tournaments alike and seeing the diversity in classes he can pilot to perfection, he is someone who will be in the conversation for break-out player of 2017 without a doubt.
The question some of you is probably asking is what of Muzzy and VLPS and why no love for the Americans. Muzzy, while a proven deckbuilder and innovator, has much to improve in regards to his on-stage performance and composure and his potential for 2017 is directly tied to how many tournaments he can travel in order to get used to the experience. If he prioritizes staying at home laddering and streaming, he might never truly break-out.
As for VLPS, he is to some extent a victim of his own region. North America's infrastructure is still behind that of Europe and China in terms of opportunities and online invitationals are unlikely to consider him when there are more established names still active. Hence, break-out opportunities for him will naturally be fewer. Put it that way: If VLPS lived and competed in Europe, he would've likely won that category.
In the end, the Complexity brand and Crane's rich competitive experience has my vote after going back and forth between him and Mitsuhide.
Winner: Simon "Crane" Raunholst