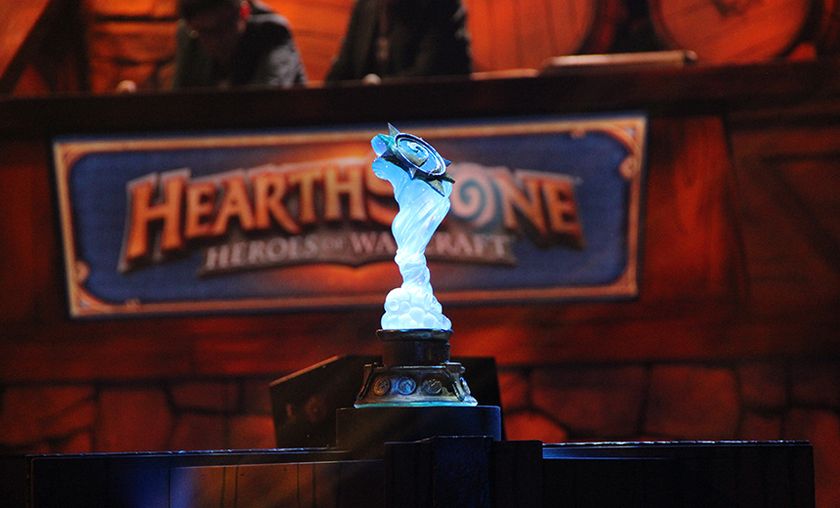 Blizzard on HWC: We liked Conquest but wanted to rebalance the points system
Read part 1 touching on League of Explorers' development here
Once we get the League of Explorers chat behind us, Mike Donais, Derek Sakamot and I turn to a topic dear to my heart: competitive Hearthstone.
For a game designed to be a 15-minute relaxation tool on your subway ride, Hearthstone saw an unprecedented boom in terms of esports. Not later than a few months after the first community tournaments were established, respected organizations like TakeTV were throwing five-digit prize pools. Esports brands like DreamHack and ESL followed, hopping on the Hearthstone hype train and dipping their toe in a genre they likely they thought they'd be involved with: collectible card games.
Feeling obliged to address the growth of the competitive scene, which welcomed players from poker, traditional TCGs and other esport titles, Blizzard launched the Hearthstone World Championship, putting up an expectedly unrivaled prize of $250,000. Its successor, HWC 2015, improved and diversified the competition in many ways, introducing a revised point system, expansion of the list of allowed countries and a brand new "conquest" format.
I know exactly what to as Donais and Sakamoto to begin the esports talk. Not an hour before my chat with them, SEA champion Lan "Neilyo" Tran had told me in an interview that big changes are coming to HWC 2016, possibly including multiple major events leading up to a single World Finals. I try to extract some information from the Blizzard duo, but expectedly get nothing more than a reserved "yeah, it will be different" quote. "We learn many lessons each year and we don't think we have the best system yet," Donais says. "We want to keep iterating and taking feedback and then improve from what we learn."
I have zero intention to let Donais get away so easy. The flaws in HWC 2015 are a topic I've discussed and criticized on multiple occasions in editorials and podcasts. As an esports journalist and a Hearthstone fan, how champions are born, grown and crowned represents the most important storyline in all the game. A well-planned and well-executed World Championship campaign is the necessary backbone that makes it enjoyable, and in many ways Blizzard fell flat trying to accomplish that. When I ask what lessons did Donais and his team learn throughout 2015, he starts with "Conquest."
"
The first we weren't sure about is whether conquest was a good format and after watching many games we believe it is. We tested it out, it did what it was supposed to do, we see a large variety of decks. "  
That's surprising on several levels. Conquest, although warmly welcomed at the time of its inclusion, became almost universally rejected by the progamer population. In articles, Hearthstone competitors blamed it for the extinction of creative deckbuilding as it forces a line-up of three decks that are as consistent as possible, where one crack could lead to a downfall. Instead of promoting deck diversity, many saw conquest as the format that kills it instead, as the same three to five classes dominated competitive play.
Donais continues to talk about another big issue of HWC 2015 – the points system, and about that he's adamant: Changes will be coming (in fact, they've already been confirmed).
"
[During HWC 2015] we also experimented with this new point system, which helped us get players for the end of the year tournament but not many could follow the points until the end of the year. Maybe we can do better there, iterate on that. Also the ratio of points gathered from tournaments and ladder is something a lot of people had feedback about and it's something we adjusted. I think people will be happy when the new season launches. "

As of less than 30 minutes before this article, the HWC 2016 is a fact. The season will feature major championships in Winter, Spring and Summer to help narrate players' storylines better, something that Mike Donais also acknowledged in his interview with me. The point system has been re-balanced and ladder play and Hearthstone majors yield approximate amounts. Where previously there was unstructured flow of tournaments, now there's organization, order. Almost $2,000,000 will be on the line throughout the year.
It's looking like a great year for Hearthstone. And if you're wondering about all the ways this restructuring will help, I suggest you listen to this podcast.