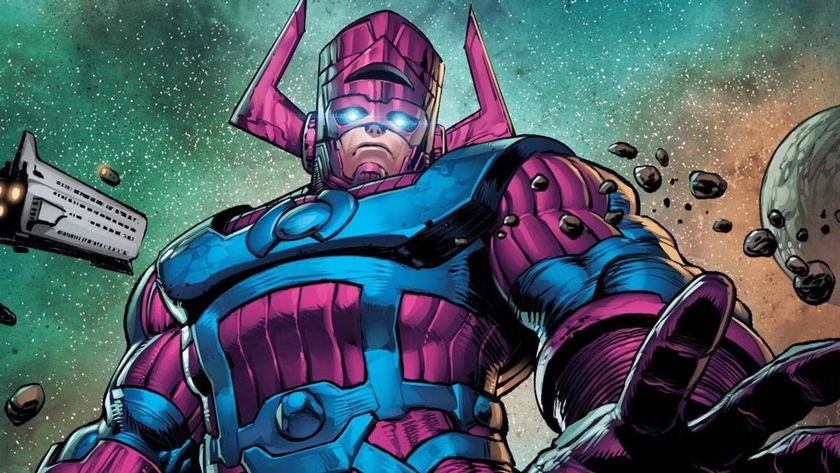 Marvel Snap adds fast-forward and nerfs Galactus, reveals first Series Drop
Image: Second Dinner
Marvel Snap's next update will make it much easier for players to get Series 4 and 5 cards like She-Hulk and Black Panther.
It's a pretty big month for Marvel Snap players. Earlier today, developer Second Dinner released a new patch that rebalanced some of the game's most popular cards such as Leader, Nova and Galactus, and announced the addition of a fast-forward feature. That's not all, though - we also got new information on February's rumoured Ant-Man and the Wasp: Quantumania-themed season and the game's first-ever 'Series Drop'. 
Let's dig into today's patch first. Second Dinner has rolled out a series of buffs and nerfs targeting some of the most popular cards in the recent meta. Leader, Aero, Galactus and Nova are all getting their Power reduced by one. These nerfs probably won't impact the cards enough to push them out of the meta completely, but Nova in particular won't be a great pick anymore unless you really make use of his ability to add +1 Power to other cards when destroyed. 
The card buffs are a little more interesting. Drax and Groot now gain less power using their abilities, but have more baseline power to start with so they're less risky to use. Hazmat, Black Cat and Nakia are getting +1 baseline Power due to these cards not seeing much play in decks at the moment. You can find more specific changes via the official patch notes here. Two more features have also been added with this patch: fast-forward and Artist Credits.
Fast-forward triggers automatically during overlong card combos, such as the ol' Wong-Onslaught-Mystique-Ironheart loop, so you don't have to stare at the screen for ages while your opponent stacks on ungodly amounts of power in one location. Artist Credits are exactly what they sound like: additional information on a Variant Card's artwork that players can now inspect. This was a long time coming and frankly, should be added to every card in the game, Variant or otherwise. 
Finally, we got news on Marvel Snap's first-ever 'Series Drop' which will see powerful Series 4 and Series 5 cards drop by one Series, making them more accessible to players at lower Collection Levels. The game's first Series Drop will happen on January 31, pushing the following Series 5 cards to Series 4:
● Valkyrie
● Super-Skrull
● Bast
● Shuri
● Black Panther
These Series 4 cards will also move to Series 3:
● Luke Cage
● Absorbing Man
● She-Hulk
● Titania
When cards drop a Series, they also become cheaper in the Token Shop and 10 times more common in Collector's Reserves. A Series Drop will happen every month, but don't expect Galactus or Thanos to ever drop a series - Second Dinner explains that they're just, "too dang epic." Players still have an incentive to get their hands on Series 5 cards before they're moved down a Series, however. First Edition Badges will soon be displayed on all Series 5 cards that are acquired before a Series Drop, just so you can show off how lucky you are. 
The Token Shop will also get some tweaks in upcoming patches to make Series 4 and Series 5 cards more accessible to players who haven't gotten past Series 3. This is all good news, considering the upper-tier cards have been out of reach for the majority of the playerbase for some time now. Now that Series Drops are happening every month and the Token Shop is getting tweaked, the most powerful cards in the game are finally within reach. 
Lastly, it looks like February's unannounced Marvel Snap season will be based around the upcoming Ant-Man and the Wasp: Quantumania film. A datamined image shared by Marvelsnapzone features MODOK as the new Season Pass card, and a few variants for Ant-Man and the Wasp. A little bit of synergy between Marvel properties is always to be expected, and will probably happen a lot more often moving forward.