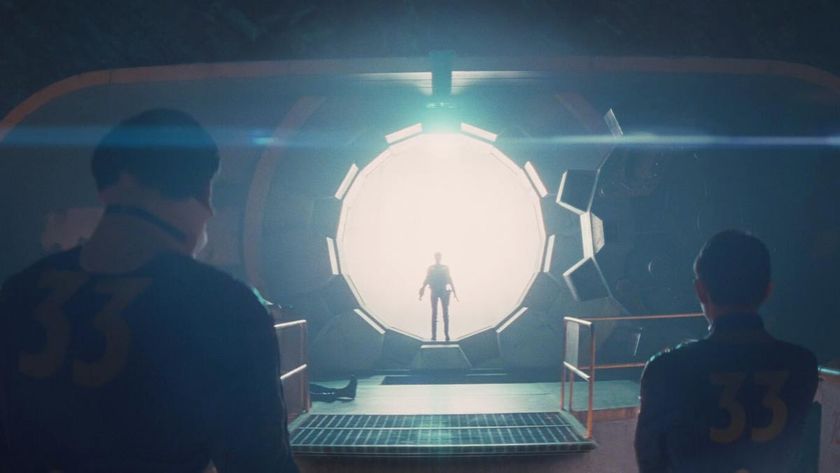 Here's your first look at Amazon Studios' upcoming Fallout TV series
Image: Amazon Studios
The series hails from Bethesda and the creators of HBO'S Westworld.
Amazon Studios has revealed a first look at its upcoming Fallout TV series, based on the iconic RPG game franchise of the same name. Cameras began rolling on the series earlier this year and while it might be some time before it drops on Amazon Prime Video, fans at least have this image to chew on until then – courtesy of the original game's 25th anniversary. 
Fans of the Fallout games will find this image very familiar, if only because it depicts a scene every player has been through at least once: a vault door opening, and freedom lying just beyond it. The first-look picture is deliberately light on detail, but ultimately faithful to the retro-futuristic aesthetic of the games, with the inhabitants of Vault 33 all dressed up in signature blue-and-yellow jumpsuits, and the vault door looking strikingly similar to the games. 
Vault 33 has never been explored in the Fallout games before, so this series has plenty of room to build something new. The image shows us a few clues that the vault dwellers might have to fight their way out - seeing as an armed figure seems to stand in the way of their freedom, wearing a Pip-Boy on their left arm. There's also a corpse lying next to the door, indicating that some of the fighting has already taken place. 
In case you're unfamiliar with Fallout lore, most stories in this universe kick off with a nuclear war in 2077 causing a chosen few to head into underground vaults built by the Vault-Tec Corporation for shelter. While they're inside, the outside world becomes irradiated by a devastating series of nuclear attacks, leading to the rise of monstrous creatures and mutants, and gangs of bandits struggling to survive. The vault-dwellers aren't exactly safe underground either, as Vault-Tec sneakily set up cruel social experiments within its many vaults without the knowledge of their participants. 
Amazon's Fallout series is being developed by Jonathan Nolan and Lisa Joy, the creators and showrunners of HBO's Westworld. Walton Goggins (Justified), Ella Purnell (Jinx in Arcane), Kyle MacLachlan (Twin Peaks), Xelia Mendes-Jones and Aaron Moten have joined the cast. Bethesda Game Studios' Todd Howard is reportedly closely involved in the series, and executive produces. 
This isn't the only game adaptation in the works at Amazon Prime Video, either. The streamer is reportedly working on live-action God of War and Mass Effect TV shows too. 
Update: Amazon has released another behind-the-scenes look at the series, with talking heads from Bethesda and an early look at the show's set. There's Nuka Cola and Power Armour, so that's a good sign: