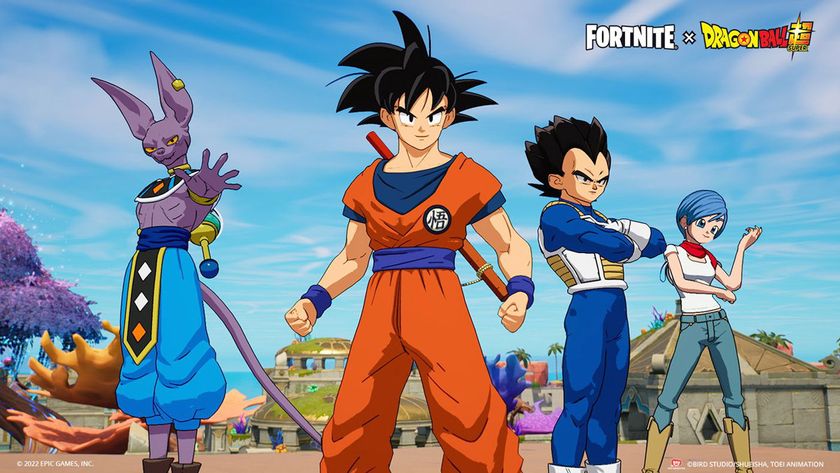 Huge Fortnite x Dragon Ball crossover includes skins, emotes and a mini battle pass
Image: Epic Games
People have mixed feelings about this crossover so far. 
Epic Games has revealed its Fortnite x Dragon Ball crossover, and it's a big one. Unlike many of the battle royale game's past collaborations, this crossover doesn't just include skins. Players are getting a whole new battle pass of content to unlock, new map locations to explore, items to use and multiple cosmetics including back bling, sprays and gliders. 
Here's a trailer for the crossover:
Son Goku, Vegeta, Bulma, and Beerus are now available in the in-game store as purchasable skins, along with themed Gliders, Pickaxes and Back Bling. There's some free stuff too: players can find a new 'Power Unleashed!' tab that hosts a mini battle pass containing Dragon Ball-themed cosmetics. As you complete the new Dragon Ball Quests, your Power Level will rise and allow you to unlock different tiers of the pass. 
The Dragon Ball Quests themselves are plentiful, presented in seven separate questlines themed after testing players' strength, agility, focus and so on. You'll have to complete quite a few of these to unlock the full battle pass, but more quests will be added to the game over the next few weeks, so it shouldn't be too hard to do. As you complete the quests and collect all seven Dragon Balls, you'll earn the Shenron Glider, themed after the franchise's iconic wish dragon. 
There's some other stuff in this crossover too, like the fact that Capsule Corp deliveries have descended upon the island, giving everyone the power to unleash Kamehamehas or travel on Nimbus Clouds. More capsules will appear later on during this crossover, probably adding even more Dragon Ball-themed abilities to the island. You can also find the Kame house (it's marked on the map as a quest) if you'd like, and have a chat with Bulma who wanders about as an NPC. 
In addition to that, players can also board an in-game cruise ship to watch entire episodes of Dragon Ball Super together until September 17, 2022, via Discover. On August 19, you can also start exploring Dragon Ball Adventure Island, a place packed with locations and references from the franchise. You can cook at Goku's house, go through an obstacle course at the Room of Spirit & Time and do more activities to pick up Dragon Balls. 
We'll probably see more tie-in content to the upcoming Dragon Ball Super: Super Hero film over the coming weeks too, as this crossover is far from over. Twitter users are having a ball with the fact that you can now play as Goku with a shotgun, though: 
Or see Dragon Ball characters dance:
Or unleash a Kamehameha as Rick from Rick and Morty:
On one hand, this is probably the highest-effort crossover we've seen from Fortnite in a long time. On the other, Goku with a shotgun.