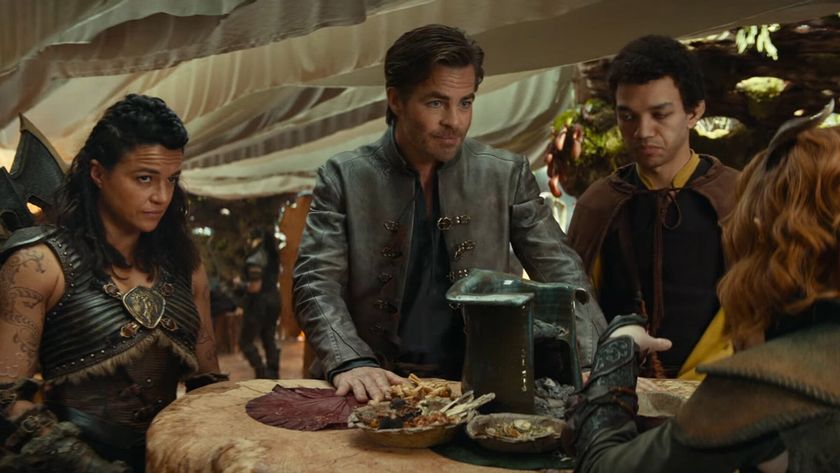 The Dungeons & Dragons movie's first trailer is filled with easter eggs
Image: Paramount Pictures
Dungeons & Dragons continues its big pop culture comeback with a new live-action movie that follows a group of thieves. 
San Diego Comic-Con has given us the trailer debut of Dungeons & Dragons: Honor Among Thieves, a live-action adaptation that makes an action-comedy out of the role-playing game's fantastical setting and characters. The movie hits theaters on March 3, 2023. 
Watch the new trailer below:
Paramount Pictures' synopsis of the movie goes:
A charming thief and a band of unlikely adventurers undertake an epic heist to retrieve a lost relic, but things go dangerously awry when they run afoul of the wrong people.  Dungeons & Dragons: Honor Among Thieves brings the rich world and playful spirit of the legendary roleplaying game to the big screen in a hilarious and action-packed adventure.
Honor Among Thieves takes inspiration from a very popular D&D trope: a group of thieves steal something for the wrong person only to kickstart an apocalypse, and now have to play hero to make things right. The movie has a pretty stacked cast too, including Chris Pine, Michelle Rodriguez, Justice Smith, Regé-Jean Page, Sophia Lillis, Chloe Coleman and Hugh Grant. 
A lot of these characters fit the standard D&D character classes. Chris Pine plays a bard, Michelle Rodriguez is a barbarian, Regé-Jean Page is possibly a paladin, Justice Smith is a mage of some kind and Sophia Lillis plays a shapeshifting druid, who turns into an Owlbear in the trailer. Owlbears are one of D&D's many iconic creatures, but we see a few more in the trailer, such as the mimic, displacer beast and gelatinous cube. Obviously, there's a dragon in there too. 
It seems like Honor Among Thieves is riding that fine line between fanservice and action-comedy pretty well thus far, and Hugh Grant playing a villain in anything is always a plus (see: Paddington 2). It also continues D&D's pop culture comeback after spending a few years as just another niche tabletop hobby. The actual-play web series Critical Role, which follows a group of people playing D&D, continues to be a massive hit and has even gotten a spin-off animated series on Amazon Prime, titled The Legend of Vox Machina. Stranger Things has some form of D&D every season. The newest Borderlands game, Tiny Tina's Wonderlands, is not subtle with its references to the tabletop game. 
Baldur's Gate 3, the highly-anticipated sequel in an RPG game franchise based on D&D is also set for release in 2023. Between that and Honor Among Thieves hitting theaters on March 3, 2023, it's a good time to be playing D&D.