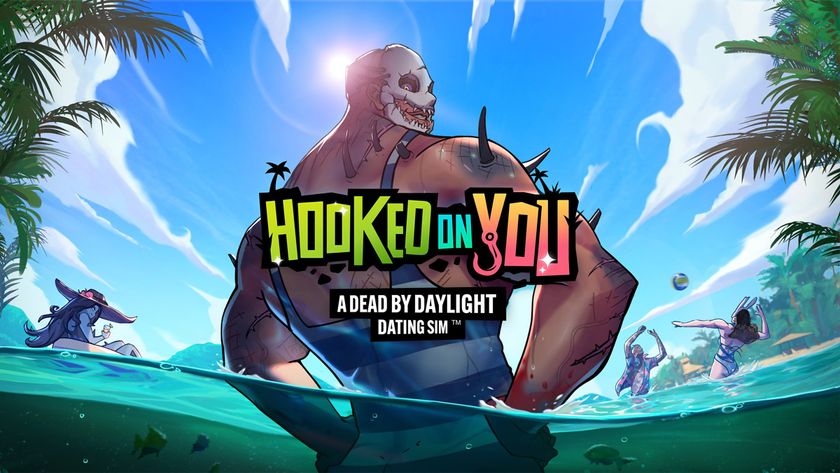 Dead by Daylight gets a dating sim spin-off to appease its thirsty fanbase
Image: Behaviour Interactive
Hooked on You is a dating sim that lets players flirt with Dead by Daylight's Killers. Yes, really. 
Surprise! Dead by Daylight is coming up with a dating sim spin-off that lets players romance its Killers. But like, in a cute way… I guess? Developer Behaviour Interactive unveiled the new game, ingeniously titled Hooked on You, during Dead by Daylight's six-year anniversary. 
Watch the truly unhinged reveal trailer below: 
Hooked on You: a Dead by Daylight Dating Sim comes from the brilliant minds behind the 2019 KFC dating sim I Love You, Colonel Sanders - Psyop. The studio certainly has experience presenting players with unconventional romances, so this pairing makes a lot of sense. Unfortunately, Hooked on You won't feature Dead by Daylight's full roster of Killers - so you might miss out on a few of your digital crushes here. 
Hooked on You features the Huntress, the Wraith, the Trapper and the Spirit in what seems to be a summertime setting at tropical Murderer's Island, where all the Killers are dressed to hit the beach and should the mood suit them, mount some Survivors on hooks. Here's how Behaviour Interactive describes the game: 
Ever wanted to have a drink with The Wraith? What about taking The Huntress out on a date, having a heart-to-heart with The Spirit, or finding out what really makes The Trapper tick? Now's your chance! Welcome to Murderer's Island. Your companions: four dead-sexy Killers who, underneath their murderous exteriors, just want a little romance. Flirt your way into their hearts, uncovering dark twists along the way. Will you find true love, forge friendships… or get hacked to death? Only you can decide.    
Much like any dating sim, it sounds like you'll get to pursue relationships and friendships with all four Killers, who each have their own distinct personalities and backstories for you to untangle. Death seems to be an actual option here, so try not to annoy any of these Killers. Leave that business to the Survivors. While the game makes its full launch on Steam later this year, Behaviour Interactive has mentioned that it's open to making more romance-driven content featuring a wider cast of killers if fans are interested. 
Oh, fans are definitely interested. Thirst for Dead by Daylight's roster of murderous Killers has been prevalent in the game's fandom, and memes are just one part of it. The game has a huge following on fanfiction websites, where writers pair Killers with reader surrogates. Player surveys suggested high interest levels for romantic content surrounding these Killers, and here we are. 
Hooked on You clearly follows a tongue-in-cheek tone, with its monstrous Killers dressed in Hawaiian shirts and swimsuits - so it's best not to take it too seriously. The main game is still getting a ton of content, such as a new chapter called Roots of Dread. This chapter introduces a new Killer called Dredge and Survivor named Haddie Kaur. Beyond that, another Resident Evil chapter is on the way, titled 'Project W'. This will likely feature iconic Resident Evil antagonist Albert Wesker as a new Killer. An Attack on Titan crossover is also coming, but we'll have to wait for more details on that one.