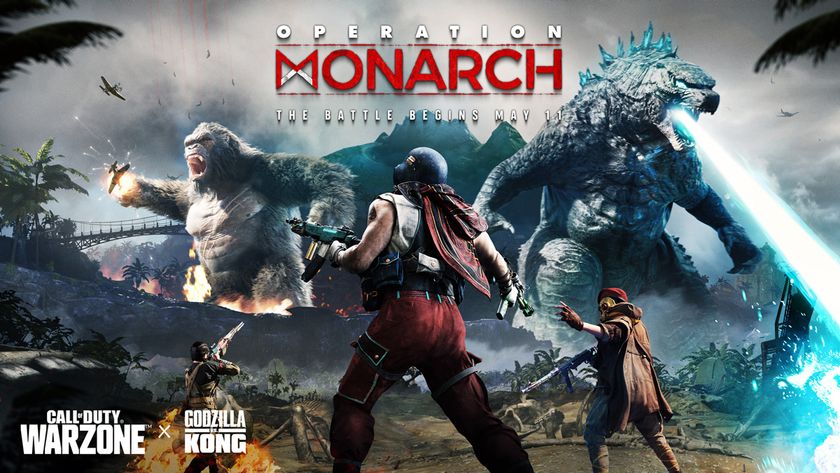 Godzilla and King Kong are coming to blows in Call of Duty: Warzone
Image: Activision
Call of Duty: Warzone is getting a big Godzilla vs. Kong crossover. Yes, really. 
Activision's battle royale shooter Call of Duty: Warzone is getting a rather unexpected crossover with Godzilla vs. Kong. The kaiju monster mash is bringing Godzilla and King Kong's famous rivalry to the game in a limited-time event called Operation Monarch. 
The announcement trailer is pretty great, too. Watch it below:
Operation Monarch is named after the kaiju-investigating organisation first introduced in Godzilla (2014), appearing later as the self-appointed guardians of King Kong. Godzilla vs. Kong hit theaters last year, so this crossover isn't exactly timely - but Activision is making this one of the game's biggest events yet anyway. The trailer suggests that we'll eventually see Godzilla and King Kong come to blows during the event, much like the movie. 
Operation Monarch is just one part of Call of Duty: Warzone's third season Classified Arms, which launches on April 27. This season is themed after monsters and ancient discoveries, bringing Titan fossils and kaiju-related points of interest to the battle royale map Caldera. Operation Monarch will kick off on May 11, involving Operators fighting Godzilla and Kong, who will be, "laying siege to Caldera." 
Operation Monarch will also have some aftereffects on Caldera, potentially breathing life into the island's new Titan activity. Activision teases that besides the two Titans coming to the island, "something else," is stirring from beneath the island. Given that Classified Arms is being touted as 'the monster of all seasons', expect more kaiju shenanigans to come even after Operation Monarch is done and dusted.
It's a little surprising that Warzone is still getting updates this massive, considering that developer Infinity Ward is already hard at work making a sequel to the battle royale game - but we'll take big kaiju fights where we can get it. You can find more details on Warzone's next season here.