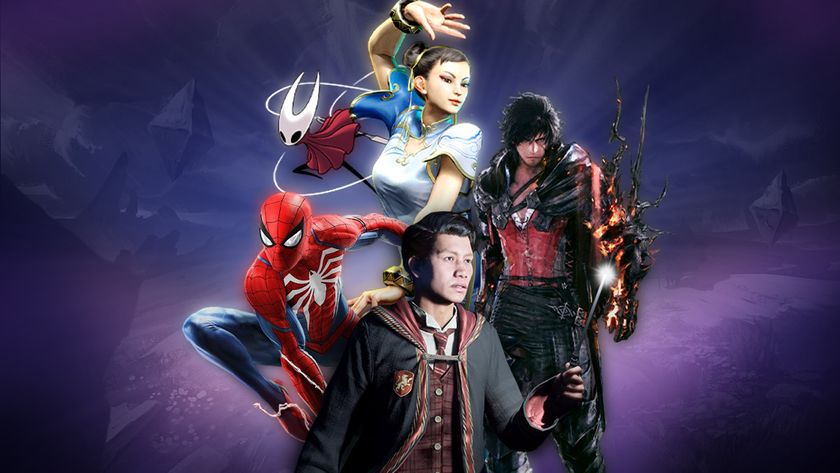 Our most anticipated games of 2023: Spider-Man 2, Zelda, Star Wars and more
From Hogwarts Legacy to Marvel's Spider-Man 2, here are the games we're most excited to play in 2023.  
We're calling it: 2023 is the year of videogames. With so many highly-anticipated sequels and indies right around the corner, it feels like there's something for everyone to get excited about this year. If you're into Marvel Comics, you should be looking forward to Marvel's Spider-Man 2. If you're into horror games, the Resident Evil 4 Remake is right up your alley. Looter-slasher fans have Diablo IV, Nintendo Switch owners have The Legend of Zelda: Tears of the Kingdom and even VR fans have a whole new console to look forward to - The PlayStation VR2. 
Like we said, there's a lot to look forward to this year. Here are the 15 games we're most excited to play in 2023:
Hogwarts Legacy (February 10)
It's every Potterhead's dream come true: a game that lets you actually go to Hogwarts, get sorted into one of the four houses by a grumpy hat, and practice magic with other wizards and witches in your class. Hogwarts Legacy lets you do all that and so much more, as you attend Hogwarts in the 1800s and become entangled in a goblin rebellion and a quest for ancient magic - when you're not murdering other wizards yourself. 
PlayStation VR2 (February 22)
If you're thinking about getting into VR gaming, the PlayStation VR2 could be a great place to start. Sony's new VR gaming console launches in February with PlayStation 5 compatibility and more than 11 exclusive titles launching throughout the year. These games include Horizon: Call of the Mountain, a VR game set in the world of Horizon Zero Dawn, and a horror game by the creators of Until Dawn called The Dark Pictures: Switchback VR. If you can afford it, this is a pretty decent VR console that offers a lot of bang for your buck. 
Star Wars Jedi: Survivor (March 17)
Possibly the only new Star Wars game coming out this year, Jedi: Survivor continues the story of padawan Cal Kestis and his fugitive friends after the events of Jedi: Fallen Order. Apex Legends developer Respawn returns to helm this sequel with most of the core cast returning, though we have to say - Cal is looking pretty grown up these days. Jedi: Survivor looks like a much more ambitious game than its predecessor in every way, from Cal being able to fight with both a gun and a lightsaber, to the more wide-open environments ripe for exploration. 
Resident Evil 4 Remake (March 24)
"This time, it can be different. It has to," Leon S. Kennedy says, before fighting off yet another zombie plague. It's fair to say that Resident Evil 4 is not just one of the best, but one of the most influential third-person horror games of all time - but can its remake live up to that legacy? Resident Evil 4 picks up Leon's story years after Raccoon City's destruction. Now a US agent, Leon is sent to a Spanish village where a cult called the Los Illuminados has kidnapped the President of the United States' daughter, Ashley Graham. Unfortunately, the whole village has also been mutated by a monstrous parasite, complicating his rescue efforts quite a bit.
The Legend of Zelda: Tears of the Kingdom (May 12)
A lot of people are looking forward to playing the new Zelda game, and we're no exception. This sequel to Breath of the Wild takes players back to open-world Hyrule, where Zelda and Link face new dangers threatening their home. Link has new abilities that let him explore previously-unseen floating sky islands, as the game goes vertical with its exploration. We still don't know much about this sequel's story, but after Breath of the Wild blew us away in 2017, we're pretty excited to return to Hyrule and see what's changed in the years gone by. 
Street Fighter 6 (June 2)
A new Street Fighter game joins the fray! Street Fighter 6 is shaping up to be a staple fighter for the next few years, with splashy visuals, fantastic character designs and newcomer-friendly control modes. This installment even expands on its story mode, allowing players to explore multiple open-world locations as they progress through the campaign and meet other fighters. Yeah, the box art is a little lame - but everything else this game has to offer looks very exciting. 
Diablo IV (June 6)
Blizzard Entertainment might not have a great track record with sequels lately, but that doesn't change the fact that Diablo IV is looking really, really good. The hack-and-slash action-RPG franchise goes back to its grim, bloody roots with a campaign that has players return to Sanctuary and face off against the daughter of Mephisto, Lilith. Players can choose from five different character classes to free Sanctuary from its new demonic antagonist: the Barbarian, the Sorceress, the Druid, the Rogue and the Necromancer. Visually, the game looks fantastic already. Let's just hope pesky microtransactions don't get in the way of our fun. 
Final Fantasy XVI (June 22)
Final Fantasy 16 is showing a lot of promise. This game is set in the world of Valisthea, a medieval fantasy setting where most of its inhabiting kingdoms are waging war over the power of several magical Crystals. After our protagonist, Clive, suffers a tragic loss following an attack by the dark Eikon Ifrit, the warrior embarks on a dark quest for revenge that pulls him into the growing conflict within Valisthea's warring nations. With Final Fantasy 14's director Naoki Yoshida producing and composer Masayoshi Soken providing music, this game has an all-star creative team behind it and so far, it shows.
Starfield (First half of 2023)
A new Bethesda game is always something to look forward to, but the first new IP Bethesda has put out in 25 whole years? Sign us up. This open-world game takes place in the year 2330, in a realm called the Settled Systems. 20 years ago, two factions called the United Colonies and the Freestar Collective went to war and now the Settled Systems live in an uneasy time of peace. Enter the Constellation: a group of space explorers that you are now part of, tasked with finding new worlds and charting unseen corners of the galaxy. Bethesda claims that Starfield is their most ambitious RPG yet, and it certainly looks the part so far. 
Baldur's Gate 3 (Sometime in August)
Speaking of cult classics finally getting a sequel this year, Baldur's Gate 3 is finally coming out of early access in August! This sequel to Baldur's Gate II: Shadows of Amn comes from Larian Studios (Divinity: Original Sin II), now based on the Dungeons & Dragons 5E ruleset. Set 120 years after Shadows of Amn, a host of mind flayers have launched an invasion of Faerun and implanted parasites into the minds of its inhabitants. When their invasion gets invaded (go figure), the mind flayers flee before completing their transformation of Faerun's people into their kind. 
The player somehow survives all this chaos, but not before getting a parasite implanted in their head. Fortunately, there are a bunch of other people dealing with the same problem as you - so why not party up and figure this thing out together?
Marvel's Spider-Man 2 (Sometime in 2023)
Insomniac Games have proven to be one of the best developers working under the PlayStation Studios umbrella today, after giving us fantastic games like Ratchet & Clank: Rift Apart and Marvel's Spider-Man: Miles Morales back to back already. While Miles' solo adventure successfully fleshed out the new Spider-kid on the block, this sequel gives us a proper teamup between both of New York's Spider-Men as they face down a dangerous new threat: Venom. Insomniac put an interesting twist on Doctor Octopus in the first game, while keeping the character true to his roots. Hopefully the team manages to deliver an equally satisfying version of Venom this time around. 
Hollow Knight: Silksong (Sometime in 2023)
Hollow Knight returns, at long last. Silksong is Team Cherry's follow-up to its critical darling Metroidvania game Hollow Knight, putting players in the shoes of a returning character named Hornet. Originally planned as a simple DLC character for the first game, Hornet is now getting to lead an entire game of her own - with a moveset more focused on speed and agility than the previous game's protagonist Knight. In Silksong, Hornet finds herself in a strange kingdom called Pharloom, where she must climb to the top to reach a shining citadel. 
Hades 2 in Early access (Sometime in 2023)
Hades is one of the best games we have ever played, so we've very pleased that it's getting a sequel. It does come with a caveat: the game launches in early access this year just like its predecessor, and will likely only have a full-fledged launch in 2024. Still, we're excited to jump back into Supergiant's gorgeous interpretation of the world of Greek Mythology, with the focus now shifted from Zagreus to his sister, another daughter of Hades named Melinoe. Melinoe seeks to defeat the Titan Cronus with the help of several deities and supernatural creatures from the Greek realm, in order to free her father Hades from his newfound prison. 
Warhammer 40,000: Space Marine 2 (Sometime in 2023)
Looking to get into the Warhammer universe before Henry Cavill's Warhammer series on Amazon comes to fruition? This is a good place to start. The cult classic 2011 Space Marine game is finally getting a sequel this year, placing players in the boots of the greatest of the Emperor's warriors: the titular Space Marines. These warriors have an arsenal of powerful weapons and abilities at their fingertips, and they'll need to make good use of it to wipe out the Tyranid hordes. 
Sea of Stars (Sometime in 2023)
If you're a fan of old-school turn-based RPGs like Breath of Fire and Chrono Trigger, this is right up your alley. Sea of Stars is a drop-dead gorgeous RPG from Sabotage Studio, the creators of The Messenger. This game serves as a prequel to The Messenger, following two Children of the Solstice who must wield the powers of the sun and moon to perform Eclipse Magic, the only force capable of defeating the evil creations of an alchemist called the Fleshmancer. If the game's story turns out half as good as its artstyle, we're looking at a classic in the making.