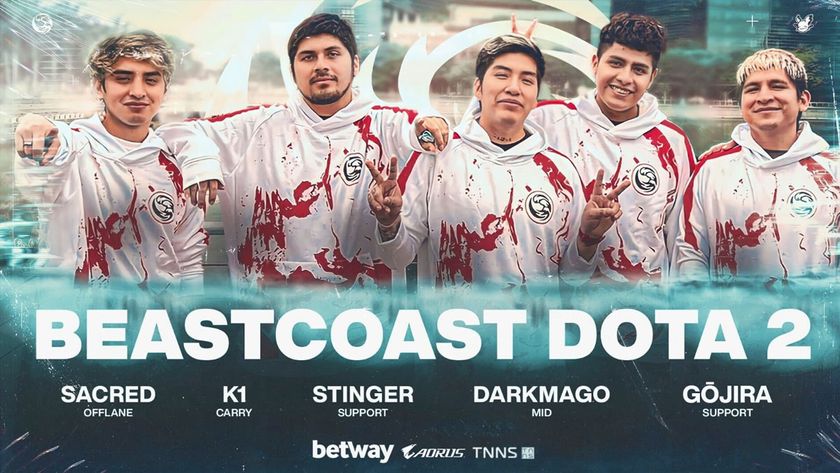 beastcoast unveil their new roster for the 2022-2023 Dota 2 season with two new players
The South American Dota 2 force beastcoast will enter the fray with two new players who used to play for their rivals, Thunder Awaken.
South America had its best ever showing as a region at The International championships when Thunder Awaken finished 6th and beastcoast followed with a strong 8th place finish at TI11 in Singapore. Both teams had some amazing Dota 2 on display, and Thunder Awaken were really close to making it to the top 4, but lost a hard fought series against Team Liquid.
One would think that after such a good run, the teams would stick together and build on their momentum. But that is not the case, as beastcoast announced two changes to their roster. Jean "C.Smile" Pierre Gonzales and Adrian "Wisper" Cespedes Dobles, who were with the organization since October 2019, will be leaving the team. As beastcoast put on their social media pages, it is the end of an era, where the longest running roster in Dota 2 history will be breaking up.
There has been a lot of talk of inter-regional teams forming in the post-TI11 shuffle, but that won't be the case with beastcoast. They will be replacing the two players who are leaving with two players from their rivals, Thunder Awaken, as Herrera "DarkMago" Gonzalo and Rafael "Sacred" Yonatan will be joining beastcoast.
beastcoast General Manager, Colin Bashor, had this to say about the new roster:
We're back in South America for a 4th year of Dota! To help continue our legacy as the strongest team in the region, we're excited to announce the signing of Dark Mago and Sacred. Both players had incredible TI performances, and we're looking forward to their significant contributions to the team. In addition to the new signings, we're happy to reaffirm Stinger as our team captain. Stinger has been drafting for us since the beginning and has been a fantastic leader, so this was an easy decision to make.
It looks like quite a strong team, and should definitely be a contender in the South American region for places in the DPC Majors.
But what of the two players who left the team, C.Smile and Wisper? This is unconfirmed, but if rumors are to be believed, the two players along with the remaining three players from the Thunder Awaken TI11 roster will be picked up by Evil Geniuses, who will be moving their Dota 2 division to South America. If that turns out to be true, it will mean just an internal shuffle between the two juggernauts of South American Dota 2, with both teams having a lot to prove. When there is an official announcement, GosuGamers will have the full scoop.
In case you missed the post TI11 shuffle till now, you can find all the confirmed transfers in the GosuGamers post TI11 shuffle log.
beastcoast's roster heading into the 2022-2023 Dota 2 season
Gonzalo "Darkmago♥" Herrera

Hector Antonio "K1" Rodriguez

Rafael "Sacred" Yonatan

Elvis "Scofield" De la Cruz Peña

Steven "StingeR" Vargas Mamani