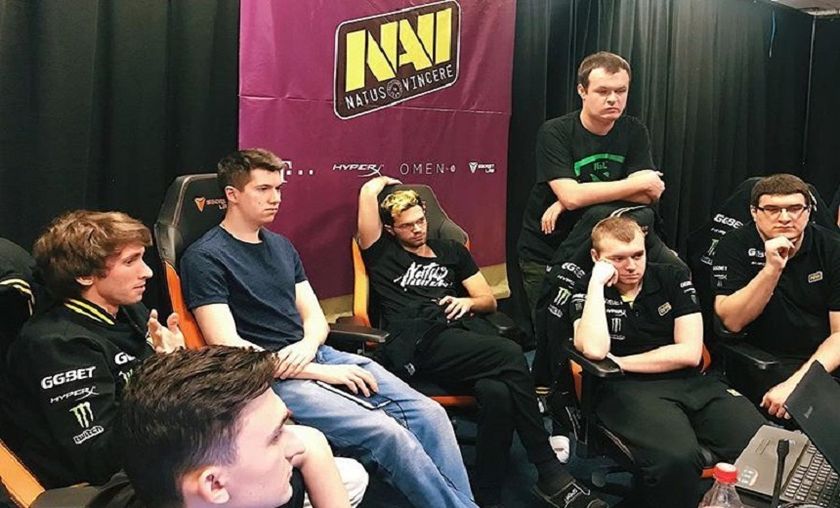 Digital Chaos, Na'vi, face elmination from GESC: Indonesia

Day 2 in Jakarta, at the Global Electronic Sports Championship and Fnatic and Infamous secure themselves the last two finals places. Their defeated opponents now face elimination in tomorrow's best-of-one quarter-finals.
It's been another captivating day of Dota at GESC: Indonesia, and two more teams make it through to the second round. Infamous had a convincing morning dispatching the home team; RRQ, 2-0 then beating Na'vi in a best-of-one. Fnatic had a slightly harder time securing their morning but was ultimately successful. Both teams now join Evil Geniuses and VGJ.Thunder in the top-half of round two's double elimination bracket.
The remaining four teams, Na'vi, Digital Chaos, The Final Tribe and home team Rex Regum Qeon will still be with us, but they find themselves already in the bottom half of the double-elimination bracket with only one game remaining to try and keep themselves in the competition.
GESC: Indonesia Minor Group A
Series 1 - Infamous vs Rex Regum Qeon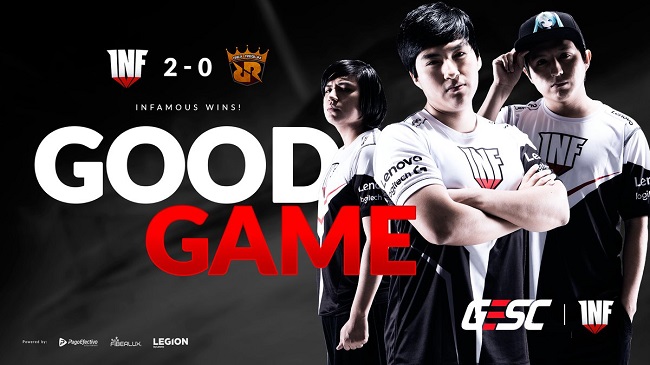 It was a tough morning for the home team RRQ. The first game in the series found them struggling in the laning phase against the more experienced Infamous. RRQ couldn't seem to get their coordination together and found themselves on the bad side of a 20 - 4 kill score at just fifteen minutes. It only took Infamous a handful of minutes after that to pick up eleven more quick kills and the first game.
The second series was much better for RRQ, they were still having problems with Scofield "Scofield-Kaiser" Leches, rotations but seemed better prepared for it. The home-side still found themselves behind after the laning phase, with Infamous picking up 14 kills to their 7. From that point the Peruvian team kept their advantage and were able to turn it into objectives and map control, forcing the second gg just before the 30-minute mark.
The Indonesian team was understandably a little disappointed, but they put in a good performance against a strong opponent and they'll get one more shot at redemption in a best-of-one, while Infamous geared up for Natus Vincere.
Series 2 - Infamous vs Na'vi.
Fresh off their clean sweep Infamous then took on Na'vi, where both teams would try and secure a place in the next round in a best-of-one show-down. Daniel "Dendi" Ishutin Gyrocopter got a little bit pinned down by a duel mid-lane and wasn't able to be as effective as he wanted in the early game. By contrast the Morphling, Omniknight combi was getting things done for Infamous and they cracked Na'vi's high-ground after 30 mins.
Split pushing was not on the menu for either team, and team fights were in their ascendancy. It looked to be all going Infamous's way but the Faceless Void, Gyrocopter combo finally hit home for Na'vi and they managed to take down the Morphling and secure a refresher toating Roshan. Unfortunately, the Ukrainians were a little over-zealous with their slight advantage and gave it all back to Infamous at the steps to their tier three's. 
Each team was prioritizing the team fight with itemization and positioning. In the end, the fabled battleground was around the Roshan pit and it was a bloodbath. There were full sets of buybacks from both sides and it was never clear who was going to come out on top and secure the win. Na'vi got the big fat Morphling down once, but a quick buy-back left them spent and Infamous mopped up the survivors and claimed the GG and a top spot in the next bracket.
Upper Bracket
Round 1 - Best of 1
Round 2 - Best of 3
Lower Bracket
Round 1 - Best of 3
Round 2 - Best of 3
GESC: Indonesia Minor Group B
Series 1 - Digital Chaos vs The Final Tribe
Bans
* This player was a stand-in for this match
The Final Tribe impressed my yesterday, not only because they played well despite losing, but because they are a fun high-paced well-coordinated team that is great to watch. In this game, they drafted for the team fight and really took this mentality into the match. DC seemed to be caught off-guard a little and was playing from behind the whole time, which lead them to take a desperate but much need engagement at Roshan at 34 minutes with there base in tatters. TFT's five-man was too much and a GG was called soon after.
Game two of the series is why I watch Dota. Both teams looked like they wanted to have the late game potential in their drafts, with DC choosing the Medusa over Pontus "Frost-NoX" Frost's Lifestealer. it was a tight match-up and could scarcely be closer with the kills at nineteen a piece at 40 minutes, and the gold difference being only 6k. The action was amazing, and there were some great plays from every player, but in the end the Medusa out-scaled everyone and evened up the series for DC just before we made it across the one hour mark.
The decider was another great game and had the potential to be as exciting as the second. TFT did manage a slight lead after the early game and played with a controlled aggression that allowed them to stay ahead. It wasn't an insurmountable lead for DC to recover from, and they did very well keeping pace with their opponents and not giving too much away. At the 40-minute mark, things seemed to implode for the Americans and a bad team-fight left them defending a high-ground push. A questionable engagement from DC and some stunning in-base catches from TFT resulted in the loss of all three barracks in one greedy, but effective, base sweep from the Swedes. After that the GG was inevitable and TFT found themselves through to play for the last semi-final place.
Series 2 - Fnatic vs The Final Tribe
The last game of the day was another fickle best-of-one between the old guard and the new lions. The drafting was good for both teams, with TFT focusing more on the five-man engagements were Fnatic were happy to have a little split-push.
It was a good contest, and a great showing from both teams, but the constant pressure that Fnatic was able to put on the Swedish team was crushing. TFT did hang in there and gave another positive account of themselves, but the cores from Fnatic were too farmed and it took the Malaysians a little over thirty minutes to turn-in a solid win.
Fnatic took the upper-bracket place and will join Evil Geniuses, VGJ.Thunder and Infamous, while the other four teams move to best-of-one elimination matches.
Upper Bracket
Round 1 - Best of 1
Round 2 - Best of 3
Lower Bracket
Round 1 - Best of 3
Round 2 - Best of 3
The action resumes tomorrow with the brutal Round 1 elimination playoffs followed by the quarterfinals. The game starts at 10:30 local time/04:30 CET with Na'vi taking on Digital Chaos.