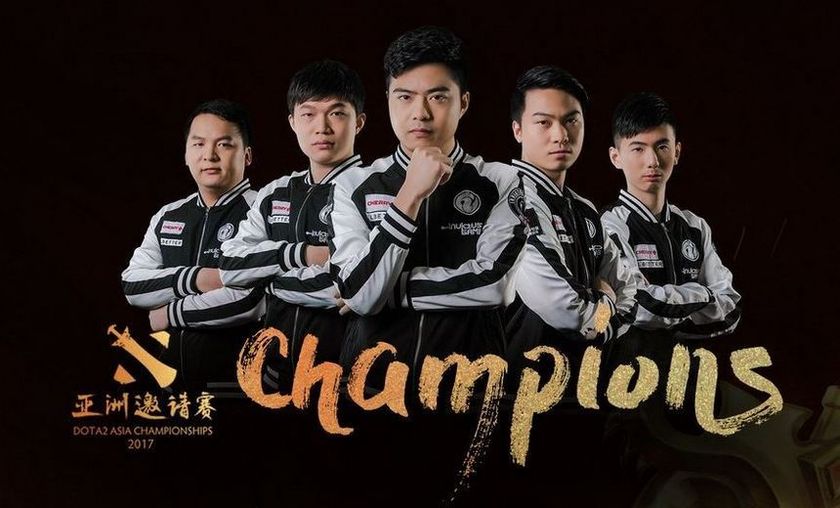 Invictus Gaming are the DAC 2017 Champions

image courtesy of PGL
After four days of Dota 2 action, we find ourselves at the Dota 2 Asia Championship Grand Finals. Many teams have fallen by the wayside, leaving just 2, OG and iG.
While OG had a relatively unhindered run through the upper bracket in the playoff stages, they only dropped a single game in their series versus iG – but managed to win and drop the Chinese team down to the lower bracket. For Invictus Gaming, their path to the grand finals was filled with peril but they took down everyone in their path including a dominating performance against Newbee in the lower bracket final. With a best-of-five series to decide the grand-final the winners definitely stamped their mark on the Dota 2 scene.
Game One

Bans
* This player was a stand-in for this match
The early game from both teams saw them not trying too hard to claim first blood as they both focused on farming, getting vision and staying alive. With Ye "BoBoKa" Zhibiao roaming constantly on his Riki, iG were able to control most of the vision across the Dire's jungle. The Riki continued to be a thorn in the side of OG, leeching experience from Anathan "Ana" Pham's Alchemist, stealing runes everywhere and making sure his team built a solid lead. With ten minutes passed, no kills had occurred but that changed a few moments later when iG found a kill onto Johan "N0tail" Sundstein's Terrorblade to claim the first blood.
As twenty minutes passed iG were ahead on the scoreboard and seemed to be in control of the game with BoBoKa still making space for his team wherever possible. When OG attempted to push down the mid tier two tower the brilliance that iG had been showing throughout the game so far came out again as they dropped 4 from OG's line up followed by a kill on Roshan. With their advantage, iG pressured the map, pushing down the last two tier two tower remaining on the Dire side.
But OG were not going to let things go too easily and with thirty five minutes passed, they were able to find a great push with all their illusions at their back, and dropped the mid tier three tower. iG fought back to claim a few kills soon after but with the buybacks coming out from OG, the Dire managed to clean up and take down Roshan. OG continued to show dominance now, taking good fights constantly and the game suddenly looked to be in their favour. With fifty five minutes passed OG looked set to push high ground as their team fight potential seemed to be far superior to that of the Radiant.
This proved to be the turning point that iG were waiting for as they met OG on the high ground with fierce resistance and who managed to defend their barracks before pushing down mid lane to claim the melee barracks. Now the game hung in the balance as one big team fight going either way could decide the game. And that fight came a few minutes later as iG found an amazing initiation which was quickly followed by OG calling GG. With a long game one iG managed to hold off and take claim victory after sixty three minutes of back and forth action.
Game Two

Bans
* This player was a stand-in for this match
Game two would see first blood come a lot faster, this time with Ou "OP" Peng on the Lina claiming a solo kill on Ana's Invoker just after 2 minutes. Once again BoBoKa on the Riki was causing major issues for OG, leeching experience and being a general nuisance to Jesse "Jerax" Vainikka who was attempting to jungle on Enigma. With ten minutes passed, iG had the lead on the scoreboard and had already dropped the tier one tower in the mid lane. It took fifteen minutes for iG to show their true colours as they ripped through the entire line up of OG.
iG continued their dominance into the mid game, utilising the Magnus, played by Ling "Xss" Jing, Reverse Polarity to take massive team fights. After twenty five minutes, with OG attempting to claim an aegis, iG found a perfect fight to drop four from the Radiant line up. Not even four minutes later and the Dire completely wiped OG from the map before they claimed the mid barracks and the melee barracks in the bottom lane.
Without giving OG a chance to regroup or think, iG forced out the GG from the Radiant team, giving the Chinese team a 2-0 lead in the series.
Game Three

Bans
* This player was a stand-in for this match
A make or break game for OG would see an interesting game three, as a loss would see iG take the series 3-0 but a win would keep us locked into the action. This time around it would be OG claiming first blood in under a minute as Jerax on the Monkey King managed to find the last hit onto Warlock. By ten minutes things looked a lot better for OG as they held a 5-8 lead on the scoreboard. But iG found their footing a few moments later, claiming two kills and the tier one towers in both the top and mid lane along with the tier two tower top.
As they begun to roam as a full team, iG looked unstoppable and cleaned up the final tier one tower on the Dire side. However, even with their advantage, the Radiant succumbed to the pressure of OG very easily and the game went into a back and forth of kills for a brief period.  It wasn't until twenty two minutes that iG decided to push down mid and after doing significant damage to the tier three tower and killing off three from OG's line up, they backed away. But they would return and once they claimed an aegis, they looked towards the high ground again, this time claiming the melee barracks.
For Invictus Gaming now, they just needed to close out the game as OG seemed to be in tatters. Once they had claimed mega creeps and a fresh aegis, thirty eight minutes in, they were not going to allow any sort of comeback to occur. And within minutes, with no ability to quell the iG onslaught, OG threw in the towel.
Upper Bracket
Round 2 - Best of 3
Round 3 - Best of 3
Lower Bracket
Final
Some absolutely beautiful Dota from BoBoKa, Xu, "BurNIng" Zhilei and the entire iG line up saw them take a 3-0 victory over OG in the grand-finals and thus Invictus Gaming were crowned victors at the Dota 2 Asia Championship.
=