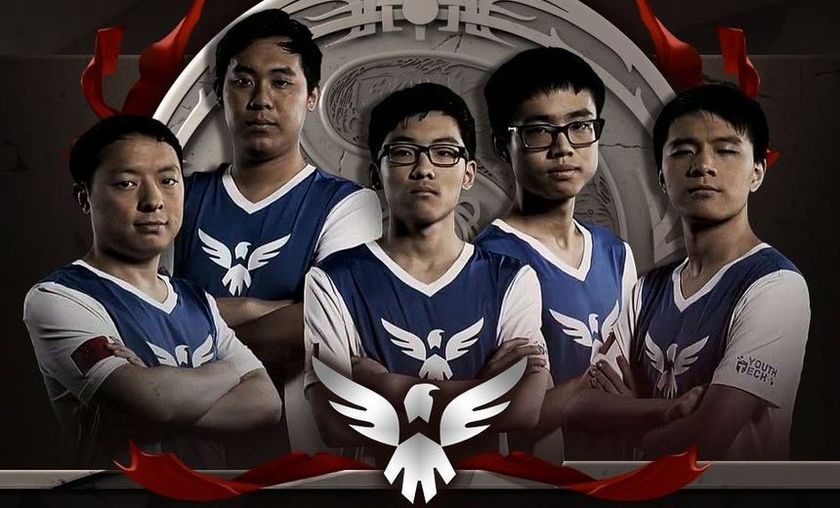 Wings Gaming are the The International 6 Champions!

From 16 teams we were down to 2. The International 6 was drawing to a close, but first there was the matter of the Aegis as we entered the finals; between Digital Chaos and Wings Gaming.
Coming off an absolutely incredible three game series versus Evil Geniuses, DC were looking a lot stronger than when they first faced Wings. On the other hand, Wings were the team that knocked DC into the lower bracket – and would be looking to claim the Aegis and first place at TI6 for themselves after a brilliantly played tournament.
Game One

Bans
* This player was a stand-in for this match
A quick start to the game would see first blood drawn after the horn, as DC picked up a kill on Wing's Storm Spirit, but this came at the price of losing both early game bounty runes. DC looked to be continuing their fine form within the first six minutes, as Aliwi 'W33' Omar managed to get a solo kill versus a three man gank mid lane. But Wings began to claim a foothold in the game with some great rotations around the map. With ten minutes passed Wings had claimed the lead in the score line, but DC were gaining more map control, pushing down tier one towers in two lanes.
Wings continued to gain an advantage for the next few minutes, starving DC of kills and using perfect ultimates to find pick offs. But DC found a perfect opening at twenty three minutes as Wings attempted to sneak into the Rosh pit. This turned out to be a terrible idea for them as DC collapsed into the pit and destroyed the Dire line up.
DC looked completely in control of the game at the thirty minutes mark, getting kills across the map with ease. With that advantage, they went high ground in the top lane and dropped the barracks – Wings saw no hope in sight and called GG in this first game of the TI6 grand final.
Game Two

Bans
* This player was a stand-in for this match
Wings drew first blood this time around, but it was due to some absolutely brilliant play from Zhang 'Innocence' Yiping on the Oracle as he avoided going down versus three top which allowed his team to claim the kill bot. DC replied soon afterwards by claiming two kills in the top lane, and the game was fairly even with ten minutes gone, with the Radiant side having a small kill advantage but being down on towers.
As twenty minutes approached, Wings looked like they were ready to claim an advantage in the game as they started finding good pick offs. Wings went into the Rosh pit soon after but were pushed out quickly as DC realized they might be attempting to do this. But a few minutes later, Wings found two kills in their own jungle and took down Roshan. Wings continued to push their advantage after this point, claiming map control by pushing down tier two towers down wherever possible.
With thirty eight minutes passed Wings found an amazing fight as they dropped four from the Dire line-up and marched top to claim the barracks before moving to take another aegis. DC attempted to stop the Roshan, and while they may have done so, they lost too many heroes and had to call GG.
With the series now tied at 1-1, both teams looked keen to take the lead.
Game Three

Bans
* This player was a stand-in for this match
First blood went the way of Wings once more, as they killed off David 'Moo' Hull bot lane. The violence continued for the next few minutes as both DC and Wings claimed kills in all lanes. Wings begun to take a lead, once again perfectly rotating around the map to find kills as soon as their ultimates were online. Wings were playing absolutely meticulous DotA as they pulled far ahead and had complete control of the game. Their aggressive playstyle was clearly unravelling DC and they had no response for it as the score line stood at 19-7 by twenty minutes.
As a desperation move, DC snuck themselves into the Rosh pit and managed to claim an aegis, but it might have been little solace for them with Wings looking unstoppable. DC, after many hopeless attempts to find an opening, got themselves back into the game as they killed four off of the Radiant but were unable to find any other objectives, although they at least looked like they had found their own footing in the game.
But Wings were not about to let DC find their way back in that easily as they entered the Rosh pit just prior to thirty five minutes. And as the Radiant team took the aegis, they also dropped four from the Dire team and once again, DC looked to be in deep trouble. With their advantage, Wings dropped the mid barracks and made their escape from the Dire base.
With two barracks down, DC were finding it harder and harder to defend their base and Wings were looking unstoppable, and after forty five minutes the GG was called by DC. Wings destroyed DC completely in this game, which gave them a 2-1 lead in the series.
Game Four

Bans
* This player was a stand-in for this match
Game four would be make or break for DC as they were staring down barrel of defeat with Wings Gaming needing only one more win to secure themselves the TI6 spoils. Would we be seeing a game five or would Wings take them down?
Wings started off strong again, as they claimed first blood but it was instantly traded back by DC. With ten minutes passed, it was a fairly even game with the score line favouring DC. Both teams were able to find kills through the next few minutes but it was DC that found a great initiation in the top lane and dropped three from Wings to give themselves the advantage in the game.
But Wings started to get items online and move around as a full team to shut down the DC aggressio,n and by twenty minutes the score line was 13-8 in DC's favour. DC quelled this really quickly as they managed to find more pick offs and push down the tier two mid tower. But Wings again made their way back into the game and it was clear that neither of these teams wanted to give up an inch of ground.
With Wings heading into the Rosh pit they found a great time to take a fight in the Radiant jungle as DC attempted to stop the Roshan kill and took down three of from DC and claimed the aegis too. With thirty minutes now passed Wings were looking to be in complete control as they begun to systematically take down towers. But the pendulum swung again and DC managed to clean up three from Wings and remove the aegis too. However, minutes later, Wings were on the offensive as they dropped three from the Radiant and moved high ground bot lane. In what was a desperate attempt to save their barracks, DC burned through a lot of buy backs but could not stop the Wings push and lost their barracks. Wings now looked certain to claim game four and take the TI6 title.
Thirty nine minutes into the game, DC could not contest the game anymore and Wings Gaming took the series 3-1. With that Wings are crowned The International 6 champions after a fantastic run through the tournament.
The International 6 final standings:
1st - $9,120,223: Wings Gaming
2nd - $3,420,084: Digital Chaos
3rd -$2,176,417: Evil Geniuses
4th - $1,450,945: Fnatic
5th-6th - $932,750: EHOME, MVP Phoenix
7th-8th - $518,194: TnC Pro Team, Team Liquid
9th-12th - $310,917: OG, LGD Gaming, Alliance, Newbee
13th-16th - $103,639: Vici Gaming Reborn, Team Secret, Escape Gaming, Natus Vincere

The International 6 Coverage HUB
Click here for results, VODs and all the other information