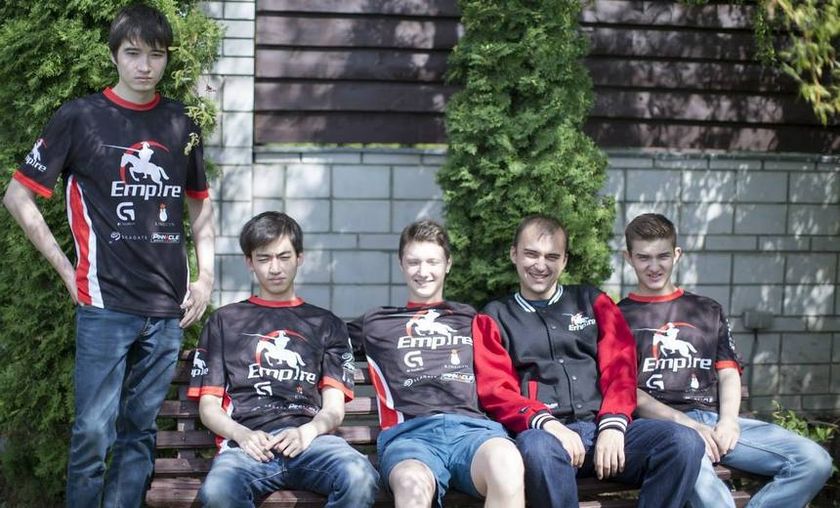 TI5 Group B: Team Empire strikes back

Coming back from a one game deficit, after a best of three series filled with tension, Empire managed to defeat Virtus.Pro and grabbed the last available spot in the Upper Bracket.
The first game of The International 2015 group B tiebreaker was clearly decided right from the drafting phase. Virtus.Pro managed to trick Empire into thinking they have a clue of what's coming by first picking Gyro. And Empire assumed that banning most of God's possible choices should win them the draft. But Virtus.Pro pulled the ace from their sleeve in the form of a Silencer last pick for their mid player and that seemed to have tilted Empire since they had invested their last pick into Silent's Ember Spirit.
Once the actually game started, Virtus.Pro just went through the motions of constant pressuring Silent which rendered him pretty much useless. With clear superior teamfight potential, VP rolled over Empire who were unable to respond in any shape or form.
Empire composed themselves and approached the second part of the series much more cautiously. Identifying the lack of catch and disable in Virtus.Pro's draft, they confidently chose the Anti-Mage for Silent and an assorted crew to support its unhindered development into an unstoppable force.
And again, the game played out just like one would imagine looking at the draft. Silent became too big to take down and with the Aegis secured, Empire proceeded to methodically dismantle the enemy base. Virtus Pro threw all their buy-backs in a last effort to defend their ancient but to no avail and the series was tied with all coming down to a third deciding game.
The high stake put its mark on the pace of the third game. Fifteen minutes into the game the scoreboard registered a measly 2-0 in VP's favor. Both teams "achieved" their lowest kill amount in 20 minutes for the entire current patch. And that aptly describes the tension the players must have felt.
With both Gyro and Templar Assassin in their lineup, Empire seemed prepared to take the game into its later stages. They mustered their forces and took one set of racks by minute 37, taking advantage of a hesitant defense on Virtus Pro's part with DKPhobos performing a clumsy blink into the middle of the enemy pack of heroes followed by a failed stomp and a prompt death.
Empire cautiously retreated only to strike back again a few minutes later when they cought VP in the woods, wiped them and forced mega creeps in one smooth offensive move. That sealed the deal and Virtus Pro gg-ed out and set themselves for a difficult uphill battle from the lower bracket.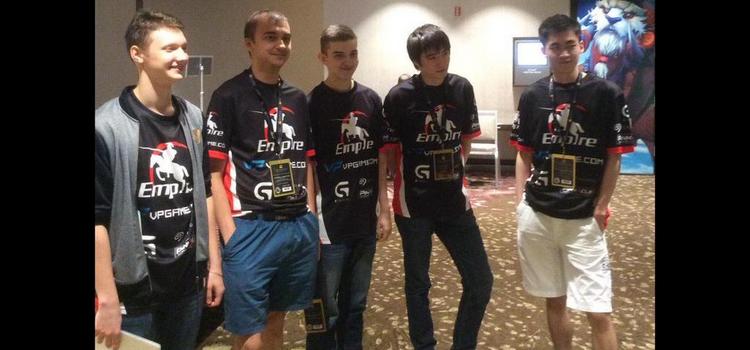 Group B provided huge surprises as both The International 4 finalists Vici Gaming and Newbee, two teams who got a direct invite this year, failed to deliver and finished the group stage on sixth, respectively seventh position advancing into the main event from Lower Bracket.
Setting the biggest surprise from group stages, the two teams that came from TI5 Chinese qualifiers EHOME and CDEC finished in the top four and secured themselves a very confortable Upper Bracket main event in KeyArena.
The final eight teams to advance into the main event from the Upper Bracket are: LGD Gaming, Team Secret, complexity Gaming, Cloud 9, CDEC Gaming, Evil Geniuses, EHOME and Team Empire
Lower bracket is populated as follows: Fnatic, MvP.Phoenix, MvP.HOT6, Invictus Gaming, Natus Vincere, Newbee, Vici Gaming and Virtus .Pro.
Upper Bracket
Round 2 - Best of 3
Round 3 - Best of 3
Lower Bracket
Final
The first place of each group picked their opponent out of the third and fourth of the opposite group. Second place plays the remaining one. Fifth place of each group picked their opponent out of the seventh and eight of the opposite group. Sixth place plays the remaining one.
LGD (A1) picked Empire (B4), Secret (A2) gets EHOME (B3) by default.
Evil Geniuses (B1) picked compLexity (A3), CDEC (B2) gets Cloud9 (A4) by default.
MVP.Phoenix (A5) picked NewBee (B7), Invictus Gaming (A6) gets MVP.hot6 (B8) by default.
Virtus.Pro (B5) picked Fnatic (A7), Vici Gaming (B6) gets Natus Vincere (A8) by default.
 
---
More content on GosuGamers