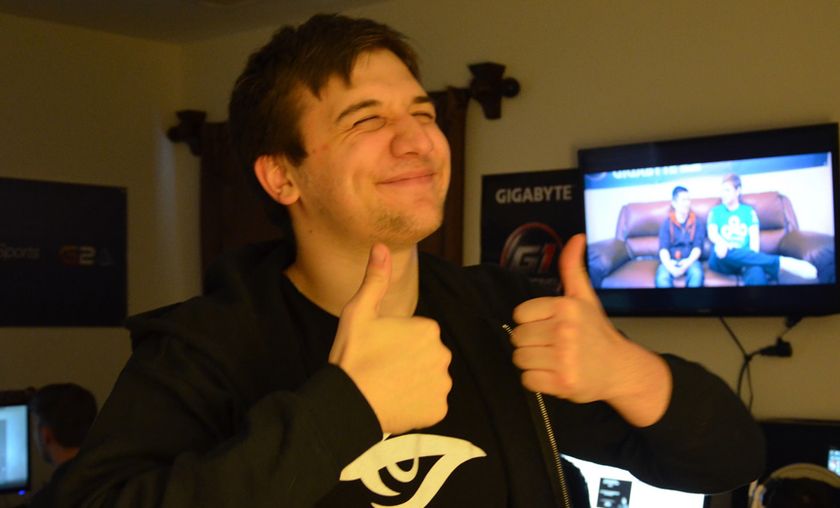 Summit 3: Despite rough game one loss, Secret outplays Vici 2-1
In what quickly came to become the most anticipated match-up of the tournament, Secret showed an overall better consistency and execution, took down Vici Gaming 2-1 and moves on to the grand final.
Vici went into the match strong, laying down a proper all round beating upon Secret, showing that perhaps Empire is the only team able to take games off Vici right now. However, in the second and third game, Secret got to play their Chen game, dictate the tempo, push as five and overall outplay the Chinese team for a spot in the grand final.
Vici Gaming will face up against Evil Geniuses in the lower bracket final tomorrow, either team would be looking to win it for a shot at revenge against Secret.
Upper Bracket
Round 1 - Best of 3
Round 2 - Best of 3
Lower Bracket
Round 1 - Best of 3
Round 2 - Best of 3
Final
Day 5 schedule:
18:30-21:30: Vici vs EG
22:00-03:00: Secret vs Vici/EG (grand final)
03:00-03:30: Prize ceremony
 
Game 1
Bans
* This player was a stand-in for this match
Perhaps the biggest stomp you will see in a while, it was surprising the game did not end earlier. Vici Gaming picked the Bounty Hunter and had him roaming the Radiant jungle to create pressure and forced Secret to emphasize too much on him. Secret fell right into that trap and spent a lot of Sentries and even rotated Leshrac multiple times to kill him.
Despite all these defenses laid against the Bounty Hunter, that did not stop him from causing havoc on the bottom lane and the middle lane. After he has suppressed the lanes enough, VG shifted their focus to the top lane and destroyed the Bristleback too.
EG tried to retaliate by grouping up to push lanes but that just led to more Track kills for VG as they were looking to defend their towers. Four Track kills on the first battle and four more track kills on the second battle, VG found themselves to be in a very favourable position considering even the poorest hero on the VG was richer than the Leshrac, richest hero in Secret.
At that point, VG had full control of the map and slowly capitalized on their advantage for the win.
Game 2
Bans
* This player was a stand-in for this match
In contrary to the first game, Secret had an excellent laning phase in game two. Three of their cores plus the Chen had an uninterrupted farm for the first 10 minutes of the game and they massed a huge gold lead against VG. Secret was able to strengthen their lead in an engagement on the bottom lane where they dived the tier one for the Tidehunter leading to VG supports teleporting in. As they were about to lose the fight, Secret's Bristleback bailed them out by killing off three of VG's cores.
With the lead they have, Secret applied pressure on all three lanes causing VG to group up with no real sense of direction on what to do to turn things around. Secret pushed towers after towers and continued increasing their lead and the game seems like it will be over rather soon. The difficulty to defend VG outer towers was also fueled by the fact that their Tidehunter got shut down so hard he was not even close to his Blink Dagger.
At 17 minutes, the first Roshan of the game went uncontested to Secret and they charged towards the middle lane immediately. Secret positioned their Bristleback and Viper in front to hit the towers while the supports stayed behind as they slowly took down VG's tier three mid. The barracks fell shortly after as VG's attempts to defend failed.
VG tried to stage a comeback 3 minutes later with Tidehunter's Blink Dagger ready. However, Secret was already too big at that point of time and despite the four-man Ravage, they were just able to overrun VG without any issue. VG paid their barracks for that engagement. VG surrendered as Secret pushed bottom.
Game 3
Bans
* This player was a stand-in for this match
Secret opened with the same two heroes for the third time in a row, namely Chen and Bristle. Vici, being a team of many different heroes drafted themselves a potentially very explosive line-up. They also opted to counter the greed of having a Chen with the greed of having a Sand King. Vici started the gaming going to place words in Secret's jungle while scouting for a hero or two, however some clumsy positioning left iceiceice behind and he fell to the heroes of Secret. S4 getting a bit too greedy in the midlane caused him to die solo to Hao.
A lot of early rotations went down from Secret this game as they tried to contest Sand King's killing of stacks. However they committed a bit too much resources for it while not really finding the trades they wanted, but it was by no means terrible, they found some kills and levels. It created space for the overly shut down Timbersaw as  well and allowed him to catch up. The game had a rather even start, both teams finding farm on various heroes and a few kills but Secret was pulling their game plan and execution off better, making more of their heroes.
A huge series of kills occurred around the 12th minute mark as s4 got his signature haste rune, avoiding a gank on low health and instead turning, together with his team, and securing four kills. The clashing continued in rapid manner the coming minutes and Secret continued to pull the heavier weight. Iceiceice found a couple of kills without dying though, allowing him to scale forwards as most of his team mates got shutdown by the multiple rotations by Secret and Zai's well placed Hookshots. Secret finished off Roshan quickly after, followed by a bunch of towers, including the tier three mid.
After Zai picking off yet another solo kill with his impressive Clock performance, Vici could utilize their Aegis, walk up mid and claim the barracks. Timbersaw accomplished very little at this point, and the same applied to almost all of Vici's heroes. Despite the great start and early Dagger of Sand King, he had close to no impact. Eventually Vici decided they have had enough and calls it just before minute 25. Perhaps going up against Puppey's Chen was harder than they thought it would be.
Headline image from BTS flickr.