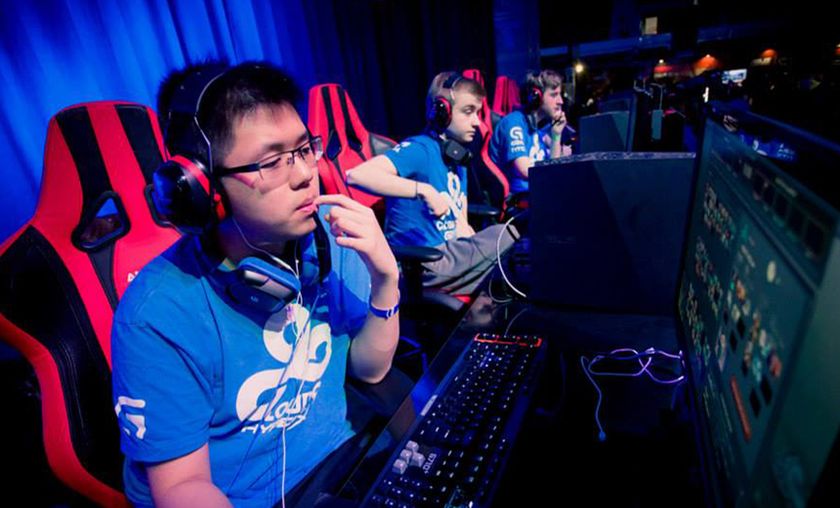 StarLadder XII Final Day - Third place finish for Cloud 9
Bone7 and Cloud 9 has made it through to the top three to keep the Romanian crowds happy but they come up against their most important challenge yet, an elimination match against a strong Invictus Gaming. Live coverage begins at 10:30 CEST.
Schedule for April 26th:
Invictus Gaming vs. Cloud 9: 2-1
ViCi Gaming vs. Invictus Gaming: 15:00 CEST
StarLadder has reached its final day and only three teams remain to compete for the grand prize. The representatives for America, South East Asia and the majority of the European teams have been forced out of the competition and with a grand prize of over $67,500 things are starting to get serious. ViCi Gaming secured their place in the grand final last night with a back and forth victory over Invictus Gaming. They will be awaiting their challenger from the two teams they have beaten to reach that stage; Cloud 9 and Invictus Gaming.
Main Stage: Invictus Gaming vs. Cloud 9 2-1
GosuBet: Invictus Gaming 70% Cloud 9 30%
Cloud 9 have fought hard to get to the position they are in now. Forced into the lower bracket after being dominated in the upper bracket semi-finals by ViCi Gaming, Cloud 9 have had to turn their results around. Eliminating Alliance and Team Tinker from the competition, they now meet Invictus Gaming. The two teams were kept on different sides of the bracket until this moment and Invictus had been looking dominant until their loss to ViCi Gaming. Both teams will be looking to secure their path into the grand final and a dramatic battle could erupt in the process. GosuBet has Invictus Gaming as the heavy favourites but Cloud 9 could take at least one game off the Major All Stars champions, but it's all about keeping their heads in team fights and not losing heroes for little in return.
Game One Cloud 9 wins
Bans
* This player was a stand-in for this match
The drafting process brought out two of the big carry heroes from previous patches with Invictus Gaming's Lycan taking on Cloud 9's Naga Siren. A first Silencer pick in the StarLadder XII finals was caught out on the top lane to feed first blood to appease the Romanian crowds as their home boy Bone7 secured the kill. Cloud 9 secured an early kill advantage from failed ganks but Luo's previously dominating Spirit Breaker started setting up kills for his team. BurNIng and EternaLEnVy seemed to free farm with ease through the early game and a siege on Cloud 9's tier one with an Aegis saw three Chinese heroes die while Naga Siren casually took a tier one and claimed a pre-14 minute radiance. All tier one towers had fallen for Cloud 9 before 17 minutes, but Naga Siren had the networth advantage and kills were turning in their advantage. A massive five-man team wipe in return for Naga Siren's death meant Cloud 9 were in cruise control by 30 minutes. Soon enough Invictus were trapped in their base but blink engagements from Bone7 meant they could attack when they wanted. Another bad team fight saw Invictus Gaming call 'GG' before Cloud 9 could begin tearing through their barracks.
Game Two Invictus Gaming wins
Bans
* This player was a stand-in for this match
Invictus Gaming drafted an unconventional lineup to deal with Cloud 9. Moving the Zeus to the offlane, a carry role for Phantom Lancer and a first LAN final appearance for Ember Spirit on the mid lane. A disaster in Cloud 9's jungle saw the Chinese roster claim two opening kills before the horn, but BigDaddy's decision to farm in the enemy jungle proved to be a great decision. Able to wrap his jungle creeps behind to either kill or force Luo to escape his solo top lane. Bone7 was having a good early game and Cloud 9 started picking up a growing advantage through the opening 10 minutes. A dive behind the tier two in mid saw Invictus lose three heroes and the tower as BigDaddy's Chen creeps dominated the enemy towers. Phantom Lancer continued leading the networth charts but the Europeans maintained their advantage. A 30 minute Aghanim's Scepter for BigDaddy meant Cloud 9 could push for the enemy base and the slow siege began. With the Europeans unable to take the entire top barracks they backed off for the Roshan pit but fell to a bad team fight and lost the Aegis and cheese to Invictus. A server crash disrupted the game and with an immediate big team fight in Invictus's favour, they lost their top barracks to creeps. Their successful fight meant it was now the Chinese roster's turn to start pushing but Cloud 9 almost took a tier four on the split push. The game was incredibly even as the game pushed past 50 minutes with pushes from both teams and little gained by either. The lull was broken by a big team fight and multiple buybacks the 56 minutes, with five heroes dropping in total and Invictus able to push tier three towers at the same time. A barracks down for both teams it was now Invictus that seemed to be at an advantage and controlling the entire map. By 70 minutes Cloud 9's top lane was down to a single barrack and Ferrari 430's Ember Spirit secured a bold Divine Rapier. A big kill on EternaLEnVy forced the buyback but he was inexplicably caught out of position moments after - down for 122 seconds the Europeans had no chance but to accept their loss and go into a third and final decider.
Game Three Invictus Gaming wins
Bans
* This player was a stand-in for this match
The Phoenix has become a staple pick for Cloud 9 with a third appearance in this series for the hero and returning to a support role. A last pick for Terrorblade for EternaLEnVy going against the impact picks of Juggernaut, Lion and Ferrari 430's dangerous Shadow Fiend was a bold pick and it didn't pay off with large amounts of deaths through the game. Invictus claimed first blood on FATA-'s Magnus and Ferrari 430 was quick to force two more deaths on the top lane with double damage. With a dominant kill and tower advantage and BurNIng charging up the gold and networth charts, Invictus were dominating the early game. With a Requiem of Souls claiming a double kill on the mid lane, Invictus were 12-3 up after 15 minutes, with BurNIng claiming half of those kills without a death. Two second tier towers dropped within a minute of each other and Cloud 9 were looking all but out of the competition. Cloud 9 successfully ganked BurNIng but the carry was able to secure a kill before finally dropping. By 25 minutes Invictus had breached the enemy base and a set of barracks were down by 27. The game was over before the Chinese could claim the second set of barracks two minutes later. An all Chinese final awaits and Cloud 9 are forced to settle for third place.
Upper Bracket
Round 2 - Best of 3
Round 3 - Best of 3
Lower Bracket
Final
Headline image by SLTV
---
More content on GosuGamers