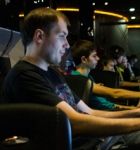 Virtus.Pro acquires NVMI - VP.Polar formed
NVMI - a team that has been making waves in the scene lately with their strong performances and results have been picked up by Virtus.Pro to form the second Dota team on VP's roster named VP.Polar.
Nam Vezet - Mi Igraem a team that has been around for barely two months has now joined the larger organization in Virtus.Pro. NVMI have enjoyed a sterling run of form for a very new team and have established themselves quite firmly in the top flight. Enjoying a record of 24/3/9 as well as already being ranked #8 on GGnets rankings, it is no wonder that they have caught the eye of their fellow CIS organization.
Virtus.Pro is not the first organization to pick up a secondary line-up as we saw Na`Vi do so earlier on in the year. It is worth noting though that both teams do come directly out of the CIS region and will be competing regularly against each other including tonight. Both Goblak and IllidanSTR have competed under the Virtus.Pro banner in the past and will be eager to prove themselves again. 
The new Virtus.Pro Polar team is as follows:
Artur 'Goblak' Kostenko

Alexandr 'DKphobos' Kucherya

Ilya 'IllidanSTR' Pevcaev

Ilya Lil-_-HaRDy Ilyuk

Roman 'Scandal' Sadotenkov
Source: Virtus.Pro, headline photo: cyberstadium