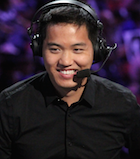 Merlini to stand-in for Zephyr during KDL Season3
BeyondTheSummit caster Ben 'Merlini' Wu just announced on his YouTube that he will make a short comeback into the competitive scene to stand-in for Zephyr during KDL Season 3.
Ben 'Merlini' Wu just announced that he will act as a stand-in for Team Zephyr during KDL Season 3 replacing Kevin 'Purge' Godec. It is only a temporary comeback for Wu, as KDL will last for about only two months and he will return to California to go back to casting. Purge will continue to work as Zephyr's manager, a role he assumed while playing the previous months as well.
Merlini is a former DotA pro player who in his peak was one of the best players in the world. Most famous for his Zeus, Merlini retired four years ago as competitive DotA was not a viable way to make living yet. Come Dota 2, Merlini has joined BeyondTheSummit in their Los Angeles studio, acting as an analytical caster. He has attended two The Internationals for Valve, acting as both a panelist and a co-caster. 
It's not Wu's first forray into competitive Dota 2. Back in 2012 he started playing with the likes of MaNia and Miracle but it eventually didn't work out and they formed Absolute Legends without him. 
KDL has just started and Zephyr's first official game will be against Pokerface on 6th August. Place your bets here!