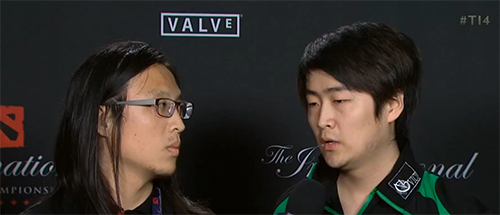 ViCi Gaming is the second finalist of TI4 after 2-1 victory against EG


After a dominant 16-minute victory in Game Three, ViCi Gaming is the second finalist of The International 4! They have secured $1,500,000 and they will now have the chance to win the Aegis of Champions against NewBee in the best-of-five Grand Final tomorrow.
Game 1
Draft - EG goes for a gank oriented line-up by picking up Dark Seer, Shadow Shaman, Templar Assassin, Sand King and Brewmaster. VG responds with a line-up apt for pushing alongside early game dominance like Razor, Leshrac, Centaur, Rubick and Nature's Prophet.
Game 2
Draft: EG opt for heroes they are comfortable with by picking up Enigma, Faceless Void, Weaver, Alchemist and Viper. VG responds with Doom, Nature's Prophet, Ancient Apparition, Vengeful Spirit and Dragon Knight that allows them to deal a considerable amount of burst damage.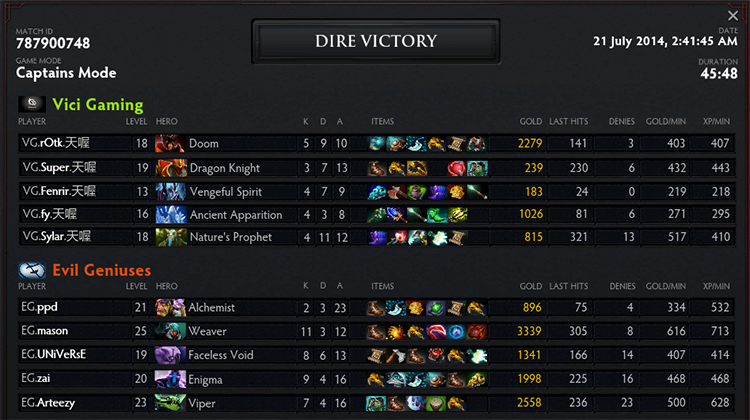 Game 3
Draft : EG instantly selected the Enigma and Void combination once again, adding Timbersaw and Alchemist in their massive damage combo. ViCi responded with a lineup similar to the first game, with Venomancer, Furion and Dragon Knight as their cores. Pay attention to VG's Shadow Demon - Leshrac duo that will aim to bring EG to their knees during the early game.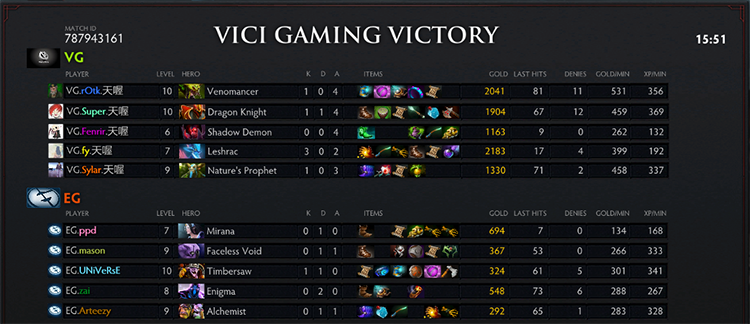 ---

Highlight clips are available on our YouTube channel. You can also visit our wiki page for more information on The International 4.